TRX Strength and Conditioning Is a Brees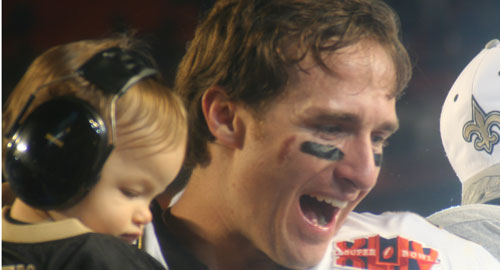 Many people are familiar with the success that Drew Brees has had over the past couple of seasons. Something people may not know is at the end of the 2006 season, Brees suffered a career threatening injury.
On Dec. 31st, 2005, in a game against the Denver Broncos, Brees attempted to recover a fumble and a defensive lineman landed on his shoulder, tearing his labrum.
Brees went to Dr. James Andrews for the surgery of lifetime. Andrews had to use 12 dissolvable staples, which is the most he has ever used during surgery.
The San Diego Chargers decided to move on with Phillip Rivers based on the uncertainty of whether or not Brees would ever competitively throw a football again.
The New Orleans Saints took a chance on Brees and three years later found their organization celebrating a Super Bowl.
What is secret to the amazing recovery of Brees leading way to his return to the NFL? Do you have to suffer a severe injury or be an athlete to use the training program Brees used to recover?
The Secret Is Bree-Easy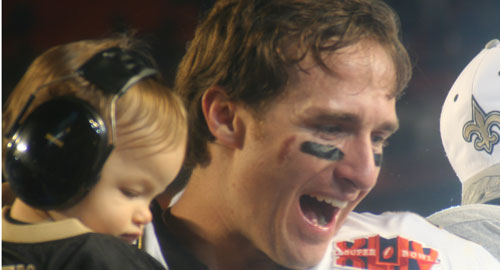 TRX (Total Body Resistance Exercise) is a revolutionary method of leveraged body weight exercise originally designed by the U.S. Navy SEAL(s).
Fitness Anywhere developed this suspension training in easy portable and safely controlled piece of equipment that performs hundreds of exercises to build power, strength, flexibility, balance, mobility and prevent injuries.
TRX is so easy to use, you can workout almost anywhere by hanging the suspension trainer from a tree, door, ceiling anchor, fence, beams—any place that will support your body weight.
This product allowed Brees and many others to workout at their own pace and increase reps and resistance when they feel necessary.
With hundreds of different exercises focusing on strength and flexibility, Brees was able to rehabilitate the injured shoulder back to Pro-Bowl caliber.
Brees credits some of the success he has had since the shoulder injury to the team of Fitness Anywhere and their product TRX.
Most Popular Ways to Get Fit
TRX Facts
Former Navy Seal Randy Hetrick is credited with developing TRX equipment and exercises in the 1990s.
TRX helps develop core strength and stability in the joints and muscles, but some believe TRX may be risky for those especially weak in said areas.
---
"They" Said
It's All About Your Core
Shaping Up Success with Exercise Straps
Drew Brees, Superbown MVP, Uses TRX Straps and is Gluten-Free
A TRX trainer submitted a video of one her favorite exercises called the "Pike Up to Upward Dog." The great aspect about this exercise is that it combines strength building while also stretching the body.
Fraser Quelch, FAI Director of Training and Development, gives a tremendous leg and lower body workout. You would take the crossing balance lunge and work in the hip hinge.
If you're looking to focus on your core and define a great six-pack, Scott Herman put together a terrific combination equaling success by using specific TRX exercises. Some of these exercises include the TRX Crunch, Pike, Pendulum, Body Saw, Standing Roll Out, Torso Rotation, and the Side Plank.
Ringing Endorsements from Top Athletes
The results Brees has shown us on the field should be enough for us to take a chance with TRX, but he's not the only one using it in his house.
"When they told me it was invented by a Navy SEAL, I knew it would be cool— it's just your body weight working against gravity, so you won't get injured. Now my wife uses one at home, and I'm addicted."
Philadelphia Phillies pitcher Jamie Moyer is now pitching in his third decade. TRX is one of the contributing factors to the longevity of his MLB career.
"As one of the oldest players in Major League Baseball, I find the TRX to be a good addition to my workouts. It helps with my strength and flexibility. It's a workout I can do with my teenage boys and we can see each other getting better each time. I will definitely use the TRX as part of my conditioning in this my twentieth Major League season."
Olympic gold medalist Carmelo Anthony has definitely shown an improvement in his strength and condition since entering the NBA and he admits that he prefers TRX over standard weights.
"Anytime you can use bands rather than heavy weights and free weights it's better, you are balancing your own bodyweight you have more control. It gets you lean faster than any weights."
If you have ever dreamed of how it would feel to train like a professional athlete, then check out TRX and get your sweat on.