The Upcoming Mr. Olympia 1998
There are several bodybuilding competitions out there, pro and amateur, national and continents, international and famous, local and unheard of. However, there's one competition above all. Arnold won it seven times. Lee Haney broke the record by snatching eight consecutive wins in a row. And the latest champ to be crowned as "Number 1 in the world," for six times in a row, was Dorian Yates.
Why raving about Mr.Olympia? What about, say, the Arnold Classic? Good question, really. What the Arnold has in quality and money, the Olympia has in history and fame, I guess. All I know for sure is that the Olympia is THE competition. The man who conquers the Mr.Olympia title has forever carved his name into bodybuilding history. And to be honest – do YOU remember the winner of the Mr.America or NPC Juniors five years ago?
That's the background. The competition is strictly pro, of course, and your ticket to even competing is either winning or placing really good in selected, high-level competitions. If you haven't proven yourself to be top-notch at least once before, you simply have no business onstage! This ensures a lineup of absolutely outstanding athletes from around the world.
So what makes this year so special? Well… How about having the reigning champ stepping down from the throne? Dorian is a tough guy, one of the toughest there is. However, he is only human and after his unfortunate Tricep-tear it turned out he wouldn't be able to compete as planned. This leaves the field wide open for other top pros who are now breaking their necks in order to fine-tune themselves in for October 10, when the clash takes place in New York City.
There are 17 contenders, of which people like Nasser El Sonbaty, Flex Wheeler, Ron Coleman and Shawn Ray stand out. This adds another aspect, apart from making it an especially interesting competition – it will also possibly set a standard for bodybuilding judging! So far, the main thing have been size. That's Dorian. Now he's gone – and we have two types of front-runners.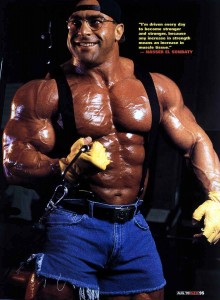 EITHER the trend continues, and someone like Nasser El Sonbaty will get the title.
OR … A light "giant killer", such as Shawn Ray, emerges and snatches the title by pure symmetry and quality!
You have to remember that the Olympia sets the tone in many ways, and if sheer size is no longer rewarded, maybe, just MAYBE … The days of size-above-all in absurdum is over. MAYBE the attention is going to come back to being in superb condition. And the guy with the huge midsection (caused by growth hormone use) is not even in the game anymore. Who knows? I believe this would have a certain impact. And all this in addition to a great competition!
Simply put: The Olympia will make your eyes pop out of their sockets! The only thing I regret is that one can't watch it just as is and be impressed by their physiques – you must also keep in mind that the majority is probably walking around like live pharmacies, some surely with serious health problems, so view it as it is: A freakshow. But a great one, which we can let tickle our imagination as long as we don't get carried away. Don't get me wrong – they're great athletes … But they're cheating. Remember that.