Shane Carwin and Others Linked to Steroids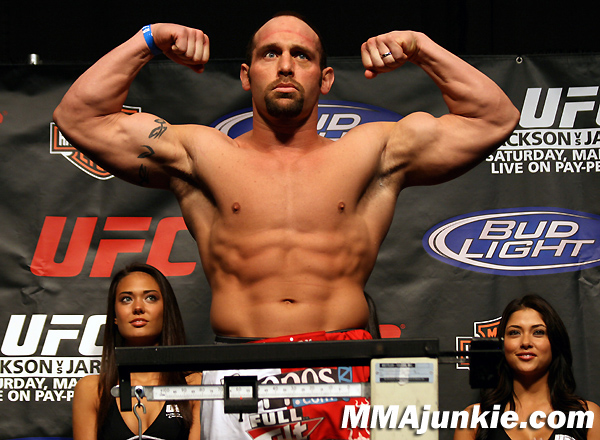 Shane Carwin, one time UFC heavyweight champion, ranked #6 fighter in the world by Sherdog, is now among the ranks of elite athletes who have been discovered to be a anabolic steroid user.
Friday, many athletes including professional bodybuilders, wrestlers, fighters, and baseball players, were all named as customers for the most recent steroid bust. Michael J. Bennet, a supervising pharmacist for Applied Pharmacy Services, was sentenced to four years in prison by federal court for conspiracy to sell anabolic steroids nationwide. Applied Pharmacy Services was previously linked to baseball players Jose Canseco and Gary Matthews, Jr. and boxer Evander Holyfield. According to federal court, APS had shipped over 762,000 doses of anabolic steroids that weren't made for human use such as Trenbolone to 17 doctors across the country.
"These steroids are for horses and cows, not for young people and humans," US attorney Donna Dobbins stated.
Those steroids ended up in the hands of these professional athletes and even in the hands of every day gym rats, and even teens looking to pack on a few pounds.
Shane Carwin, nor his representative, have yet to respond to the release of the information. UFC president Dana White told Yahoo! that he was aware of the situation, but other then that, he failed to comment.
It's amazing how many of our top athletes are using steroids. What comes off as a shocker to me is how big of a deal the media and public take it. The sad thing is, it would be safe to say there is an absolutely insane amount of our pro athletes that are on steroids, and are being idolized for their performance. But the second they are publicly linked to steroids, they are frowned upon.
You have to really look at today's top athletes, and realize they had to surpass so many people, and out perform all the other competition to get where they are. It would be ignorant to not think they would use drugs to enhance their performance, and it is sad to see how badly our top professional athletes become frowned upon once the information that they are a steroid user comes out.
In the world of martial arts, Shane Carwin is simply one of the best, and you cannot just credit anabolic steroids for that achievement. Obviously, he had to outperform so many other fighters, which very likely included other steroid users. Just because he has more muscle and strength, doesn't mean he was going to automatically win 8 straight fights in the UFC heavyweight division to become one of the top dogs. Hard work, dedication, and training are what got him there. The anabolic steroids did not make him 'perform', but they just 'enhanced' his ability to do so and push himself to become one of the best.
It is unclear what will happen with the athletes who were named as customers of APS, because each sporting federation has their own rules regarding steroid use. Some other athletes linked with the distribution are:
Kurt Angle – Gold medalist and pro wrestler
Bob Howard- Pro wrestler
Toney Freeman- Pro Bodybuilder
Quincy Taylor- Pro Bodybuilder
Dennis Neman- Pro Bodybuilder
Troy Zuccolotto- Pro Bodybuilder
APS also previously had ties with pro baseball player Jose Canseco (I'm sure every steroid user has heard that name).