Old Dogs Can Learn New Tricks: Workout Routines For "The Expendables"
Sylvester Stallone has put together a "guy movie" for the ages featuring The Expendables, which is coming out August 13th.  The crew in the film includes some very large and very scary dudes.
Sylvester Stallone, Dolph Lundgren, Terry Crews, Mickey Rourke–you get the idea.  These guys are not "spring chickens," but many of us aren't getting any younger either.
What do these guys do to stay in shape for an action film–the genre that used to be reserved for much younger guys?  The workouts vary and the routines are interesting.  The diets are smart and the results amazing.
However, these guys are working on more than just presses and curls–these guys are motivated.  If you ever don't feel like hitting the gym you should hear some of the stories these guys tell about wanting results.
Old dogs can definitely learn some new tricks.
Terry Crews Is Still Big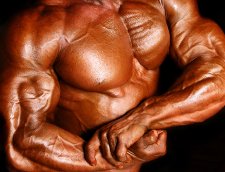 Terry Crews is a former NFL player whose playing weight was about 235 lbs.  However, it's been a while since he played football.  When he retired and became an actor he put on some weight.
It didn't take Terry long to see that he needed to do something about his conditioning.  When he played, he got into powerlifting, and a return to powerlifting is something that helped Crews get in shape.
Terry breaks up his workouts into daily sections.  Each day he works on body part and then does a day of cardio.  Depending on your beliefs about having a "cardio base" when you're trying to get big you can add more lifting to this routine.
Day One: Legs
Squats–Start with a weight that is comfortable and over the course of 4 sets increase to a more ambitious weight.  Terry starts at 135 lbs and ends at 495 lbs.
Single Leg Squats–Once again, start with a comfortable weight and increase to something more ambitious.  Terry starts with 135 lbs and progresses to 495 lbs through 4 sets.
Hack Squats–Stand in front of the barbell, squat down, and lift the barbell behind you while straightening your legs.  Once again, Terry starts at about 135 lbs and progresses towards a more ambitious 495 lbs.
Day Two: Shoulders
Terry does two circuits for shoulders.  Each exercise gets 4 sets each.  The first circuit is something Terry does with a 135 lb barbell–6 sets each.  The second circuit is done with dumbbells–10 sets each.
First Circuit:
Upright Row
Clean and Press
Bent Row
Jump Squat
Second Circuit:
Front Raise
Arnold Press
Lateral Raise
Bent Reverse Fly
Day Three: Chest
For chest-work Terry does 4 sets of Power Cleans and 4 sets on the Incline Bench.  Again, he starts at 135 lbs and progresses towards more ambitious weights.
It is important to note that all you would have to do is start with a comfortable weight and progress to a more ambitious weight.  If you're bigger than Terry–or smaller–this program will work as long as you are honest with yourself about what weight is comfortable.
Day Four: Back
For back-work, Terry combines weightlifting with bodyweight exercises.
Deadlifts–4 sets, starting a comfortable weight and progressing to more difficult weights.
Bent Rows–4 sets.  Terry starts at 135 lbs and ends with 185 lbs.
Pull-ups–Perform as many pull-ups as you can until you max out.
Sly Doesn't Care How Old He Is
Today we're going to feature some creative routines in Sly's back/shoulder/arm workout.  However, I'd like to start with a pretty smart quote from a 60+ year old man who's done it all.
"Over the years, my biggest flaw was overtraining. In the gym six days a week, doing more sit-ups at night … my body was in a constant state of breakdown."
Choose your routines carefully.  We want you to get as big as you want tp be, but we want you to achieve your goals as well.  It's hard to do that when you aren't following a "routine" or a "plan."
Angled Pull-Ups–Sly does these pull-ups with a weighted vest and pulls his chin to his right hand then his left.
Squat-Jump Pull-Up–Lower yourself into a squat and perform a jump squat under a pull-up bar.  As you jump reach up and grasp the pull-up bar.  Perform a pull-up and drop yourself  back to the ground.
Dumbbell Hammer Curl–Sly does 8-10 curls on each arm.  To finish the exercises he does 10-20 fast curls while alternating arms.
Uneven Standing Barbell Curl–Sly starts with a comfortable weight and places one hand at the end of the bar and the other in the middle.  This forces one arm to take most of the weight.  After finishing a set he changes positions and moves his other hand to the end of the bar.  This evens out the work your arms are doing.
Dolph Lundgren Can Still "Break You"
Many of us remember Dolph Lundgren as Ivan Drago in Rocky IV.  Well, Stallone wanted to work with him again on The Expendables and I don't think it was just for his acting chops.
Dolph talks a lot about motivation and how hard you have to work to keep up with someone.  This leads to an interesting question: Can you get big all by yourself on an island? Dolph doesn't think so.
"Training for the movie [Rocky IV] has changed my life.  With Sly's help, I've learned so much about my body and how it responds to training and diet.  I've developed a whole new standard as to how I will stay in shape for the rest of my life."
Those are pretty big words from a behemoth like Lundgren.  Sylvester Stallone isn't a personal trainer, a world champion bodybuilder, or a fitness guru.  Stallone just works his ass off.
The same is probably true of your buddies at the gym.  They may not be personal trainers or Mr. Olympia, but they work hard.  Train with a partner who can motivate you in the same way Sly Stallone was able to motivate a monster like Dolph Lundgren.
Keeping company with people who are better than you or could be better than you keeps you going.  Everyone has a competitive streak in them, and you have to find a way to utilize that competitiveness.
Dolph Lundgren needed to be the believable Russian boxer who could "break you."  What do you want to be?  Ask yourself the next time hit the gym.  The partner/partners and motivation will follow.
Related Articles on SteroidsLive: