NFL Week 9 Fantasy Football Start'em and Sit'em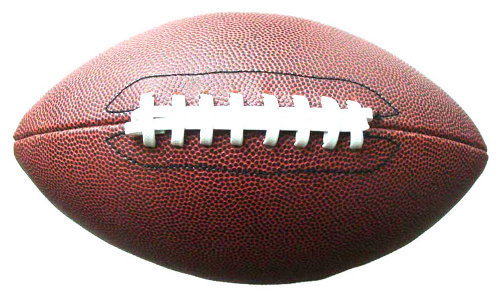 Couch Potato Blitz: Week 9 Fantasy Edition
Week 9 Fantasy Football is here! In the words of the late Marvin Gaye, "Lets Get It On." I don't care what anyone says; nothing is more American than apple pie, hotdogs, and a bunch of grown men sitting around drinking beer cheering for other men in tight pants to score touchdowns. God bless fantasy football!
It is time to make that playoff push or spoiler play for someone in your league you don't like. I like to break down the studs and duds for the money positions. For those of you who are returning and already know what the MPs are, thank you for your loyalty. And those of you here for your first time… Where the hell have you been? Get a pen and take notes of the best quarterbacks, running backs, and wide receivers to start or sit for Week 9.
If you want picks and predictions on all 13 games in action for Week 9, don't forget to read mytogether just like his eyebrows.
In fantasy football I like players who are robotic like Peyton Manning, and other players who have something to prove like Michael Vick. In three of four games Vick has played in he has amassed 20 plus fantasy points. Vick wants to recover his career from torturing dogs, imagine if Donte Stallworth gets healthy — he killed a man.
These starts are all easier to pick out than the corrupt politicians embezzling money, doing drugs, and sleeping with hookers: Philip Rivers, Aaron Rodgers, and Eli Manning.
Running Backs
RBs have been accumulating fantasy points against the Colts defense this season faster Charlie Sheen has been getting arrested for public intoxications. LeSean McCoy is great start and another reason to start Vick this weekend.
Three guys that will be seeing more balls than a doctor who specializes in giving sports physicals are Adrian Peterson, Darren McFadden, and Michael Turner. So turn your head and cough your way to victory this weekend.
Look for Ahmad Bradshaw and Jamaal Charles to go Jenn Sterger on the opposing defenses and exploit them. Both the Seahawks and Raiders have given 47 point fantasy days to RBs this season.
Great players at the flex position would be BenJarvus Green-Ellis, LeGarrette Blount, Fred Jackson, and Peyton Hillis. Think of them like the cast members of "Jersey Shores," you may not like them, but they will have success this weekend.
Wide Receiver
Last week there was a Larry Fitzgerald sighting in the end zone — and not just one, but two. This week he will go for an encore performance in his home town of Minnesota. The past few weeks I've started to think the Vikings defense should start charging WRs rent in the end zone – 24 or more fantasy points in three straight weeks given up to WRs.
On Sunday Night Football in America Greg Jennings is going to put on a clinic in soul crushing. Cowboys' fans named Greg may change their name after he's done.
You can't lose with any of the following; it will be like picking out any of the Playboy Bunnies: Reggie Wayne, Roddy White, and Hakeem Nicks.
You ever put on a pair of pants after a long summer, reach into the pocket and find a $20? Well this week you might be able to find that surprise with Lee Evans, Dez Bryant, James Jones, Lance Moore, and either Steve Smith.
One player that is more overdue than the next Chris Tucker comedy is Wes Welker. People who own Welker and leave him on the bench this weekend will be depressed on Monday if it costs them a win this weekend.
Fantasy Duds – Sit'em
Quarterback
Starting Jay Cutler this weekend will be like getting back together with an ex. You had some time
apart with the bye week and you think things will be different. Yes, Cutler is playing a Buffalo team that allows QBs to whip them like a jockey on a horse, but I would avoid him if you can. Last three fantasy totals have been -3, 12, and 5.
It seems like every weekend Chad Henne plays a top 5 defense. I expect the Baltimore defense he plays this weekend, that have had two weeks to prepare for this game to face possible charges of assault and battery when they are done with Henne.
This Sunday I like the chances of Matthew Stafford to have a big game about as much as I like my chances of beating Usain Bolt in a foot race – I'm 5'10, 215-pounds.
To start any of the following would correlate to fantasy suicide: Mark Sanchez, Colt McCoy, and Jason Campbell. If you're going to throw your fantasy team off a building to see if they can fly at least try, John Kitna or Ryan Fitzpatrick.
Running Backs
I am not telling you sit Matt Forte, but until the Bears prove to me that they are going to hand the ball off to him more than 10-12 times a game, I won't start him. During the last five games with Cutler at QB, he has carried the ball 10, 11, 12, 8, and 10 times. The one game Cutler missed due to a concussion he got 22 carries for 166-yards and 2 TDs.
Both Beanie Wells and Ryan Mathews got into the end zone last weekend, but I don't expect this to become a trend. Just because you stole something one time and got away with it doesn't mean you should keep trying to steal.
This week I have reservations for three at new fantasy football restaurant called Bench Warmers: Ricky Williams, Cedric Benson, and Jahvid Best.
Barring any injuries Brandon Jacobs and Michael Bush might touch the ball less than the punter.
This past week I almost broke my leg jumping off the Marshawn Lynch bandwagon. I suggest you get off too in a safer manner; the Giants have only given up five fantasy points to RBs in the last two weeks.
Wide Receiver
This weekend I'm not buying stock in Johnson and Johnson or Calvin Johnson and Andre Johnson. Calvin plays the Jets and Andre plays an underrated Chargers squad. Ironically, both are injured and in need of band-aids. You should start them unless you have better or equal options.
Starting any of the Jets WR is like unprotected sex with a stranger. It could be great, but it could also leave you with a burning sensation. This is why I would leave Santonio Holmes and Braylon Edwards on the bench.
You may also want to skip the "TOcho Show" this week. Terrell Owens has averaged over 18 fantasy points in the last four weeks. Chad Ochocinco has just been down right disappointing.  However, neither of them plays well when people get physical and that's what you can expect in a game against the Steelers.
Thank you for joining me for another week of NFL Fantasy Football Start'em and Sit'em. Check back next week for my latest fantasy news and updates, and don't forget to check out picks and predictions for all 13 games in Week 9 of the NFL.
Additional Reading at SteroidsLive