NFL Week 8 Fantasy Start'em and Sit'em

Couch Potato Blitz: Week 8 Fantasy Edition
Fantasy football week 8 is upon us! The anxiety of setting your lineup becomes greater every week with injuries and byes. It must be similar to how Justin Bieber feels about whether or not to cut his hair – that is three weeks in a row with a Bieber reference; I do it for the ladies.
This is the Halloween edition of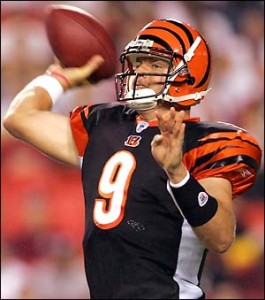 Quarterback
The Dolphins have given up 300-yards passing and 18 plus fantasy points to QBs in 3 of their last 4 games. Last week Carson Palmer may have realized that he has more options than a Swiss Army knife, throwing for 412-yards and 3 TDs.
I expect the Monday night game to be a shootout between "The Comb-Over" (Peyton Manning) and "The Hair Club for Men Poster Child" (Matt Schaub). Manning is the obvious start, but Schaub has been hit or miss this season. After bye week I think he will be solid start on MNF.
The Cowboys season may be finished, but not before Jon Kitna gets to prove he is the greatest back-up in NFL history. After the Tony Romo injury, Kitna entered the game and notched 13 fantasy points against the Giants. Dallas plays Jacksonville this weekend – a team giving away fantasy points like Planned Parenthood gives away condoms.
Things I don't like are beets, a Rosie O'Donnell centerfold, and being in the YMCA shower on senior citizen day. Things I do like are pizza, Rosario Dawson doing anything, and all three match-ups for Ben Roethlisberger, Philip Rivers, and Matt Cassel.
Running Backs
Five must-starts that are more important that remembering some of your in-laws names are: Chris Johnson, Adrian Peterson, Arian Foster, Maurice Jones-Drew, and Ronnie Brown.
The last two weeks Green Bay has given up average of 150 rushing yards. LaDainian Tomlinson and possibly Shonn Greene at a flex position this weekend.
Does anyone else feel that all the Dallas running backs are quietly celebrating the Romo injury? Either way, I like Felix Jones to have big game.
A lot of you probably have a junk drawer in you house and you go there for the quick fix. Well, this week Danny Woodhead and LeGarrette Blount are two guys that might be able to get you through a tough week of byes or injuries.
Ryan Torain and Marshawn Lynch are playing a couple of fantasy punching bags this weekend.
Be sure to check the status of DeAngelo Williams come game time. If he can't go then Jonathan Stewart is solid back-up. College guys you know the routine, if one girl is sick check to see if the roommate wants to go to the party on Sunday.
Wide Receiver
This is street principles 101: if Manning is a pimp and he is down two of his finest options this would increase the value of his other talent. The rules of the street tell me that you're going to get big nights out of Reggie Wayne and Pierre Garcon.
Batman and Robin, Oprah and Gail, and Terrell Owens and Chad Ochocinco all make very successful pairings, but two of them can help your fantasy team.
Hines Ward may never leave Big Ben alone with any female in his family or use him as personal character witness, but he sure is glad to have him back on the field. In two games with Big Ben he doubled his reception and TD numbers.
I will pretend that the bye week worked like a phone booth for Andre Johnson and he went inside and changed into Superman. Johnson has only had 10 points twice in the first six games.
This is like suggesting a Mexican restaurant in Los Angeles. You could go with Calvin Johnson, Brandon Marshall, Greg Jennings, Kenny Britt, Randy Moss, or Santana Moss; they are all good choices.
If a restaurant has a "B" in the window you might think twice about your decision so it won't make you sick to your stomach. Those choices would be Deion Branch, Lee Evens, Braylon Edwards, and Danny Amendola.
Fantasy Tricks – Sit'em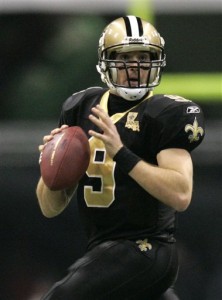 Tom Brady traded in his hot ex-girlfriend for a supermodel. Think of him and Drew Brees just like that. They will probably both fare ok this weekend, but if you think you can do better, go for it.
Donovan McNabb vs. Matthew Stafford sounds like bad decisions, interceptions, and injuries. Run from these two like you would from kissing someone you just met who says, "It's just a cold sore."
Playing Mark Sanchez this weekend is like online dating, no one wants to do it, but if you're desperate what are you going to do? You might get a pretty-faced, carefree girl with big boobs, or you might get acne, a gut, and yeast infection. I don't think Rex Ryan will enter a throwing contest with Aaron Rodgers when he has a great rushing attack.
Running Backs
If Lynch is healthy then Justin Forsett becomes more forgotten than cassette tapes. He scored a TD the first week they played together, but could soon be lucky to be on special teams.
"I'm sorry Miss Jackson," but your son Brandon Jackson is not for real, he will have to apologize a million times – don't lie you're feeling that remix. The Jets defense dominates the running game and since the injury to Ryan Grant the Packers have had little success.
All Ryan Mathews fantasy owners, don't be mad, at least you're not the actual organization that passed on Michael Turner and gave up on LT. The Titans pass defense might give up points, but the run defense is stingy.
Pretend that any running back for the Denver Broncos is crack-cocaine, and "Just say no!" Knowshon Moreno may have gotten into the end zone twice last week in the receiving game, but don't count on that to happen every week.
Tim Hightower and Beanie Wells have become a two-headed monstrosity. The Buccaneers are normally a great team to have running back against, but with these two they might not show up.
Wide Receiver
You don't want to get in the musical chairs game that is the Saints WR core. When the game stops you don't know if you're going to be left with a chair. With all the great options at RB and WR, all of the New Orleans players are flex positions at best.
You want to stay away from Donald Driver until he gets healthy and Rodgers proves that he has redeveloped his man crush again. A lot of Rodger's balls have been heading to James Jones and Jordy Nelson.
With Matt Moore back as the starter you would like to see the early season flame rekindled with Steve Smith. Ask anyone who watches "The Hills," it never quite burns as bright.
I keep hearing how Larry Fitzgerald gets tons of targets, but his QB is terrible. Think of him like Olympians who get lots of publicity but don't medal, they become very famous, poor, guest speakers.
Thank you for supporting the "CPB" fantasy edition and don't forget to check the picks for all 14 games in Week 8 of the NFL.
Additional Reading on SteroidsLive: