NFL Week 11 Picks and Predictions

Coach Potato Blitz: Week 11 Predictions
NFL Week 11, I will try to predict the games correctly in a season that has been anything but predictable – the Raiders, Buccaneers, Chiefs, and Seahawks all have winning records. However, I believe this is the weekend where the league will start to straighten itself out.
Last week I wasn't necessarily great with a 8-6 record. On the other hand, my overall record has improved to 90-54 on the season. If you want to hurl negativity at me, or need info on where to send my cut of your football pool money for giving you this week's upset pick, please contact me via Twitter.
Week 11 Pick'em
Chicago Bears @ Miami Dolphins – The Miami Dolphins are down to their third QB, Tyler Thigpen, who may actually be better than the Bears first QB, Jay Cutler. Chad Pennington made his annual injury exit only a few minutes into last Sunday's game against the Titans. That was followed by the entrance of the injured spirit of Chad Henne, which ironically ended in a actual injury.
Cutler, behind a brutal O-Line was able to remain intact because the Vikings coaching staff is apparently unaware of the success from blitzing the QB. Dolphins coach Tony Soprano will blitz Cutler like a pack of teenage girls who spotted Justin Bieber on the street. I like Miami if they stop Devin Hester on special teams and run more formations out of the wildcat spread.
Buffalo Bills @ Cincinnati Bengals – It is impossible to sell any excitement for this game. Two teams that have a combined three wins on the season and a Bills team that I could argue is better with less talent and one less win.
The only reason I am picking the Bengals is because this game is at home for Cincinnati. I bet if the Bengals tried to give tickets away to family and friends they would politely decline to stay home and watch the Red Zone channel – at least that way they could watch entertaining meaningful football.
Detroit Lions @ Dallas Cowboys – Even though these two teams only combine for more total wins, it is immensely more intriguing. I want to see if Jason Garrett can continue to prove Wade Phillips is softer than a wet tissue. Also, can John Kitna continue to look like John Elway with his ball delivery and distribution.
The Lions have a young, fun, hungry team led by Ndamukong Suh who is pursuing Defensive Rookie of the Year honors. I want see if the Cowboys defense has the heart to contain Calvin Johnson – I know they have the talent, but I question the effort. In the end, the Cowboys show enough pride to not let the Lions win their first road game since pagers were cool.
Washington Redskins @ Tennessee Titans – The debut of Randy Moss was anything but exciting. He caught one more pass than I did from my couch. The best remedy for a poor performance is playing a Redskins defense that was lit-up like Christmas tree in Times Square.
You saw what the Eagles QB did in space on Monday night, imagine what Chris Johnson will do running and receiving. The Donovan McNabb saga isn't over in Washington just because they signed him to a fake extension. Tennessee is going to keep things interesting in the AFC South.
Arizona Cardinals @ Kansas City Chiefs – My brother made great point on the podcast: Are the Cardinals trying to validate Kurt Warner as a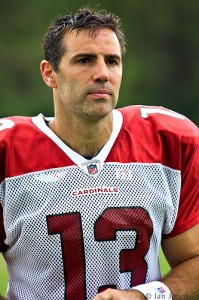 first ballot Hall of Fame player? Arizona pretty much has the same team, but looks like they would struggle in the SEC.
The Chiefs are a team headed in the right direction, but they not quite there yet. They have to figure out some issues on defense and have consistency in the pass game. These issues pale in comparison to Arizona's problems, though. The weakest points of the Chiefs would be the strong suits of the Cardinals which is why I see a fairly easy victory for Kansas City on Sunday.
Green Bay Packers @ Minnesota Vikings – I believe we will see Brett Favre in his final NFL game on Sunday. I feel everything is set up for this to be the case with the many reasons I spoke of in this week's edition of Locker Talk. The Vikings have a horrible offensive line when it comes to pass or run blocking. The Minnesota players would rather bare-knuckle fight a rock than be coached by Brad Childress.
The Packers have Clay Matthews, who may be the first-half Defensive Player of the Year. This Green Bay defense will give up yards, but will create turnovers – especially against Favre. This game will be close in the third quarter, possibly even to start the forth. Then Aaron Rodgers will help the Packers offense pull away appropriately sending Favre into retirement.
Houston Texans @ New York Jets – One team bases their success on defense, the other seems as if defense is something that stops the their offense from being on the field. Last week the Texans lost on a hail-mary – I thought that only happened on Madden.
The Jets run the ball and eat up clock. They take shots down the field when you the other team falls asleep – not sure the Texans defense is ever awake. The Texans don't scare the Jets because they base their offense off of a steady run game – Jets dominate the run. I am not only taking the Jets, but the +5 for Texans' turnovers on Sunday.
Oakland Raiders @ Pittsburgh Steelers – I really like what the Raiders have put together. I actually think they are trying to be the Steelers of the west. Although, right now that might not be a good thing with the way Pittsburgh struggled against the Patriots. The Steelers identity is run and play solid defense. Ben Roethlisberger is great at closing out close games, but I'm not a big fan of him being the focal point of the offense for 60-minutes.
I think this is going to be a close game where the Steelers grind it out in the forth quarter. Jason Campbell may even lose his spot to Bruce Gradkowski ultimately costing Tom Cable his job.
Baltimore Ravens @ Carolina Panthers – Nine days of rest was just what the doctor order for the Ravens. If the Panthers had two months to prepare for this game I still wouldn't take them if you gave me seven points.
You might as well replace John Fox on the Carolina sideline with a NFL Fat-Head. The Panthers have QB, RB, and defensive issues that don't bode well going up against one of the leagues most complete teams. If you take Carolina in this game you must be a fan of the pretty blue color of their jerseys.
Cleveland Browns @ Jacksonville Jaguars – This is a tough game to pick. The Browns have looked like a team to be reckoned with this season and possibly many seasons to come. However, I have to take into account that they are coming off of a treacherous three week stretch and are due for a let-down.
The Jaguars still have something to play for, although, in the end I don't see them making the playoffs. David Garrard and the WRs are starting to gel nicely and Maurice Jones-Drew should play well in both the running and passing game leading to a win.
Tampa Bay Buccaneers @ San Francisco 49ers – I love what the Buccaneers are doing even though it will lead to me losing a bet and getting a hideous Bucs tattoo. But, I have to roll with my man Troy Smith for the 49ers. I said before the game against Denver that I thought he was special and in two consecutive starts he has proved me to be right.
This is going to be a great game and will probably steal a lot of my attention in the second wave of games. Josh Freeman and LeGarrett Blount continue to be impressive for Tampa Bay. I like the Niners at home behind a solid defense, a Frank Gore rushing attack, and the play-making ability of Smith at QB.
Seattle Seahawks @ New Orleans Saints – The Seahawks win over Arizona last week was impressive, but if I beat a fifth grader in basketball I wouldn't read anything into it. The Saints have been under the radar when talking about top teams in the NFL because of injuries to key positions. They are about to get healthy and will be a dangerous team down the stretch.
This weekend I like for Drew Brees to look like he did last season. Also, the defense to start getting more in the aggressive still they were last year and create turnovers. Both of those reasons are enough to spell a loss for Seattle.
Atlanta Falcons @ St. Louis Rams – The main road block for the Saints success in the NFC South will be the Falcons. Atlanta is better than I thought, but not as good as everyone says they are.
The Rams organization got to the corner in their new flashy car (Sam Bradford), but experienced a flat tire before they could fully turn the corner. On Sunday, St. Louis will be looking at who they could be in the next few years.
Indianapolis Colts @ New England Patriots – "The Robot" vs. "The Pretty Boy" and history tells me that the looks will be victorious. Tom Brady has dominated the match-up with Peyton Manning – much to do with the overall team of New England.
This is always a fun one to watch and will probably be again on Sunday. I just don't see New England losing at home, which Brady hasn't done for 25 straight games. Personally, I can't wait for both QBs to meet at mid-field after the game and admire each others hair.
New York Giants @ Philadelphia Eagles – Hypothetically lets say the Giants just had a bad game last weekend against the 1-7 Cowboys, they are still going to get Vick-timized – can't take credit for that, saw it on Twitter.
If an immobile QB like Kitna can knife up the Giants, I can only imagine what Michael Vick will do at home. The Giants haven't beat any team worth mentioning and they still won't come Sunday when the final second tickets away.
Denver Broncos @ San Diego Chargers – I am betting this game will have a total score of over 60. Philip Rivers has been so hot recently he could suit-up the towel boy and throw a touchdown. Kyle Orton continues to make Bears fans realize they had a capable QB, but gave him up for a QB incapable of making good decisions.
I don't anticipate much of a running attack, but plenty of big plays off of the play-action fake. These two teams don't like each other and Denver would love nothing more than to ruin San Diego's signature second half run. In reality the Broncos were probably done before they started this year and the Chargers will only add to that fact with a shootout win on MNF.
Thank you for stopping by the "CPB." Please come back for NFL Week 12. Also, don't forget to come by this Friday when the latest edition of Start'em and Sit'em comes out for fantasy football week 11.