NBA: You Fired Your Coach? For What?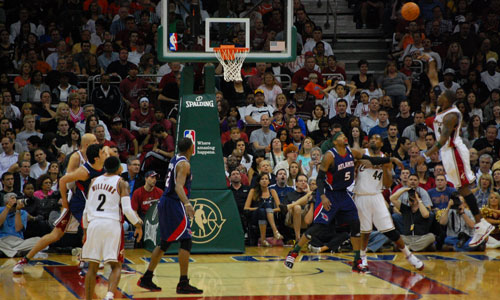 The Atlanta Hawks, a 50-win team, and the Cleveland Cavaliers, who have the best record in the league two years running, both fired their coaches this week.
Mike Woodson got his walking papers right after the Hawks got swept by the Magic. He improved his team every year for 5 years and still got the boot.
After winning Coach of the Year last year, Mike Brown got fired because his Cavs fell to the Celtics in the 2nd Round of the playoffs. He won over 120 games in two seasons and he gets canned.
I have my theories on these firings, which we'll get to.
However, the real questions are: Who did you fire your coach for? And, who are you going to bring in to "wow" me if I'm a Cleveland or Atlanta fan—which thank God I'm not!
I know who everyone wants to be their "Knight in Shining Armor" and then I know who will really get hired. Let's look at our options . . .
Bring in an Offensive Genius
Everyone is thinking the same thing, "Since LeBron is so great—how come Mike Brown can't do anything with him?" The answer is obvious. There's nothing TO do with him.
The Cavs let Mike Brown hang out to dry for a week while giving LeBron more time to lobby for what he wanted. We know that NBA coaches matter, however, players matter too.
Wouldn't it be nice if Mike Brown could just wave a magic wand and make the Cavs offense "click" in the playoffs? Yes. Is that going to happen? No.
What if you brought in Rick Carlisle? Maybe he's going to flame out in Dallas because Dirk Nowitzki wants to opt-out of his contract. You could give LeBron Larry Bird's "Offensive Coordinator" from the Pacers's Finals run!
Will that really change anything? Do we honestly think Rick Carlisle is a killer like LeBron is? No, we don't.
You could woo Alvin Gentry or Mike D'Antoni. I mean, look how great D'Antoni did with the Knicks this season (29-53). LeBron needs that, right? Nope.
There's got to be somebody who can get LeBron's juices flowing. Perhaps Larry Brown. He took Allen Iverson to the Finals and won a title for Detroit. Or did Iverson take Brown to the Finals and Rip, Chauncey, Sheed, Ben Wallace, and Tayshaun win Brown a title?
Bring Hubie Brown out of retirement! He made Jason Williams into "White Chocolate!" Nope, LeBron isn't an under-achiever.
There's no one you can hire to fix an offense that won over 120 games in two seasons—not even Phil Jackson. Hell, he probably thinks their offense works just fine.
And if Jackson did try to teach the Cavs the "Triangle and Two" it would probably take a year of growing pains to get it right. Firing Mike Brown will not fix Cleveland's offense.
Bring in Someone to Knock Some Sense into These Knuckleheads
Team Standings
Atlanta Hawks
WIN
53
LOSS
29
PCT
0.646
GB
6.0
CONF
32-20
DIV
8-8
HOME
34-7
ROAD
19-22
L 10
7-3
Streak
W 4
Cleveland Cavaliers
WIN
61
LOSS
21
PCT
0.744
GB
0.0
CONF
38-14
DIV
12-4
HOME
35-6
ROAD
26-15
L 10
4-6
Streak
L 4
---
"They" Said
Cavaliers Assistant Coaches Will Be Around, Even if Mike Brown Isn't
Hawks Will Not Offer Woodson New Contract
Cavaliers Fire Brown, but Bulls Aren't Expected to Bite
---
Upcoming NBA Games
| | | |
| --- | --- | --- |
| May 25 | LAL @ PHX | 9:00 PM ET on TNT |
| May 26 | BOS @ ORL | 8:30 PM ET on ESPN |
| May 27 | PHX @ LAL | 9:00 PM ET on TNT |
The Hawks have some major slackers on their team. Joe Johnson doesn't want to be "the man." Josh Smith jacks up ill-advised 3′s like a strung-out Kindergarten teacher slams tequila shots on the first day of summer break. Marvin Williams plays like he's still at UNC.
The Hawks played uninspired basketball against Orlando in the 2nd Round of the playoffs. Joe Johnson even admitted it saying,"That doesn't bother me, and I hope it doesn't bother anyone in this locker room. "It's about us in this locker room. We could care less if [fans] showed up."
What else do you need to know? They don't care! They need a hard-ass coach to come in and kick them in the pants. Wait, Mike Woodson IS a hard-ass. Larry Brown wouldn't be a change of pace—especially since Woodson used to be Brown's assistant in Detroit.
Bring in Hubie Brown! He made Jason Williams, a notorious under-achiever, into "White Chocolate."
This is true, but the difference is Jason Williams cared. Joe Johnson, Josh Smith, and Marvin Williams don't care. Do we really think Hubie has time for that crap? He is 76! In the immortal words of Sgt. Roger Murtaugh "I'm too old for this s***!"
His great-grandkids are probably better behaved.
What about Avery Johnson. He whipped the Mavs into shape and got them to play defense! There's a couple problems here:
1. Avery is 5'11." Do we really think Josh Smith and Joe Johnson will respect some little dude?
2. They probably have no idea he even played basketball—and won a championship in San Antonio.
3. You see the pattern. I'm wasting your time with the list. This won't work.
Just Hire an Assistant and Be Done with It!
And do what? Hope that you just promoted the next Phil Jackson? What are the odds that Phil Jackson was going to be "Phil Jackson?" 1,000,000 to 1.
Hiring an assistant is great, but that's what Mike Brown and Mike Woodson were before they got the jobs they just lost! You might as well rehire them if you're going to use an assistant to replace them.
It sounds like a smart move—hoping for the Phil Jackson effect—until you re-read my previous point. You already hired an assistant and then fired him when he didn't live up to elevated expectations. Maybe you should give them more time.
Look at Frank Beamer. He's been at Virginia Tech for 23 years. He's nearly won a national title, won 6 conference titles, and is consistently competitive. What the hell else could you ask from him?
Do you want him—or Woodson or Brown, for that matter—to go to the end of the rainbow and wrestle the pot of gold from a leprechaun?
You might as well ask them to do that, because this isn't getting any easier.
They Are What They Are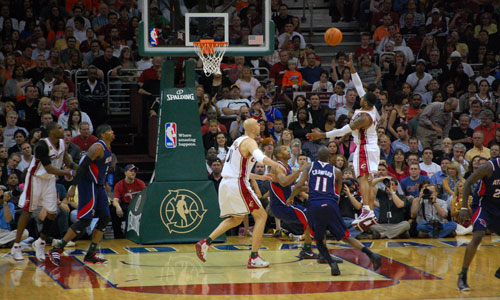 The Hawks and the Cavs are what they are. They have good players, but they don't have all the right players in the right places. Who's fault is that? Danny Ferry's in Cleveland. Billy Knight's in Atlanta.
Yes, I still blame Billy Knight for this mess in Atlanta.
Danny Ferry is getting a pass because he was a two-time All-American at Duke and took them to the Final Four in '86. Can we please get over this? He's clearly over-matched trying to build a team around LeBron.
Billy Knight got fired a couple years ago and the Hawks are still suffering because of his poor management. He let Chris Paul AND Deron Williams get away.
However, no one is acknowledging this. Danny Ferry traded—stupidly—for Shaq and Antawn Jamison.
Shouldn't they bear the blame for this mess? Shouldn't LeBron ask for a better GM? He already asked for a new coach.
This carousel will continue until Dan Gilbert in Cleveland, and the 7-headed monster in Atlanta, realize they did this to themselves. They fire the coach for the general manager's sins.
Maybe Mike Brown and Mike Woodson will get jobs with smart GMs that result in championships. That would be poetic justice.
Related Articles on SteroidsLive: