NBA: Who Wins The East in 2011?
I've had the entire weekend to think about the "LeBroncalypse" or the "Lebacle" or whatever you want to call it.  To finish my commentary on that I will say that LeBron assassinated his image on national TV—and it was bloody.
Now we have to consider what will happen when the NBA hits the floor and the Miami Heat are battling for the Eastern Conference crown. Not this team—nor any other team—is pre-ordained to win a title. So, how will the season go?
I think everyone forgot that the Celtics, Magic, Hawks, Bulls, Pacers, etc., are in the Eastern Conference. It's kind of sad really. There are other teams who can give this Heat team trouble. Not necessarily the Pacers, of course, but the Heat are not the only team in the NBA.
I feel compelled to "call it" now because there is no reason in the world to think that any of the contenders in the East are going to make any more moves. You could claim that the Heat are adding pieces, but those pieces will be cheap. Derek Fisher just turned them down—and he was their best option as a "piece."
The Chicago Bulls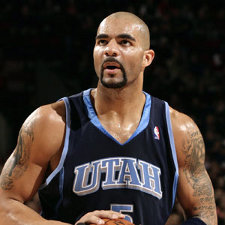 The Bulls made a pretty big signing when they brought Carlos Boozer to town from Utah. Boozer was thought to be bait for LeBron to come to Chicago—which would have been a smarter destination—but now they will soldier on with Boozer.
The current Bulls line-up features Derrick Rose, Carlos Boozer, Joakim Noah, and Luol Deng. Now, we can write off Deng because he has done next-to-nothing in the NBA. However, Boozer, Rose, and Noah are killers.
Boozer and Noah will plug up the paint where Chris Bosh would be and just kill him. Chris Bosh isn't even a superstar and the Heat don't really have a true Center.
Derrick Rose would be running the Point and scoring. To my knowledge, Derrick Rose is a better player than Heat Point Guard Mario Chalmers. Even if you switch off Guards and have D-Wade cover him you're leaving Mario Chalmers by himself. Darn!
The Bulls also picked up Kyle Korver from Utah. This adds a "sharpshooting" element to their backcourt that can only be thwarted if Wade is guarding him—leaving Derrick Rose alone with Mario Chalmers.
The only favorable match-up is Luol Deng on LeBron James. LeBron may be a gutless coward, but he's surely a better player than Luol Deng.
So, if the Bulls and the Heat meet in the East Finals, does Miami expect LeBron to score all their points while running through Deng? I hope not. They won't get any rebounding down low. They'll have a hard time shooting from outside.  They'll be stifled by Chicago's intensity.
In this instance the "weak link" is Chris Bosh. He'll stand down in the paint and watch Boozer/Noah run circles around him. Meanwhile, the Heat will get behind and LeBron will have to take over–on Wade's team.
We don't think D-Wade will have a problem with that?
Your Boston Celtics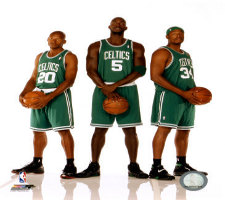 I've spent the last couple years crapping on the Celtics. They're old, they're old, and they're old.  However, they took my beloved Lakers to 6 and a half games before Kobe decided he wanted another ring.
The "sleeping/old" giant was awakened, I think, when the "Stupid 3″—as I will dub them—landed in Miami. When they started acting like they are essentially pre-ordained to win the East—the Celtics took notice.
Kevin Garnett, Paul Pierce, and Ray Allen looked around, grabbed Rajon Rondo, and said to themselves, "Those punks ain't beatin' us!"
Look at the match-ups. Bosh on Garnett—Garnett wins. Rondo on Chalmers—Rondo wins. Pierce on LeBron—it's a push. Pierce is a competitor and LeBron clearly is not.
Wade will play by himself at the "2″ and he will be expected to do all the heavy lifting.
Here, the Celtics reserves will keep them in games. Big Baby, Nate Robinson, and guys like that will fight like hell to keep the Celts in games. How will the Heat respond?
With a bunch of minimum salary guys?  I don't think so.
Neighbors to the North: The Orlando Magic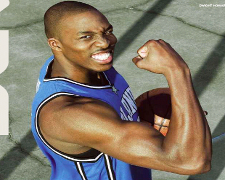 It's no secret that the Magic are stinging after missing out on another trip to the finals, but how will they handle the Heat?  Surely the Magic don't have the kind of talent that the Heat have.
And you would be correct.
The Magic don't have the kind of talent that the Heat have. However, they have Dwight Howard down low being backed up by Marcin Gortat which equals no rebounding for Miami.
Mickael Pietrus won't be able to cover LeBron—that very is clear. You would have to switch defenses—again—to have D-Wade cover Jameer Nelson. Doing so leaves lots of space for Vince Carter to get to the basket.
This movement in the backcourt also gives Rashard Lewis perimeter shooting opportunities that he wouldn't have otherwise. I know that Chris Bosh doesn't want to play Center, but will he be able to follow Lewis to the perimeter? Probably not.
Again, LeBron will be expected to do all the work—on D-Wade's team. Anybody who wants to say they can "work it out" isn't looking at the key matchups.
Where Will They Finish?
Given that there aren't many other decent teams in the East it's conceivable that the Heat might finish in third. Given the relative "strength of schedule" that the Bulls, Celtics, or Magic may face, one of these teams might slip to 4th under the Heat.
However, you can't convince me that this Miami team, who has matchup issues in a weak Eastern Conference, can tangle with Western Conference teams and consistently win. That puts a damper on your record.
This also means that they will not have a "straight-shot" to the East Finals. They will have to find a way to overcome Bosh's inability in the paint. They will have to find an effective way to get Wade on the opposing team's best perimeter guy.
LeBron not only assassinated his image and his legacy, but his chances of winning.  He should have taken my advice.
They will have to find a way to keep LeBron happy without pissing off Wade. Oh, and they'll have to win games all at the same time. This might have sounded like a cute little fantasy in 2008 at the Olympics when some people claim this "playing together" idea came about.
Remember two things my friends:
1.  At the Olympics—when they were having so much fun—they had NBA All-Stars as reserves.  The best players in the game could come in and give them a rest. Unless all 3 of the "Stupid 3″ in Miami play 48 minutes a night for 82 games—they'll have problems.  No reserves = going to hell in a handbasket.
2.  When the USA got down to Spain and came very close to losing the Gold Medal Game, who came in and took over?  Kobe—Dean—Bryant.
I rest my case.
Related Articles on SteroidsLive: