The Most Overrated Fighter in MMA History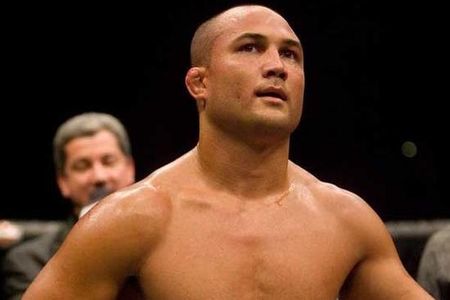 I'll give everyone a hint, his MMA record is 13-5-1. By far, the most overrated fighter in MMA history is
(Drum Roll)……………. BJ Penn! The casual MMA fan (not the die-hard, knows every stat for every fighter fan) would have probably figured a guy with BJ Penn's notoriety would have a much more impressive record. Especially given Penn's high rankings in countless MMA pound for pound lists and the amount of publicity given to him by the UFC. Don't get me wrong, no one can argue with Penn's numerous accomplishments in Brazilian Jiu Jitsu and even grappling for that matter. My focus is strictly on his MMA career. The fact is, Penn joined the UFC at the perfect time. The company was still up and coming and Dana White was searching for talent wherever he could find it. White struck gold by getting someone with the talent of Penn to join the UFC. Penn made his MMA debut at UFC 31 with a TKO victory over Joey Gilbert. This is where the "legend" of BJ Penn begins…A mere 3 fights later, with a whopping record of 3-0, BJ Penn is fighting Jens Pulver for the UFC Lightweight Championship. Anyone who follows MMA knows that a fighter in today's UFC with a 3-0 record wouldn't be able to smell a title shot for at least another 7-10 wins, especially in the lightweight division. The only exception to this is the heavyweight division, where a guy like Brock Lesnar will probably get that kind of opportunity, but that's only because of his fame, but more so the lack of depth at that weight class. But back to BJ Penn…Oh yea, by the way, he lost that title shot to Pulver.
Eventually, Penn would go on to beat Matt Hughes at UFC 41 and earn the title of UFC Welterweight Champion. In my opinion, this was and still is Penn's biggest win of his career. Not long after defeating Hughes, Penn left the UFC for the Japanese Fighting and Entertainment Group (FEG), citing a lack of competition in the UFC. After a two year stint with FEG where Penn went 3-1, he was welcomed back to the UFC complete with the red carpet treatment. Right off the bat, Penn was given a fight with George St. Pierre for the number one contender spot in the UFC Welterweight division. Penn lost to GSP by split decision. He would then lose his next fight in a rematch to Matt Hughes. Penn needed a comeback fight, so a fight with his long-time rival Jens Pulver was set up as part of the Ultimate Fighter 5 finale. Jens noticeably on the down slide of his career was choked out by Penn in the 2nd round. So after going 1-2 since his UFC return, Penn was awarded once again with a UFC Lightweight title shot against Joe Stevensen. Penn would claim the title with a rear naked choke in the 2nd round. Just a year later, Penn was given yet another huge opportunity with a Welterweight title shot against GSP. We all know what happened there. It was virtually a 4 round MMA clinic given by GSP and Penn was the unfortunate Guiney pig. If you ask me, GSP is just a much better and more well rounded fighter. If you ask Penn he'd probably say it was the grease.
Some people reading this might think I'm just a BJ Penn hater. That's not the case at all. The fact is, he is a gifted Brazilian Jiu Jistu practitioner and a great grappler. But the other fact remains that Penn's rise to stardom in the UFC has been less than impressive. Just looking at his MMA career, it seems that his success has had less to do with his fighting and more to do with how much Dana White likes the guy. All I have left to say is 13-5-1… Not exactly the record of a "prodigy".