MLB Week 9 Sluggers and Slugs
Another great week around the diamond — this time with a retiring legend, a successful walk-off celebration and the blown call of a lifetime.
Many feel baseball remains a great game because of its long-standing traditions and history. These are the same people who feel the human element of umpires is the way to go over technology and video replay, especially in certain cases.
It was interesting listening to baseball purists defend their stance when umpire Jim Joyce blew a call that cost Detroit Tigers pitcher Armando Galarraga a perfect game. Joyce admitted he blew the call as soon as he saw the replay and felt horrible.
Not using replay on certain plays late in games is like teenage sex without a condom. Yes it taints the experience a bit, but if we can enjoy it, and it prevents us from making the mistake of a lifetime, then let's just wrap it up.
We said bye to "The Kid," Ken Griffey Jr., this week as he retired in Seattle, where it all started. After 22 major league seasons, Jr. felt like he was more of a distraction than a help to the team, so he hung'em up. Jr. was one of my favorite players, and no doubt, a first ballot Hall of Fame candidate.
Some surprise teams fall from the penthouse power rankings, and the same old teams occupy the cellar. Which players did their best impression of a creepy grown up in tights and got their hero on this week?
Penthouse Pimpin'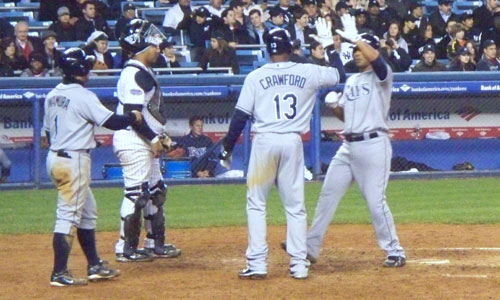 No. 1 – The Tampa Bay Rays have cooled off considerably in the past couple of weeks. They have managed to maintain a lead in the toughest division in baseball. Put aside the fact the Rays aren't dominating right now; they are still the best team in baseball.
No. 2 – The San Diego Padres have the second-best record. I have never seen a team with so little obvious talent win so many games. There are rumors about them trading closer Heath Bell for prospects. I say, get a big bat for the clean-up spot.
No. 3 – The Cincinnati Reds ended this week tied for the NL Central lead. This week, the Reds have a 7-game home stand with four against the San Francisco Giants and three with the Kansas City Royals. This adds up to a 5-win week and control of the NL Central.
No. 4 – The New York Yankees are not in first place; as far as I see it, this means they are underachieving. They have a great opportunity to seize first place in the AL East with their next six games against the Baltimore Orioles and Houston Astros.
No. 5 – The Atlanta Braves have finally started to come around and have taken a 2-game lead in the NL East. The bats are waking up and the pitching has come alive. If the older guys can stay healthy, they'll give manager Bobby Cox another playoff shot.
Cellar Dwellers
Upcoming MLB Games
Wednesday June 9

AL

NL

BOS @ CLE 7:05 PM ET
FLA @ PHI 7:05 PM ET
NYY @ BAL 7:05 PM ET
PIT @ WSH 7:05 PM ET
TOR @ TB 7:10 PM ET
SD @ NYM 7:10 PM ET
SEA @ TEX 8:05 PM ET
SF @ CIN 7:10 PM ET
DET @ CWS 8:10 PM ET
CHC @ MIL 8:10 PM ET
KC @ MIN 8:10 PM ET
HOU @ COL 8:40 PM ET
LAA @ OAK 10:05 PM ET
ATL @ ARI 9:40 PM ET
STL @ LAD 10:10 PM ET
Thursday June 10

AL

NL

DET @ CWS 2:05 PM ET
SF @ CIN 12:35 PM ET
LAA @ OAK 3:35 PM ET
SD @ NYM 1:10 PM ET
BOS @ CLE 7:05 PM ET
CHC @ MIL 2:10 PM ET
NYY @ BAL 7:05 PM ET
ATL @ ARI 3:40 PM ET
SEA @ TEX 8:05 PM ET
FLA @ PHI 7:05 PM ET
KC @ MIN 8:10 PM ET
PIT @ WSH 7:05 PM ET
Watch any MLB game on the MLBN and other select networks, or visit your team's website!
No. 26 – The Seattle Mariners are close to retiring on the season like "The Kid." If you thought things couldn't get worse for the Ms, you were wrong. Young budding ace Doug Fister missed a start because of arm soreness. Fister is facing a possible trip to the DL.
No. 27 – The Astros have started to put some wins together — going 6 of 10. The bad news is they have strong teams on the upcoming schedule. This should treat them like stabbing a balloon, and let the air out in a hurry.
No. 28 – The Cleveland Indians have some good news coming, after four with the Boston Red Sox, they get into inter-league play. Upcoming games against the Washington Nationals (slowly returning to form), the New York Mets and the Pittsburgh Pirates should equal .500 baseball. Good luck trying to give away those tickets.
No. 29 – The Arizona Diamondbacks at one point this week went scoreless for 30-plus innings. Not sure how to sum up this team's play other than they make Richard Simmons want to slit his wrists.
No. 30 – The Orioles have played so bad, they got their manager, Dave Trembley, fired. I know Mr. Trembley is probably upset, but he should be happy that he doesn't have to watch that garbage anymore. It's like watching the same crappy movie over and over again.
Heros and Zeros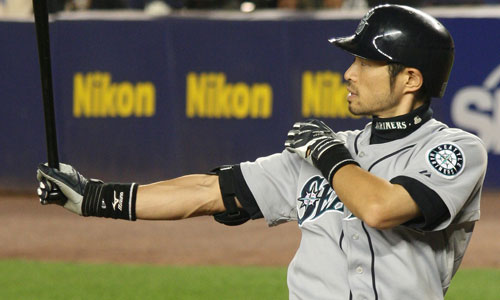 AL Heros
The Mariners may have lost the best player in franchise history, but their second-best player, Ichiro Suzuki, had a great week. Suzuki hit .481 with 5 runs scored, 5 RBIs and 4 stolen bases. To bad the rest of the team doesn't know it's a good thing to get hits with runners on base.
The Red Sox' Kevin Youkilis has been the best and most consistent on the team this season. Youkilis hit .462 with 2 HRs and 9 RBIs and still took an extra day of rest.
The Tigers' pitcher Galarraga has to be the pitcher of the week for basically throwing a 28 out perfect game. He also deserves votes for player of the year, the way he handled the entire situation. Most people, including myself wouldn't have handled it with the class and grace he did, and I admire that about him.
AL Zeros
Joe Mauer is the savior of the Minnesota Twins, but this week he couldn't save them from a attack of butterflies. Mauer hit an unusual .214 with no HRs and no RBIs. Instead of "Mauer Power," it was more like "Mauer Sour."
I feel bad doing this since Zach Greinke plays for the Royals, but he either needs to ask for more help or ask to be traded. You can't expect the guy to throw shutout baseball every start. Greinke gave up 4 runs in 6 innings for a loss.
NL Heros
The Mets' David Wright is one of the games best all-around players, but hasn't shown it until this week. Wright hit .500, had 2 HRs, scored 6 runs and stole 2 bases.
The Braves acquired Troy Glaus, hoping he would stay healthy and have weeks like this. Glaus hit .308 with 4 HRs and 10 RBIs. A major reason why the Braves have taken over first place.
The St. Louis Cardinals have the game's best veteran in Albert Pujols and may have the best young star in Colby Rasmus. Rasmus went 11/22 with 3 HRs, 9 RBIs, 8 runs scored, and one base stolen. This lineup has the potential to be one of the best in baseball if Rasmus continues.
It would be easy for me to write that Ubaldo Jimenez shone this week by winning both starts and striking out 17, but I won't. Instead, Cardinals' ace Adam Wainwright pitched a complete game two hitter against an offensive power house in the Milwaukee Brewers while striking out nine.
NL Zeros
The Philadelphia Phillies have been on the decline recently and that is due to the fact that the offense couldn't hit a parked car. Big part of that downfall is number three hitter, Chase Utley who went 4/23 with no HRs and one RBI.
I promise I'm not gaining up on the Phillies, but Cole Hamels' ERA looks more like the ticket price for the game. Hamels gave up a three-run bomb in the first inning, and then the rain came. Hamels never returned, yielding him a 40.50 ERA for the game.
Major League Baseball gets back underway this week with inter-league play, a.k.a. proof the NL needs the DH (Designated Hitter).
Related Articles on SteroidsLive: