Sluggers and Slugs: League Division Series
The 2010 Major League Baseball regular season has ended, and the post-season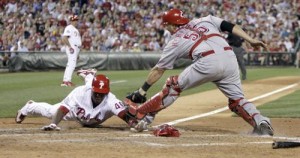 Cincinnati at Philadelphia
The Reds got a tough draw in the first round by catching the Phillies. Not only has this team represented the NL in the World Series the past two years, but they have added the "Roy Boys," Halladay and Oswalt.
It doesn't stop at pitching for the Phillies: They are complemented by a very dynamic lineup lead by Jimmy Rollins, Chase Utley, Jayson Werth and Ryan Howard. Like most teams in baseball, they battled injuries this season, but got everyone back healthy in time for the playoffs.
Before it appears that I have fallen in love with the Phillies and completely written off the Reds—they, too, have a lineup worth mentioning. It's lead by MVP candidate Joey Votto, but also includes veterans Brandon Phillips and Scott Rolen, both of whom have had tremendous seasons.
The Reds starting pitching is average, with guys like Edison Volquez, Bronson Arroyo and Johnny Cueto. Their strength lies in the bullpen with relievers Aroldis Chatman, Arthur Rhodes and closer Francisco Cordero. Left-handed bats on the Phillies will face tough late-inning tests from flame-thrower Chatman and the crafty Rhodes.
I like where the Reds are headed, but for this season I don't see them advancing past the ALDS. I believe the starting pitching of Halladay, Oswalt and Cole Hamels will be too much, and this series will be over in four games.
Atlanta at San Francisco
The Bobby Cox farewell tour continues with the Braves grabbing the Wildcard. This is the most well-balanced match-up in the first round. Neither team has an explosive offense, and both are lead by complete pitching staffs—Braves third in ERA and Giants first.
The Braves have Tim Hudson, Tommy Hanson and Derek Lowe. They are anchored by one of the best left-handed relievers in baseball, Billy Wagner—who also plans to retire at season's end.
The Giants have three youngsters with great stuff in Tim Lincecum, Matt Cain and Jonathan Sanchez. They, too, have a great closer in the eccentric Brian Wilson.
Both offenses are lead by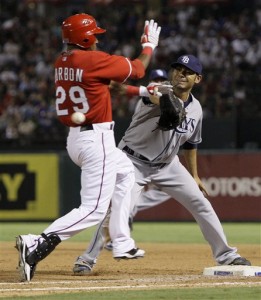 Texas at Tampa Bay
The Rays are a team built for the post-season. They hit for power, they can steal bases, and most importantly, they can pitch early and late in games. The Rangers' pitching staff is nothing to forget about, finishing the season ranked 10th in team ERA.
There are some things that worry me about the Rangers this post-season. First is the fact that they were fueled by offense this season, and now the main source is limited—MVP candidate Josh Hamilton will be playing with two fractured ribs, and I don't think that bodes well for a team that relies so heavily on offense.
Another thing that worries me about the Rangers is that they have a rookie at closer in Neftali Feliz. I'm not convinced that in the ninth inning, with the season riding on the line, that he will have what it takes to maintain his control and close the door.
The Rangers will have at least one game with a monster offensive outing with a lineup featuring Vladimir Guerrero, Nelson Cruz and a banged-up Hamilton. The problem is they picked up Cliff Lee for this time of year and he hasn't pitched well in Texas. This puts more pressure on guys like C.J. Wilson, Colby Lewis and Tommy Hunter.
The Rays will likely lose some notable players to free agency: Carl Crawford, Carlos Pena and Rafael Soriano. The organization has done an incredible job putting together a team, but financially won't be able to compete with the market this off-season.
I like the opportunity for that speech by Joe Maddon to inspire them to do something special before the team is broken up. David Price has looked un-hittable at times this season; add to him Matt Garza, Wade Davis and James Shields and you have a solid rotation.
With my uncertainty of the Rangers pitching staff and the health of Hamilton's ribs, I have to select the Rays in four games.
NY Yankees at Minnesota
No team needs to win game 1 more than the Yankees. The only thing the Yankees are sure of is that C.C. Sabathia is going to start the first game of the series in Minnesota. Starters for games 2 and 3 haven't been announced, which I don't find reassuring.
A.J. Burnett is listed as the team's starter for game 4, but I'm not convinced that manager Joe Girardi wouldn't rather start Sabathia on three days rest. Also, the greatest closer of all-time, Mariano Rivera, has looked a little shaky down the stretch … but I'll wait to question him in the post-season.
One thing I know the Yanks can do for sure is hit. They scored the most runs in baseball and have a lineup that can win games with most guys on the mound. If Alex Rodriguez and Mark Teixeira can perform, it may make up for the lack of starting pitching they have. I know Robinson Cano will hit; Nick Swisher lives for this; and even though Derek Jeter has been struggling, it is playoff time and he will get hits in clutch situations.
The Twins' starting pitching on the hand is set through Game 4, with Francisco Liriano getting the ball in Game 1, followed by Carl Pavano, Brain Duensing and Nick Blackburn.
This team lost Joe Nathan before the season started and replaced him nicely. Then they lost Justin Morneau, who was having an MVP season, and replaced him nicely as well. Joe Mauer, Jason Kubel, Delmon Young and the never-aging Jim Thome are the cornerstones of a very solid offense.
I believe the Yankees will find a way to stretch this out to five games, even with all the pitching questions. My brain tells me that history will continue to repeat itself, with the Twins' playoff woes continuing and Sabathia coming through on the road for the second time in this series—Yankees in five.
Final Thought
I really think that MLB could do itself and the fans a service by shortening the season. If they did, we could be watching the World Series this week instead of waiting until the NFL is at the midway point, the NBA and NCAA have tipped off, and college football bowl conversations are heating up.
However, a baseball fan will love baseball whenever it is being played. I have picked an all-east-coast League Championship Series with the Yankees vs. Rays and Braves vs. Phillies.
Additional Reading at SteroidsLive
Related Articles on SteroidsLive: