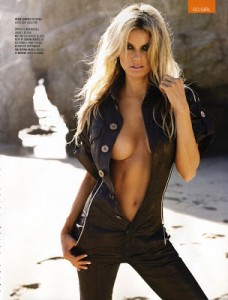 Marisa Miller supermodel is obviously into working out. Shockingly her workout is boxing. She says that fighting is a great workout and that it helps to keep her fit. She goes to the gym and trains like everyone else. Bet that gym is popular. Marisa was named Maxim's hottest celebrity; so obviously the workout is effective. She has to be careful though not to get hit in the face; the results could be disastrous.
Touchy feely photographers better watch out, or they may get knocked out. Ironically to some, Marisa is not the only beauty into fighting. Many in the entertainment and modeling industry benefit from some type of martial arts exercise. Wow knockouts that can knock you out. Those ladies really are tougher than they look.
Here are a few more pictures of Marisa and her hot body so you get the point of how effective the fighter workout can be.
#gallery-1 { margin: auto; } #gallery-1 .gallery-item { float: left; margin-top: 10px; text-align: center; width: 100%; } #gallery-1 img { border: 2px solid #cfcfcf; } #gallery-1 .gallery-caption { margin-left: 0; } /* see gallery_shortcode() in wp-includes/media.php */





Written by:
Volstag the Legend
Volstag FA 88
Last of the Great Ones
Related Articles on SteroidsLive: