JaMarcus Russell Robbed the Raiders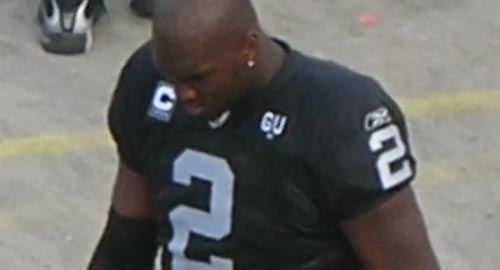 The Oakland Raiders drafting QB (Quarterback) JaMarcus Russell with the No. 1 pick in the 2007 NFL Draft will be remembered as one of the worst picks in NFL history. It's like seeing your parents having sex–you want to forget it, but you just can't.
To say that Russell has been a bust would be generous. But, to say that he is the only reason they have sucked over last three seasons would be unfair.  They do have a head coach in Tom Cable who punches coaches and allegedly beats women (what a winner); Russell should however shoulder a large part of the blame.
With the acquisition of QB Jason Campbell from the Washington Redskins, it appears that the Raiders' experiment with Russell is over.
The amount of money he made will appall you, the lack of production he had will disgust you, and the players they could have taken will shock you.
What does the future hold for Russell?  I've got few ideas for career opportunities for him after the NFL.
Russell Committed Arm-Less Robbery
According to a report from John Clayton at ESPN.com, "Russell is on the books to make 9.45 million this season, including 3 million in guaranteed money."  Sources project he will receive the 3 million regardless of whether he's released, bringing his three year total amount paid to 39 million.
If you break down the numbers, Russell has been paid more than 5 million per win; more than 2 million per touchdown pass; and more than $100,000 per completion. Please take a second to go to the restroom and vomit; I just did.
Raiders' owner Al Davis and Raider fans probably would have felt better about this past three years had he just pulled out a gun and robbed them.
Russell only won seven games in three seasons.  Now you can say it's a team game, but when your completion percentage is 52% and you have a 2:3 touchdowns-interception ratio, it seems like Russell's the reason.
The big knock on Russell has always been his work ethic and even after being drafted, it never improved.  If you look at Russell and had to guess his position, QB would be the furthest position from your mind.  He looks like an offensive tackle or defensive end and is only a few cupcakes away from being a nose tackle (fattest guys on the team).
The supposed "big arm" the Raiders invested in never materialized and Russell essentially stole 39 million from the organization, as well as three seasons from Raider Nation.
What Could Have Been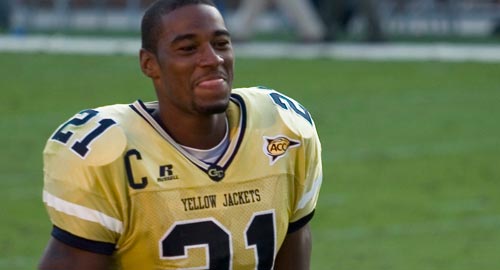 The 2007 draft wasn't especially strong, particularly in the QB department. The second QB selected was Brady Quinn by the Cleveland Browns, who have recently wised up and sent him packing to the Denver Broncos for a "bag of chips."
The No. 2 pick of the same draft was WR Calvin Johnson to the Detroit Lions.  Johnson is currently one of the top five WR in the NFL and isn't bordering obesity.
The No. 7 selection was Adrian "Slippery Tips" Peterson by the Minnesota Vikings.  Granted Peterson has had some fumbling problems, but he certainly hasn't had production problems as he is one of the top two RB (Running Backs) in the NFL.
Either one of the players I mentioned would be a tremendous upgrade in comparison to the overweight slob and slacker the Raiders are preparing to release.
Not to mention even if they would have work ethics and higher upsides.
JaMarcus search Jobs.com/FATandLAZY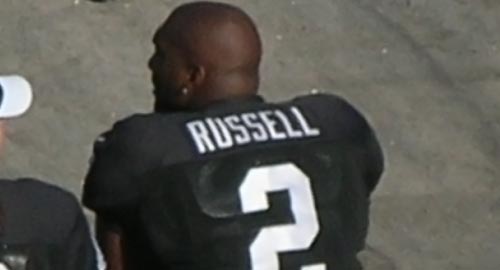 ESPN has reported that the release of Russell is only a matter of time.  The Raiders have a mini-camp on Friday and they want him gone so bad that if Davis doesn't ok the release, they might not let him practice for fear of injury and become liable for the entire 9.45 million.
At only age 25, what else is out there for an over-weight, lazy individual?
It's probably safe to rule out motivational speaker and fitness instructor.  There's always the Arena Football League or the Canadian Football League, and if you really desperate the Lingerie Football League (he's definitely got the breasts for the league).
He could go the route of a bunch of other "has been" athletes and get into MMA.  Although Mr. JaMarcus "Pillsbury" will have to train to fight and toughen up that midsection.
I'm sure San Quentin State Prison could use another security guard or corrections officer.  That might not be a bad position, besides rapist and murders, Russell would probably get a lot of coffee and doughnut breaks.
Last but not least, and probably the most realistic, he could probably get a spot on Celebrity Fit Club.  They may actually be able to get him back to normal playing weight and maybe some team could be desperate enough to give him another chance.
Player Stats
JaMarcus Russell
Raiders #2
Quarterback
Stats
2009-2010
TDS
3
INT
11
YDS
1287
RTG
50
---
Player Facts
Born: August 9, 1985
Height: 6′ 6″
Jamarcus Russel's six-year contract was not finalized and signed until shortly after the start of the 2007 NFL season.
---
"They" Said
JaMarcus Russell Practices with Raiders, Says He'll Keep Working 'Until They Tell Me Not To'
Tom Cable Says JaMarcus Russell Can Compete with Jason Campbell for Raiders' Starting Job
---
Come back to SteroidsLive for more off-season NFL updates!
Related Articles on SteroidsLive: