IFBB Pro Marina Lopez on Women's Bodybuilding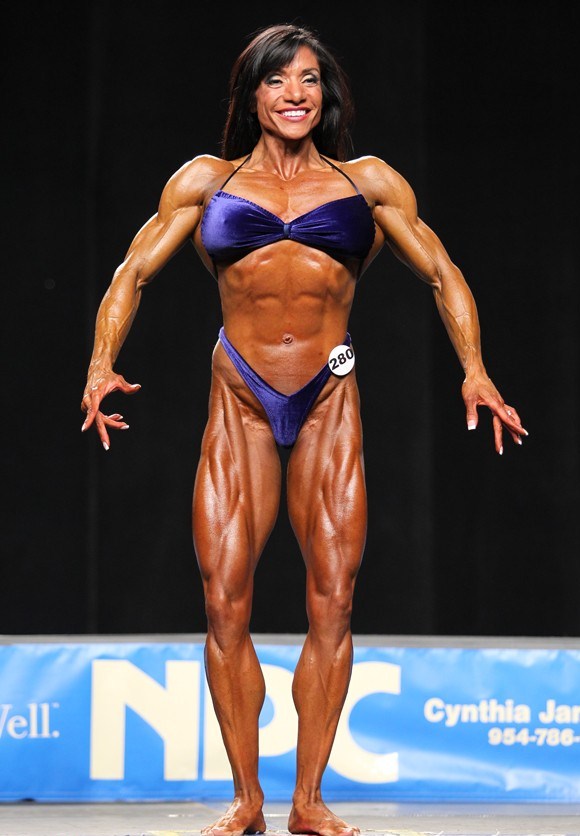 Bodybuilding icon, personal trainer, boot camp instructor, iSatori Lean Systems Success Plan feature, GNC franchise owner, and SteroidsLive fan, Marina Lopez, shares a candid and honest perspective on the sport of bodybuilding.
Competitive Roots
Lopez's lifelong passion for fitness and bodybuilding began as a teenager, lifting at Johnson's Recreation Center in Denver with her Aunt Joann, following the Gladys Portugues's Hard Bodies and Rachel McLish's Flex Appeal.
She was inspired by McLish and Portugues; "Both of these ladies were very sexy and appealing women. Their muscularity was apparent, but not overbearing. More importantly they maintained their femininity. They combined beauty with an aesthetically appealing physique."
In 2003, Lopez entered a physique transformation challenge sponsored by iSatori Technologies. After her astounding success and results, iSatori featured her in the Lean Systems Success Plan Book and did a feature story on her in their fitness magazine, Real Solutions.
Encouraged by iSatori's Stephen Adele to begin competing, she found competitive bodybuilding to be a great fit to her competitive nature, passion for fitness, and love of being on stage, cultivated from her years as a professional Mexican Ballet Dancer.
It was not until she was 35 that Lopez first began competing, winning her weight class and the novice division; "The more I learned the more interested I became."
She recalls her first competition as a nerve-racking day that seemed to move in "slow motion," not expecting the waiting and standing around that is involved. Hiring a full time trainer in 2006, she was encouraged by her trainer to begin competing in figure, motivating her to enter three figure classes and three bodybuilding classes at the Northern Colorado Bodybuilding Championships, winning each class and both overalls.
Six weeks later, Lopez won the overall at the Shawn Ray Pro/Am, qualifying for nationals. She competed in figure two more times at the national level but did not garner as much success as she initially had.
The late Steve Stone encourage her to return to bodybuilding in 2009, leading her to win the Colorado State and again qualify for the national level. If she could change anything, Lopez says that she would have begun competing at a younger age. Despite her late start, Lopez has garnered great success in competitive bodybuilding.
Contest History:
2004 Northern Colorado
1st Place Lightweight Bodybuilding
1st Place Novice Bodybuilding
2004 Rocky Mountain Bodybuilding
1st Place Masters Bodybuilding
2nd Place Lightweight Bodybuilding
2006 Northern Colorado
1st Place Masters Bodybuilding
1st Place Lightweight Bodybuilding
Overall Bodybuilding
1st Place Figure Masters 35-39
Overall Figure Masters
1st Place Figure A
Overall Figure Open
2006 Shawn Ray Colorado Pro/Am
1st Place Figure A
Overall Figure
2006 USA Championships
15th Place Figure A
2008 Jr. National Championships
N/P Figure B
2009 Colorado State
1st Place Middleweight Bodybuilding
Overall Bodybuilding
2010 Jr. National Championships
1st Place Lightweight Bodybuilding
Overall Bodybuilding
2010 USA's
2nd Place Lightweight Bodybuilding
2010 Nationals
1st Place Lightweight Bodybuilding – earned IFBB Pro Card
Getting Her Pro Card
Lopez earned her much-deserved Pro Card at the 2010 Nationals in Atlanta, fulfilling the goal she had set for herself of earning her Pro Card in 2010. The 2010 Nationals were Lopez's third competition for the year and after a 10 month long diet, "I was pretty exhausted. I felt a sense of urgency to win it at this show. Even though I earned my Pro Card, it was bittersweet. I am very competitive and I was set on winning the overall. Winning the overall at Jr. Nationals was an amazing feeling."
Words of Advice
Lopez has had many mentors, encouragers, and supporters over the years, but her husband is her "biggest fan and supporter" and is always the one who is able to put things in perspective, helping her to "remember what's important: God and family first."
She says her husband is "very competitive and pushes me to degrees I thought I could never achieve. But he also recognizes when the time constraints and challenges are conflicting with family and work. He slows me down when I start to lose focus of these things."
Lopez advises others not to be "intimidated by this sport" and not to "try to make your body into something you are not comfortable with." She advises against fitting yourself to the stereotyped bodybuilding image and instead, fit bodybuilding to you; "You don't need to add tons of muscle or 'bulk up'. There is an evolution going on in bodybuilding and once again the sport will recognize that conditioning, symmetry, stage presence and beauty will become a major factor in the sport."
Lopez goes on to explain the evolution of the female bodybuilder and the attempts to change the standards:
"The judges in women's bodybuilding have not done the sport any favors. They have encouraged women to be bigger and bigger to the point where the masculine look has dropped the sport out of the mainstream fitness realm. Most of America does not want to look like some of the reigning women in the sport. The women in the sport have created a physique to meet the expectations of the judges. They would not have pushed themselves to this degree if it was not being rewarded, after all the judges set the standards. The IFBB has been talking about scaling back the size of the women in the sport, but yet they continue to reward the athletes that are the biggest and most defined. Of course the competitors are going to create these huge physiques, it is what the judges want. The misconceptions are that female bodybuilders want to be men. Absolutely not, they want to win and they create the desired look based on the IFBB standards. On the other hand, there are a lot of women who have sacrificed all their feminine qualities just to be big and have gone to the point where it has hurt our sport."
Lopez considers bodybuilding an excellent pursuit for anyone with a competitive personality, finding it a perfect compliment to the naturally competitive person, as she did. "If you are the kind of person that seeks challenges, bodybuilding is a great sport to become involved with. I have never undertaken any single challenge that required more commitment and willpower to be successful."
Keeping it All in Perspective
The most important thing, Lopez reminds prospective competitors, is "to have a supporting cast." Her progression into bodybuilding began as a hobby for her and her husband after participating in the iSatori Physique Transformation Challenge.
Her husband continues to do all of her training and nutrition, acting as her training partner and "personal chef," preparing all of her meals for the week on Sundays. "His cooking is fantastic. I don't ever feel like I am dieting." An athletic family, Lopez's 18 year old son trains with her and her husband, plays college football, travels with her to shows, and becomes her "right hand man."
Her 13 year old daughter and nine year old son are both huge supporters, her daughter continually requests that she flex her arms, perform her routine, and telling her "You're beautiful Mommy." Her son works out with his older brother every day at the gym and wrote a report on her for school.
The Lopez family's quest for athleticism is a true family affair; "This is a lifestyle for us." Despite their athletic pursuits, Lopez warns that bodybuilding is a sport that can be "very self-serving and selfish" and maintains the importance of keeping it in perspective and remembering all the people around you.
"We are all proud of each other in our home and my bodybuilding is no more important than each of their interests. At home, I am just Mom. We don't have any photos or anything relating to my bodybuilding. We keep my trophies and one 8×10 photo at our gym."
Lopez's dedication to training, dieting, and cardio is unrivaled, putting the toughest bodybuilder and most ardent fitness enthusiast to shame. Her accomplishments and ability to balance all of her professional and athletic pursuits and interests is commendable.
Most importantly, Lopez's dedication to family and ability to keep it all in perspective makes her candor and perspective refreshing. Many women are certain to follow her diet and workout plan as ardently as she did with Gladys Portugues and Rachel McLish, positing her as a bodybuilding icon of the 2010′s.
Be sure to check back soon, Marina will share her current diet and training routines, as well as some exciting training techniques!
Additional Reading on SteroidsLive:
Related Articles on SteroidsLive: