From the Ring to the Cage: Top 10 Transitions from Wrestling to MMA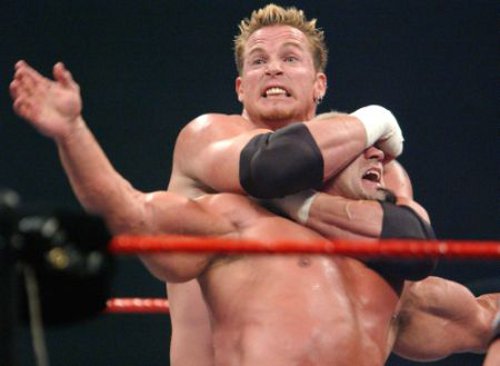 As MMA quickly replaces the popularity of other action sports, many former boxers and wrestlers are making the transition with their viewers. While fans favor the reality of MMA, wrestlers historically hold their own in the cage.
For many current and former wrestling fans, MMA affords them the opportunity to watch how their favorite wrestlers fare in real fights, creating a unique brand of crossover viewer. While Brock Lesnar and Bobby Lashley have long been hailed and the kings of crossover, there are some lesser recognized transitions and a few highly publicized upcoming opportunities to see more wrestlers and divas jump on the proverbial bandwagon.
1. Brock Lesnar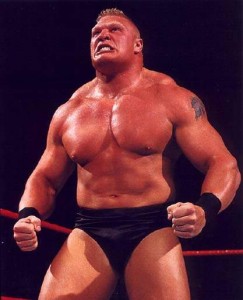 Brock Lesnar is decorated both as a mixed martial artist and professional wrestler. He is an undeniable powerhouse and draw card of both mediums, seamlessly transitioning from WWE to UFC.
Lesnar's professional wrestling titles include: NCAA Wrestling Champion; OVW Southern Tag Team titles with Shelton Benjamin defeating The Disciples of Synn, OVW Southern Tag Team titles with Shelton Benjamin defeating The Disciples of Synn; OVW Southern Tag Team titles w/Shelton Benjamin defeating Rico Constantino & The Prototype; WWE King of the Ring, WWE Undisputed title defeating The Rock (Summerslam 2002); WWF Royal Rumble (2003), WWE title defeating Kurt Angle (WrestleMania 19); WWE title defeating Kurt Angle -Iron Man Match; and New Japan IWGP Heavyweight title defeating Kazuyuki Fujita and Masahiro Chono.
His transition to MMA in 2007 solidified his place in sports history, proving equally successful in the cage and the ring with a 5-2-0 record securing a title history as impressive as his wrestling title history, defeating Randy Couture in November 2008 to become UFC Heavyweight Champion, becoming Undisputed Champion at UFC 100, and defeating Shane Carwin at UFC 116 to become, and Interim UFC Heavyweight Champion. UFC 121 recently sent waves throughout the MMA world with the unexpected defeat of Brock Lesnar by Cain Velasquez, causing him to relinquish the Heavyweight Championship belt.
2. Bobby Lashley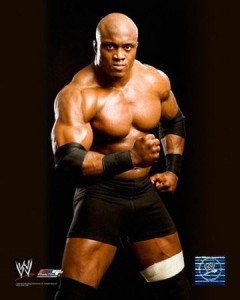 "The Boss" Bobby Lashley has held the WWE United States title defeating John Bradshaw Layfield in May of 2006, the ECW World Heavyweight title by winning an Extreme Elimination Chamber in December of 2006, and even defeating Mr. Vince McMahon in a June 2007 Street Fight to regain the ECW World Heavyweight title.
His signature Front Powerslam, ClotheslineFallaway Slam, Shoulder Block, Spear, Gorilla Press, Overhead Belly-to-belly Suplex, and Arm Trap Suplex were unleashed during long-standing feuds with Ken Doane, Simon Dean, Nunzio & Vito, Regal & Burchill, John Bradshaw Layfield, Fit Finlay, King Booker, The Big Show, Test, Hardcore Holly, Vince McMahon, Umaga, Rhino, Samoa Joe, and Scott Steiner.
After widespread success as a professional wrestler, he segued into MMA, acquiring an impressive 5-1-0 record, reigning undefeated for almost two years. At the end of a second round against Chad Griggs at Strikeforce: Houston, Lashley was defeated via TKO and later succumbed to dehydration backstage and was taken off on a stretcher with talks of a Lashley vs. Griggs rematch in the upcoming months.
3. Dan Severn

Dan Severn has posited himself as an accomplished king of action sports, often referred to as the "Renaissance Man" of fighting, transitioning from MMA to professional wrestling and back again, inducted into the UFC Hall of Fame at UFC 52. This real-life Iron Man began his career with an internationally successful amateur wrestling career before his indisputably stellar career with UFC, when it was still tournament-style, arguably a much more taxing format than UFC of today.
In 1995, Severn tried his hand at professional wrestling, working with a variety of promotions and styles including: WWF, NWA, WXO, and as a shot wrestler in Japan's UWF International. He garnered major success as a professional wrestler as a two-time NWA World Heavyweight Champion and appearing in WWF's Brawl for All, King of the Ring, and Royal Rumble, matched against such WWF Heavyweight legends as Owen Hart, the Godfather, and the Rock.
4. Ken Shamrock

Ken Shamrock's transition between MMA, professional wrestling, and back was not as seamless as Dan Severn's. He sustained many injuries with WWF, severely damaging himself as an MMA fighter, although WWE wrestlers still use the signature ankle-lock that he introduced to the WWF. Inside MMA names this heavyweight champion one of the top ten mixed martial artists of all time, having acquired success and titles both in the US and Japan.
His career with WWF led to indisputably legendary feuds with Chris Chavis, Steve Austin, British Bulldog, Shawn Michaels, Hunter Hearst Helmsley (Triple H), Big Bossman, Steve Blackman, and Jeff Jarrett, bringing him many championship belts including: WWF Intercontinental Heavyweight title defeating X-Pac, WWF World Tag Team titles with Big Bossman defeating New Age Outlaws, and NWA World Heavy weight title by winning a "Gauntlet for the Gold" match.
Along with the belts came many injuries, greatly damaging his once formidable power as a mixed martial artist. Shamrock remains a phenomenon of early mixed martial arts, as the first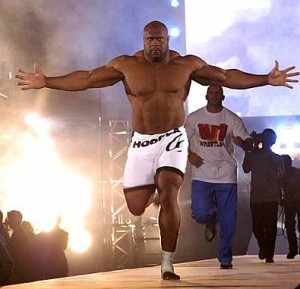 Bob Sapp's professional wrestling career laid the path for his MMA career, establishing his popularity both in the United States and Japan with WCW and New Japan Pro-Wrestling, respectively.
Sapp maintains continued popularity in Japan with his MMA career, fighting for a vast variety of promotions both domestically and internationally: Pride, K-1, Cage Rage, Strikeforce, Dream, and PFC. Bob Sapp tapped out to fellow professional wrestling alumnus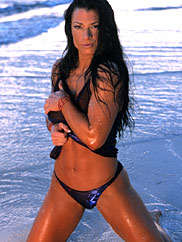 It's not just men becoming MMA converts; women are quickly making the transition to MMA, including former WWE Diva Maria Kanellis's segue from diva to King of the Cage backstage correspondent for HDNet.
As Strikeforce increases the popularity and visibility of women in the cage, TNA star Lisa Marie Varon, formerly Victoria of WWE, announced her upcoming transition to MMA in August.
Although she is still appearing with TNA, their famously non-restrictive contract permits her simultaneous competition with Strikeforce. Varon is currently training with Rich Franklin's manager J.T. Stewart in her pursuit to prove her athleticism in the cage.
With Crossovers Comes Fans
With so many crossovers from the WWE, boxing, and other sports, it's easy to see why MMA is gaining is popularity so quickly. Given its various fighting styles and characters, look for this sport to continue on its path of growth.
Check back often for the latest coverage and news on MMA events and athletes.
Additional Reading on SteroidsLive: