Frank Trigg is Back in the UFC…What's the Motive?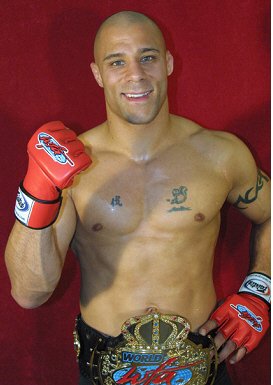 Thirty-seven year old, and two time former welterweight champ, Frank Trigg is making a return to UFC after over three years of absence. Though no official date or opponent has been set, Frank's looking forward to giving the 170-pounders a run for their money, coming off of four straight wins. But with all the fresh, new talent out there, is UFC making a mistake by letting him jump back into an already packed and cutthroat weight class? Or is the only reason for his return so that there can be a Hughes vs. Trigg 3?
Some seasoned UFC fans are wondering what the man could have possibly learned in the three years since he's been away, that he didn't picked up on sooner—like avoiding that Rear Naked Choke Matt Hughes put him in twice, both of which were in the first round. It almost seems like Trigg should hang up his gloves and go quietly into the land of retired fighters, keeping his record from accruing more losses. You know, the old quit while you're ahead thing.
But since the return is imminent, rather than sit and watch a repeat bout with Hughes or St. Pierre, I'd like to see old Twinkle Toes go up against some of the newer guys. Maybe twenty-three year old Dan Cramer, whose favorite submission move just so happens to be the Rear Naked Choke. This kid's so fresh that if you missed TUF season 7 or UFC 91, you probably don't even know who he is. Now that lineup would be the ultimate challenge of old vs. new.