Could This Be The End For Randy Couture?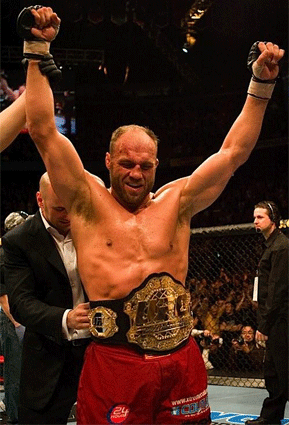 Randy Couture may very well be the most popular mixed martial artist of all time.  Don't let his career 16-10 record fool you, he's been in a UFC record 15 title fights.  He's a 5 time champion, three at heavyweight and two at light heavyweight and is already a UFC hall of famer.  At the ripe old age of 43, Couture came out of retirement to defeat Tim Sylvia for the heavyweight title in front of one of the loudest crowds of all time in Columbus, Ohio.
Fans were amazed at Couture's durability.  Most fighters are thinking of retiring well before their 40th birthday, but Couture was still getting better.  When Couture returned from a contract dispute, he was immediately pitted against Brock Lesnar for the heavyweight title, which he lost in a tough match via TKO in the second round.  At 46 years old, Couture headlined UFC 102 against Antonio Rodrigo Nogueira in a battle between two seasoned foes.  Couture was again very competitive but it was a defensive struggle as most of the bout he was recovering from hard shots to the head or escaping submissions.
Lesnar and Nogueira are two of the best heavyweights in the UFC so it's nothing to be ashamed of losing to them.  Brandon Vera, on the other hand, would be a different story.  Couture faces off against Vera in a light heavyweight bout which will headline UFC 105 in London this Saturday.  This could very well be a career defining match for Couture.  Vera was a hot prospect three years ago when he defeated Frank Mir, but he never became the star that the UFC envisioned.  He's been very inconsistent, going 3-3 since and being forced to move down to light heavyweight.  He's also lost every time he's stepped up in competition.
If Couture fails to have a dominant performance, or especially if he loses, I hope he takes the initiative and retires from the sport for good this time.  Randy Couture is a living legend and a feel good story for all fans of mixed martial arts, but if he loses this fight, he will most likely never get another title shot.  He will instead become a gatekeeper for rising prospects who want a win over a big name opponent on the way to their title run.  I sure as hell don't want to see that, and I'm sure neither would the rest of America.
No one would be happier if Couture steamrolls Vera and cruises all the way to a light heavyweight title than me, but I keep finding it harder and harder to believe Randy when he says he's in the best shape of his life.  No one can fight father time forever.  Sooner or later Couture will not be able to compete with the best fighters in the world, it is inevitable.  I just hope Couture realizes it himself before the whole world sees it happen live.