WEC 41: Brown vs Faber 2 – Picks and Betting Odds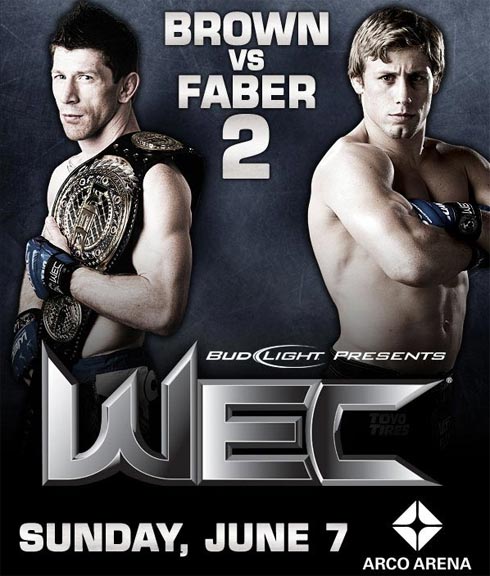 Mike Brown (+115, Sportsbook) vs Urijah Faber (-105, 5Dimes)
This is a title fight in the featherweight division whose lines look very off to me. First, we have Urijah Faber, the face of the WEC. He is a very reckless fighter that comes in with no game plan and just does whatever he feels like. He has gotten away with it through sheer talent, fitness, and well rounded skill set.
Then there is Mike Brown, a talented wrestler with very technical boxing skills. He is also extremely strong. He was noted as being strong for a lightweight and now he is just gorilla strong at featherweight. His strength combined with his technique makes his a very bad match up for Faber, who really likes to just wing it. However, when you have a technically sound fighter than can also muscle guys around with ease, a good game plan is essential. Fighting off the cuff just doesn't work. This played out in their first meeting where Faber went for a reckless elbow and Brown put him down with a right hand. It only took one mistake for Brown to capitalize on.
Then there is the hype factor. When Zuffa bought the WEC at the end of 2006, it was a smaller regional promotion with Faber holding the title in a very thin division. The lighter weight classes have been essentially ignored since the inception of the sport, forcing natural featherweights to fight at 155lbs. It wasn't until Zuffa purchased the WEC, decided to make it the home of the lighter weights, and put their marketing machine behind it that the lighter division have became main stream over the last few years. And with it becoming main stream, Urijah was turned into the face of the WEC and heavily marketed. He was handsome, well spoken, and very fun to watch, so it was a great move for the WEC.
That being said, more and more of those natural featherweights that fought at 155lbs. are now dropping down to their natural weight class and entering the WEC. There has been added room on the roster for these guys due to the folding of the heavier weight classes into the UFC earlier this year. I think we are seeing the effect of the added depth. Jens Pulver has felt it, and now, so has Urijah Faber.
The hype around Faber from the last 2 years of marketing has really added to the out-of-whack betting lines. Most fight fans know who Faber is and that name recognition is keeping him the favorite. It also helps when the story the WEC is promoting is one in where Faber just got caught by a lucky punch and is on his merry way to regaining the title. It seems like Brown's complete destruction of Greg Jackson's fighter Leonard Garcia never happened. Just remember Garcia was on a tear through the division after dropping to 145lbs and Greg Jackson is the Einstein of game planning. When you can destroy a guy from the same camp that features GSP, Rashad Evans, Keith Jardine, Donald Cerrone, Nate Marquardt, and the greatest strategist in the business, you are the real deal.
Final Prediction: Urijah Faber has met his stylistic kryptonite and that is Mike Brown. He is just too technically sound and strong. I would take Brown up to about -200 risking 4 units to win 2, but will be very well satisfied to risk 4 to win 4.6 units. The hype surrounding Faber is just too much. He is a great fighter, but Brown has his number. One mistake and Brown will finish him.
*Side note: If you have accounts at both Sportsbook and 5Dimes, I would bet both sides and capture the +10 arbitrage opportunity. My philosophy is never let riskless money pass you by. BET NOW!
Jens Pulver (+160, Bodog) vs Josh Grispi (-175, 5Dimes)
Jens Pulver is a legend in the sport. He is the former lightweight champion of the UFC, despite being a natural featherweight. He is a product of the Miletich Camp with a background in wrestling and boxing. He has the takedown defense to keep it on the feet and hits harder than anyone else in the featherweight division. His only real relative weakness is his ground game and some lagging mental problems. He had a lot of difficulties growing up, and those issues have cropped up from time to time to wreak havoc on his mental state. He is also 1-5 in his last 6 outings chalking up losses to Urijah Faber twice, Leonard Garcia, BJ Penn, and Joe Lauzon; all of which are high quality opponents. This is the most likely reason for his underdog status.
Josh Grispi is a formidable opponent that is on an 8 fight win streak with notable wins over Mark Hominick and Micah Miller. He has great BJJ and will most likely want to take this to the ground. He is only 20 years of age and is seen as an up and coming force in the division. Pulver is a huge test for him.
Incidentally, I think Grispi is a little out matched here. Pulver has had a losing record, but they were all against top level guys. When Jens knows he outclasses a guy, he destroys them. The Cub Swanson fight is a case in point. He should have no trouble using his wrestling to keep this fight standing and just pick the younger fighter apart on the feet. Look for an early knockout from Pulver.
Final Prediction: 2 units on Pulver to win 3.2 units. He shut down Swanson's rising star, and he will most likely do the same with Grispi. Don't let the recent losses to top competition on his record fool you, he is still a force to be reckoned with. BET NOW!
Cub Swanson (+350, Bodog) vs Jose Aldo (-420, BetCRIS)
This is the fight that will determine the next challenger for the featherweight title. Both men have impressive records with Swanson being 13-2 and Aldo being 14-1.
Aldo is a very dangerous fighter in the ever deepening division. He trains out of Nova Uniao with the likes of Thales Leites and Wagnney Fabiano. He is ranked in the top 10 of the division on most lists. His ground game is superb, but it has been his amazing striking that has been attracting most of the attention. His last four victories came by T(KO). He is a very well rounded fighter than has been absolutely smashing his opponents.
Cub Swanson was a rising star in the division with a well rounded game that includes a good mix of TKO, submission, and decision wins on his record. He hit a wall in the form of Jens Pulver at WEC 31, who choked him out in 35 seconds. This was mostly due to Swanson worrying about Pulver's potential striking and thus not defending the choke as he should have. Cub is also a pretty good size featherweight, and I wouldn't be surprised to see him have the weight advantage come fight time.
Final Prediction: With Aldo's insanely good striking and dangerous ground game, the line looks about right. On principle though, I stay away from lines that are above -400. There may be a small amount of value in Swanson though. He is no pushover, and the only image most people have of him is his lightening fast loss to Jens Pulver, which is probably skewing the line. If you are a little less risk averse and he goes to +375, I'd throw a small .5 unit bet on him to win 1.875 units. BET NOW!
John Franchi (+210, BetCRIS) vs Manny Gamburyan (-240, 5Dimes)
Manny Gamburyan was a cast member of TUF season 5. He made it to the finals only to suffer a dislocated shoulder in a freak accident that lost him the match to Nate Diaz. A match that many believed he was winning until the ill fated takedown. He is the cousin of noted fighter Karo Parisyan and has a background as a decorated judoka in the US. He fought in the UFC as a lightweight but has dropped down to featherweight after back to back losses to Rob Emerson and Thiago Tavares. In this more natural weight class, he should be an absolute beast with the increase in size and strength over his opponents.
John Franchi is a relative new comer to the sport with an undefeated record of 5-0. This will be his second fight in the WEC after a split-decision win over Mike Budnik. He seems to be a well rounded fighter with two submissions and two TKO wins on his short record, but little else is known about him.
Manny should have little trouble handling Franchi. The TUF experience has proven to be a great predictor of future success, and Manny only lost due to a one-in-a-million accident. His Judo will allow him to dictate where the fight goes, and his experience and size will give him a significant edge.
Final Prediction: Manny Gamburyan will have a successful debut at 145lbs. The lines are fairly accurate, but a bet of 2.4 units to win 1 unit is understandable. BET NOW!
Donald Cerrone (-475, BetCRIS) vs James Krause (+450, Sportsbook)
Donald Cerrone is a submissions guy that trains out of Greg Jackson's camp. He has an ever improving Muy Thai and very sick BJJ. His only loss came from the current WEC Lightweight Champion Jamie Varner. His only real weakness is his boxing skills. He has a very straight-up come-forward style that makes him very susceptible to a descent boxer, as proven by Varner. However, he has dangerous kicks that will play a big part in this fight.
That being said, James Krause is not a boxer. He himself is a jujitsu fighter with a 10-0 record, however, don't put too much stock in those numbers. His last opponent was 0-3 and his last three have a combined record of 19-29-1; not very impressive. He has not faced anything even close to top competition and that is exactly what Cerrone is.
Cerrone will dominate this on the feet and destroy the WEC novice with his Muy Thai. However, don't be surprised if Cerrone takes him down to submit him either. He has the advantage wherever he decides to take the fight. And don't forget the Greg Jackson factor.
Final Prediction: Again, I don't bet on anything over -400, but Cerrone will take this. Krause would have to get up to about +800 before I even entertained putting a small bet on him. BET NOW!