Bellator 16 Live Blog Tonight!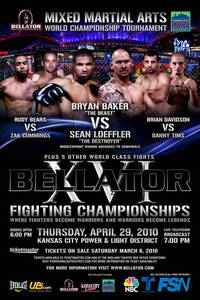 Hey everyone, Bellator will be holding their 4th event of the new season tonight starting at 8 pm.  Tonight they will be holding the entire first round of their middleweight tournament as all 8 fighters will square off.  Just like last week, I'll be there every step of the way to offer my thoughts, analysis and observations as the event unfolds.  Don't miss out!
Here is the main fight card:
Bryan Baker (11-1) vs Sean Loeffler (18-4)
Alexander Shlemenko (27-4) vs Matt Major (6-1)
Jared Hess (10-1-1) vs Ryan McGivern (13-6)
Eric Schambari (11-1) vs Luke Zachrich (9-1)
Tune in for the fights on FSN at 8pm (if there's no baseball) or follow along as I update this post throughout the night.
6:13 pm – First update of the evening.  There's a Reds game on FSN, I'm hoping the Detroit FSN shows Bellator, but they didn't last week so I'm not going to get my hopes up.  I may have to end up doing this on tape delay at 10 or 11 pm.
7:04 pm – T minus 1 hour until the show starts, looks like I'll be able to watch it live afterall.
8:02 pm – And we're live!  I really do love Bellator's music.  Four middleweight fights tonight, get your popcorn ready.  Why are they giving the forecast?  This isn't an outdoor show.
8:06 pm – Correction, apparently this is an outdoor show.  AWESOME
8:18 pm – Schambari submits Zachrich about 4 minutes into the first round via arm triangle.  Schambari basically won that fight with his brute strength.
8:24 pm – Schambari looked pretty raw and one dimensional out there.  He's going to have problems as he advances through the tournament if he only focuses on his brute strength as his main weapon.
8:27 pm – Time for Matt Major vs Alexander Shlemenko, grappler vs striker.  Shlemenko displayed decent takedown defense in his last few fights.  The longer he keeps it standing, the better chance he stands of knocking Major out.
8:34 pm – Shlemenko is throwing out a plethora of wild strikes.  I like it
8:38 pm – Round 1 in the books, I've got it 10-9 for Shlemenko.  He threw more spinning attacks than regular attacks that round.  Every time he closed the distance he'd back off and get back to spinning back kick or spinning back fist range.  Major is just sitting back and taking them.  Not sure what his strategy is.
8:40 pm – Oh man, Major got popped and sprayed blood on the announcers
8:42 pm – Shlemenko slips on a spinning back kick, Major gets on top of him.
8:45 pm – 2nd round for Shlemenko too, Major did nothing when on top.
8:52 pm – I've got it scored 30-27 for Shlemenko, Major had no sense of urgency at all.  I don't think Shlemenko's strategy would work against most fighters.  He kept lunging forward with power strikes and moving back again.  He had him hurt in the third but couldn't finish.
8:54 pm – Shlemenko calls Major a tough opponent in exaggeration of the year
9:03 pm – Brian Baker vs Sean Loeffler is next.  Should be a good one, both guys have a lot of finishing power/skills.
9:07 pm – Baker's style says Vale Tudo (anything goes) and Loeffler's says "No Holds Barred".  Hope they don't break too many rules.
9:11 pm – Baker got into Loeffler's guard, passed to side control and really unleashed hell.  After eating a couple punches Loeffler just rolled over in the fetal position and it was all over.  TKO victory for Baker.  It was all set up by a HUGE gut punch that crumpled Loeffler when he was on the ground.
9:17 pm – Baker with a laundry list of sponsors to thank.  He's cemented his status as the favorite to win the middleweight tournament.
9:23 pm – Ok, almost time for Jared Hess vs Ryan McGivern.  Hess was runner up last year and McGivern is a former IFL champion.  This should be a really good fight.  Both men are solid wrestlers, both have good gas tanks and both aren't afraid to mix it up on the feet.
9:34 pm – Good first round for Hess.  He got the takedown with a nice slam and spent the rest of the round aggressively attacking McGivern's guard.  Even got a crucifix for a couple seconds at the end of the first.  Solid 10-9 for Hess.
9:37 pm – HUGE guillotine by Hess.  He jumped into guard and latched on real hard.  That was deep and absolutely fantastic.  Great performance by Hess.
9:43 pm – Hess looks determined to get another shot at Lombard.  He's going to have a tough trip getting there though.
9:52 pm – Bellator showing an undercard fight with first round featherweight loser Eric Marriott vs Demi Deeds.  Very exciting fight thus far.  Deeds had Marriott hurt, especially with a huge headkick and almost finished him with a couple submissions.
9:56 pm – Woooo!  Awesome comeback triangle submission by Marriott.  Dude has a ton of heart.
10:00 pm – Ok that's it, big fights next week, don't miss them!  Also check out bellator.com as they'll be streaming their postfight press conference live around 11 pm eastern time.  I sent in a couple questions.