A Knockout that can Knock you out!
Gina Carano is not only a knock out,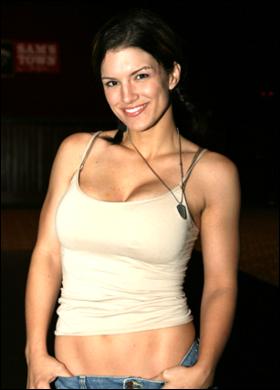 but she could probably knock you out…..literally. This girl is making a huge statement in todays MMA world. Not only is she beautiful, but she is tough.
In four professional mixed martial arts matches, the 24-year-old has seen nothing but victories. Her exciting unanimous decision victory over Julie Kedzie in February on Showtime, which was the first nationally televised women's MMA event ever, earned a standing ovation from the DeSoto Civic Center (Miss.) crowd and cemented Carano as a rock star in mixed martial arts.
I first saw her on the reality show Fight Girls where seven female fighters from the United States convened in Las Vegas for the chance to travel to Thailand to compete against the world's best in a Muay Thai championship fight. Gina was actually a trainer on the show. As an experienced Muay Thai Fighter, she had more than a few good tips for the fighters she was training.
Since the show, Gina has been a rising star as her good looks have captured the audiences and her fights have been world class and action packed. I think I speak for all male, and most female MMA fans when I say that we can't wait to see more of Gina in the near future. We're gona get our chance! She will be facing off with Kaitlin Young on the CBS EliteXC debut on May 31, 2008.