2009 Sengoku Ring Girls
For some reason, MMA attracts some of the hottest women in the world. This is no different in the US as it is in Canada, Europe or Japan. Sengoku has selected their 2009 ring girls. Here are some photos to give you a glimpse of the hotness.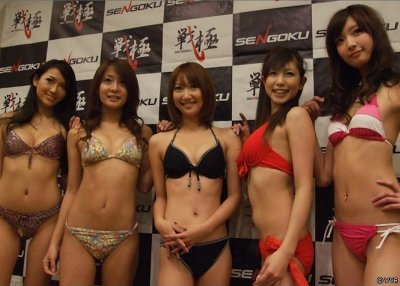 Their names are: Yuki Aikawa, Nanao Arai, Yui Sakuma, Azusa Nishigawa, Sana Yuuki
Most of these girls do other types of modeling. Being ring girls is a part time deal. Here are some modeling pics of some of these beautiful ring girls.
Here are some of Yuki Aikawa. In this first pic, she is second to the right.



Here are a few modeling pics of Azusa Nishigawa:


Here are some modeling pics of Sana Yuuki. In the first pic, she is on the right:


There you have it. Sengoku's super fly 2009 Ring Girls. Mad Props go out to Japan-MMA for these pics.