Who Are the Top 10 MMA Heavyweight Fighters?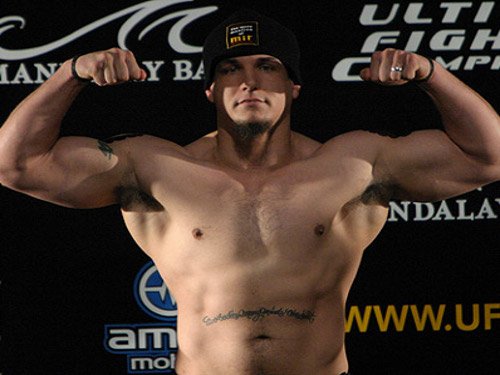 From Strikeforce to UFC (Ultimate Fighting Championship), mixed martial arts has become a part of pop culture. For the uninitiated, mixed martial arts (or MMA for short) is a full-contact combat sport first introduced in the United States through UFC in 1993.
MMA has its roots in the mixed-combat styles common in Japan, Europe, and Brazil. MMA styles range from traditional boxing to grappling and striking styles. Combatants can with by knockout (KO), total knockout (TKO), submission, and by decision.
A turning point came in 2006 when Chuck Liddell, UFC light heavyweight champ, fought former champ Tito Ortiz and pay-per-view sales went through the roof. MMA took another leap forward when Kimbo Slice, an Internet and YouTube legend, appeared on CBS in 2008. Slice has since slipped into relative obscurity, but the sport continues to grow with the likes of Brock Lesnar and Randy Couture growing into the populous' conscious.
Okay, enough of the MMA lecture. Now comes the fun part. Which fighters are the best? Ranking top athletes is a favorite pastime that crosses the lines of all sports. Mantle or Mays? Marino or Elway? Ali or Tyson? How about Superman vs. Hulk? The comparisons are endless and so are the arguments. What we need is a tiebreaker, a way to rank these guys with some authority.
So, here is "the list."  Just a word of explanation before you go scanning down these rankings looking for "your guy" to see where he stacks-up. I am basing this list on the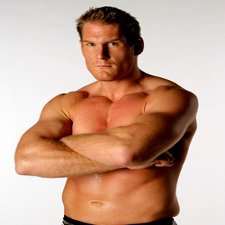 Josh Barnett, nicknamed the "Babyfaced Assassin" starts off the top ten list at #10. Barnett is a former UFC Heavyweight champion and has compiled a career record of 26-5.
Of his 26 wins, 16 have come by submission and 6 as TKOs. At 6' 3" and 250 pounds, Barnett is both a brawler and a technical fighter. His last two fights, against Geronimo dos Santos in July and Shawn David in March respectively, were won in two very different ways.
Versus dos Santos he used punches to TKO his opponent, while against David he used a submission hold (called a Kimura). Barnett fights for CSW now and has no fights scheduled in the near future.
#9 Antonio Rodrigo Nogueira
Ranked as the #9 fighter by USA Today, Brazilian Antonio Rodrigo Nogueira fights in the UFC. Lean and fast at 6' 3" 231 pounds, Nogueria, nicknamed "Big Nog," rarely beats down his opponents with his fists. Of his 32 career wins (he owns a 32-6-1 career record), 19 have been through submission and 10 by decision.
His last big win was against Randy Couture (now of "The Expendables" movie fame) nearly a year ago. He won that match by decision. He also held the interim UFC Heavyweight Championship for several months back in 2008.
Big Nog was scheduled to face off against Frank Mir for the main event in UFC 119 in Indianapolis but had to withdraw due to knee and hip injuries. The injury could force the Brazilian fighter down the list when the next rankings are released.
#8 Alistair Overeem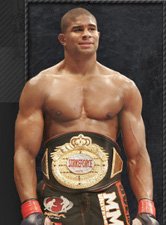 In the eighth slot, you'll find Alistair Overeem. Overeem is a veteran MMA fighter, with an all-time record of 33-11. In the past year, he has fought and won in a variety of places, including Amsterdam, Japan, and St. Louis (of all places).
Tall and athletic at 6'5" 253, Overeem can beat you with a bunch of different moves. He took down Tony Sylvester and James Thompson with submission holds in consecutive matches. His submission hold of choice during the matches was the "Guillotine Choke."
On December 31 he defeated Japan's Kazuyuki Fujita with a knee and, for the Strikeforce Heavyweight Championship, he outpunched Brett Rogers to knock him out of a top ten ranking and retain his heavyweight title.
Of his 33 victories, 12 have been from TKO and 15 from submission, proof that Overeem, nicknamed "Demolition Man," knows a million ways to "blow-up" his opponents. Up next for the Dutch fighter is a date with a top MMA fighter, possibly Fabricio Werdum or Fedor Emelianenko, fellow Strikeforce guys.
#7 Frank Mir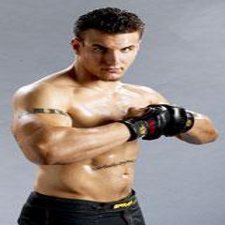 Ranked #7, Frank Mir is a veteran fighter but a relative newcomer to MMA. A UFC fighter, Mir lost an interim UFC Heavyweight Championship title bout against Shane Kirwin via TKO back in March, his most recent fight. He is technical fighter, mixing submission holds with heavy punches.
At 6'1" 240 pounds, he is heavy enough to throw a punch and TKO someone, but light enough to move around the octagon. His career record is 13-5 with 8 submissions among his wins.  Mir is from Las Vegas and fights for the Las Vegas Combat Club.
His night fight as the main event in the UFC 119 in Indianapolis was to be against our #9 fighter, Antonio Rodrigo Nogueira, but "Big Nog" had to withdraw due to injuries.  Instead,  Mir will go against Mirco "Cro Crop" Filipovic, according to an article in Vegasinsider.com. Filipovic (27-2) is on a tear, winning three of his four fights since returning to UFC. Odds have yet to be posted, but Filipovic will be a tough match-up for Mir.
#6 Junior dos Santos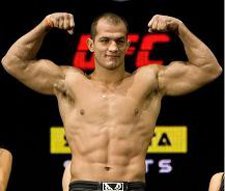 Just 26 years old, Junior dos Santos is a rising star in MMA and ranked #6 in the recent listings. A UFC fighter, dos Santos (11-1) is rising through the ranks quickly. At 6' 4" and 232 pounds, he has the frame to gain more muscle as he continues to mature as a fighter. dos Santos hails from Brazil and his nickname is Cigano.
He combines strikes and punches to take down opponents as evidenced by his last two opponents. dos Santos won via KO against Gabriel Gonzaga and has a TKO against Gilbert Yvel, with strikes as his main offensive weapon.
Junior dos Santos had an important match against Roy "Big Country" Nelson in a UFC fight held on August 7. The fight was even, for the most part, with dos Santos doing a lot of jabbing, punching, and knee strikes. "Big Country" did his part by putting some big hits on his opponent with his big right paw.
Nelson performed well but dos Santos was just relentless with his continuous flurries of jabs, punches, and knee hits. In the end, it was dos Santos who came away with the victory in a unanimous decision. The recent victory could push the Brazilian fighter into a top five ranking next month.
There you have it, the bottom half of the top ten for your consideration.
Next up: the Top 5. And here is a tease for the next round — do the initials BL mean anything to you? Stay tuned to see where he and the other guys land in the latest rankings.
Additional Reading on SteroidsLive: