Tiger Lost It, So Get Over It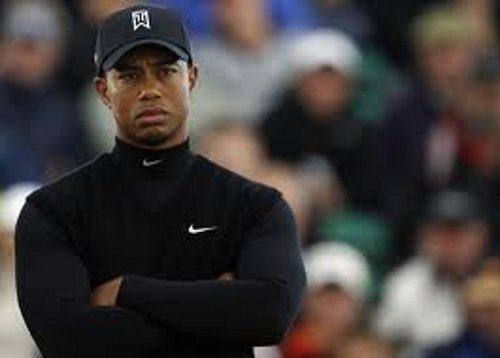 New flash, people: Tiger doesn't have it anymore. He lost it. I don't know where it went, but it's gone.
I've had to listen for years and years that Tiger Woods is the greatest golfer of all time. Yet, he's only won 14 majors, and Jack Nicklaus has won 18.
I've shouted at my radio, pointed my finger at the TV, and been so pissed at the lack of respect for the history of the game that I can't stand it anymore.
If you want know how far Tiger has fallen back, all you have to do is watch coverage of the PGA Championship. Tiger shot par on Saturday and ended the day 10 strokes behind the leader.
No "Saturday charge," no "miracle shots," and he was 17 over par last week at Firestone where he usually kicks ass. It's over. Period.
Tiger had the golf world by the balls, but now he's 34 and it's gone. I know that Jack won the Masters when he was 46, but that's a tale that can only be told for Tiger maybe once.
Sure, he won the US Open on one leg. He shot 18 under at the Masters in 1997. He destroyed Pebble Beach a few years later. He was on track to win about 25 majors, but those days are gone. The years caught up with Tiger.
It wasn't just his personal life that derailed him. It's hard to work when you have issues at home, but that's not it. He got old and it just happened to coincide with his very public falling out with his wife.
When the average age of a major winner is 32, and Tiger is 34, you can fill in the rest. The Tiger ass-kissing can stop now.
Jack's Stats Are Staggering
Jack Nicklaus won 18 majors. That's a staggering number that Tiger is close to but has not yet equaled. Jack also placed second in a major 19 times. Add on to that his six 3rd place finishes at majors.
Jack Nicklaus was in the top three of a major championship 43 times. Find me someone who can touch that. I think we know Tiger can't.
Plus, Tiger can't putt anymore. Have you watched him? He's missing putts left and right and something is always getting in his way.
You can try to tell me that Tiger will get it together, but that's just not reality. His short game is going and he's old. There's nothing in the world that can stop him from getting worse. Nothing.
I can feel the barbs shooting in already. "How can you write off Tiger?" "How can you say he's done?" Because Tiger finished dead last during a tournament last week at a course where he had previously won seven times.
Then the week later, at the PGA Championship, he shot himself out of contention on Saturday. That's not the pre-Thanksgiving-ran-into-a-tree-with-his-SUV Tiger. No, that's the "I lost it" Tiger.
I'm Not a Hater
You can call me a Tiger-hater all you want, but the fact remains that I'm right. Tiger was never the best and he's never going to be the best. He can be the best of his generation, but not the best ever. I know people will call me a hater because I'm jealous, or I just don't like Tiger, or maybe because I'm racist.
No, I've been waiting for Tiger to equal the numbers of Jack. That's all. I grew up knowing that Jack was the best. I was 8 when he won the 1986 Masters.
I have a keen sense of the history and tradition of golf. All the "young buck" writers and pundits who want to crown Tiger "king" don't realize that Tiger has to match "The Golden Bear" first.
How come we have this conversation in basketball with ease? Michael has six titles. If Kobe gets to six then we can talk. But we always forget about Bill Russell. He has 11 rings.
Now that I've enlightened you on basketball history let me remind you of golf history. Jack won 18. He was in the top three in majors 43 times. Tiger's won 14 and he lost it. Can we call it?
Time of death: August 15th, 2010
General Patton's Previous Vents:
Related Articles on SteroidsLive: