The General's College Football Preview: 2010 Edition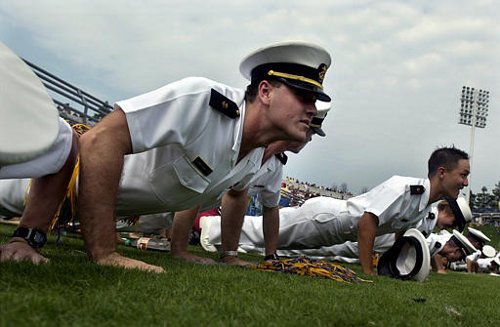 College football is a mere 30 days away and it's time we started talking about who's moving, who's shaking, and who's catching "the boot."
College football could easily turn into a "two-team nation" or we might have a dogfight on our hands before the Big 10 officially becomes the Big 12. Personally, I think it's going to be a little of both.
Besides the obvious "conference expansion talk" there are really good players and teams who have a shot. Well, they would have a shot if their whole season wasn't blown up by a poll. Between the polls, the scandals, and the rules there isn't much room for any "football talk," but I aim to talk football today come hell or high water–or NCAA sanctions.
What's the Point of a Pre-season Poll?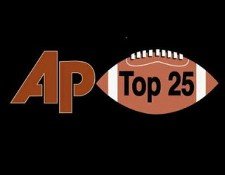 Before the official AP pre-season poll is released in August, about a million people released their own pre-season poll which undoubtedly influences the AP poll. Writers for the AP poll have done their research.
So, what's the poll for anyway? Well, it's like this: If you want to make sure only a certain handful of teams can contend for the National Title, then you rank them high. If you don't think a team has a chance, you rank them low. However, when the "pre-season favorites" start dropping like flies, the pre-season "not favorites" aren't high enough in the polls to get close to the BCS.
For example, in 2007 Georgia finished second in the AP post-season poll. They destroyed an undefeated Hawaii team in the Sugar Bowl, but they were ranked 13th in the pre-season poll. That's just too doggone low to have a shot at playing in the BCS Title Game. That's the truth. Some scrappy young team that takes care of its business gets screwed by that preseason poll every single year.
When you start reading all the pre-season polls you'll notice teams all over the place and a wide variety of opinions. However, most pre-season polls tell us a couple things:
1. Boise State is high enough to win a National Title even though they aren't in the "right conference" yet.
2. Ohio State is favored for no reason other than people are praying Terrelle Pryor gets his head out of his ass.
3. Everyone's buying Oregon, Texas, Florida, and TCU.
4. Georgia Tech, Penn State, Virginia Tech, and Miami will all be voted out of National Title contention on day one.
Yes folks, that's what the pre-season poll is for. It ordains some and discards others–before even a single snap has been taken.
My Dark Horse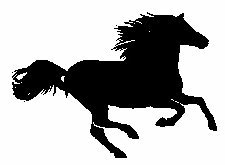 Out of all the teams that are "on the edge" in places 8-10, I'd have to say my favorite "dark horse" is one that nobody is giving any credence to. Hell, this team is being picked on for making their game with Texas into a big deal.
That would be Nebraska.
Bo Pelini and the Cornhuskers have every reason to believe they can have a solid season. The Huskers played to within one second of beating Texas in the Big 12 Title Game. They have one of the brightest young coaches in football in Pelini.
So what makes a team like this a "dark horse?" Nebraska is leaving for the Big 10–which will become the Big 12 in 2011–and it seems that no one thinks Nebraska can leave the Big 12 on a good note.
Nebraska football is all about running the ball and playing defense. I know they lost Ndamukong Suh, but that does not make their defense weak. These are still Blackshirts, people!
They are returning only two starters, but saying that about a Nebraska offense is like saying Superman woke up on the wrong side of the bed. He's still Superman. And this is still a Nebraska defense.
Plus, they're returning 10 starters on offense–the weaker side of the ball in Lincoln–and have a returning junior quarterback. If this doesn't look like a team that means business I don't know what does.
Some Folks Are Already "This Close" to Getting Fired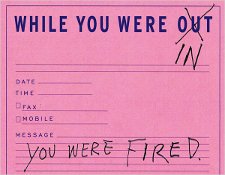 Let's face it, there are two guys who are ready to get fired: Rich Rodriguez and Mark Richt. Yes, I said Mark Richt is close to getting fired.
After Damon Evans was let go as UGA's Athletic Director, there is nothing stopping the University from firing Richt if he does not have a stellar season. I know it sounds crazy, but expectations have been raised.
When 2007 became the "national championship that got away," Bulldog fans assumed they could be in for that kind of competition every year. Well, a couple years, multiple player arrests, some poor recruiting, and a quarterback shake-up will certainly change all that. I'm not saying that Richt should be fired–I'm just saying UGA is dumb enough to fire him if he doesn't work a miracle this year.
Rich Rodriguez is just a "Big Blue" disaster. He's broken NCAA rules left and right. West Virginia sued him when he left for Ann Arbor. The Wolverines played horribly last year–despite having Tate Forcier under center.
What more do I need to say? A proud school like Michigan doesn't put up with this #$%#@%. They just don't. How much longer before they throw their hands up in the air and just say "Eff it all, let's start over!"?
Rich Rod wore out his welcome by running practices that were too long and pissing off the players. He won the first four games of the 2009 season only to finish 5-7. That doesn't even sound like Michigan. It sounds oddly like Northwestern.
A "Two-Team Nation"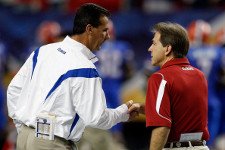 It's Florida and Alabama and everybody else. Granted, Florida loses Tim Tebow, but they have a "pocket passer" in John Brantley–and he's supposed to be good!
Alabama basically returns everybody but Terrence Cody, Rolando McClain, and Javier Arenas. Mark Ingram will probably run for 5000 yards. Greg McElroy will pass for 5000 yards. Oh, and their defense will stop everyone in their path.
I fully expect Florida and Alabama to tangle for the SEC title in December, but they will not be #1 and #2 in the country. Bama will likely be #1 and Florida will still be finding itself.
It's not a "two-team nation" as most people would like to think. Thanks to the voters, it's a "seven team nation" instead.