Sweet and Satisfying Summer Treats
The mercury is rising, and meteorologists predict that this summer will be one of the hottest on record. While it would be easy to break out the Haagen-Dazs, go with the sugar flow, we can do better. Much, much better.
No sacrifice is needed. You can still have the sweet treats you crave, but there is a better way than just going to the freezer case of your local megamart. With a little planning and a few easy recipes, you'll be living the good life your way.
As Candace Flynn says in the S'Winter episode of Phineas and Ferb, "Crushed ice covered in blue carbs? LAME"!
Gatorade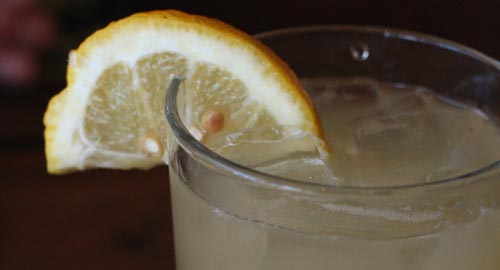 The offender: It might be Kool-Aid, or the "fruit punch" amalgamation that shows up in stores this time of year. I get it. We all want to drink something refreshing, and there are times when a glass of water just won't do.
I'd rather stay away from artificial colors and flavors, and corn syrup (especially the high-fructose variety), which nixes all of the usual pre-mixed players. There are still great options, though.
The replacements: Agua fresca is a great, traditionally Mexican juice/water hybrid. It's lightly sweet and deliciously fresh. You can make the "fresh water" out of any fruit you can puree, from pomegranate to papaya.
Chia fresca is just agua fresca that you've added chia seed to. Everyone in my family loves the grapefruit variety.
Cucumber lemonade takes the zing of lemonade and adds the freshness of cucumbers, perfect for sipping on the deck on a warm summer night.
Kale lemonade is a green juice that looks green but tastes like lemon.
Watermelon Agua Fresca
1/2 watermelon, cubed (about 3 cups)
1 1/2 c. water
2 tbsp. agave nectar
juice of 2 limes
Puree watermelon in blender, then strain into a pitcher. Add water, then agave nectar and lime juice, stir. Serve immediately, neat or on the rocks, or chill for up to 24 hours.
Grapefruit Chia Fresca
"They" Said
Green Lemonade
7 Refreshing Summer
Drinks
Cucumbers–Refreshingly
Cool
3 tbsp chia seed (preferably black, but white will do)
4 cups (1 qt) water
Juice of 2 grapefruit (you may use a bit of the zest, no more than 1 tsp. or so)
3 tbsp agave nectar
Stir all of the ingredients together in a pitcher and allow to gel for 10 minutes. Stir before serving so that the gel reincorporates a bit, and be sure to serve with spoons or straws.
Cucumber Lemonade
2 each English (hothouse) cucumbers
1/2 cup fresh lemon juice
2 1/2 cups water
agave nectar to taste (optional, we use about 1 tbsp.)
Finely grate cucumbers into a sieve set over a bowl. If you want it green, leave the skins on. If not, peel. Drain the cucumber for an hour and collect the juices. Press on the cucumber pulp to extract any additional juice. Mix in lemon juice, water and agave (if using) in a pitcher. Serve chilled or over ice.
Kale Lemonade
1 bunch Kale
1 whole Cucumber
1 whole Lemon
1 whole Granny Smith Apple, cored
Juice the fruits and kale. I like to alternate a bit of kale, then the lemon (whole, with peel), more kale, then the cucumber (with peel if organic), the last of the kale, then the apple, cored, to clear out the juicer.
Pour into a pretty glass, and savor the green goodness. If this is too sour for you, a bit of stevia or agave nectar is fine.
Ice Cream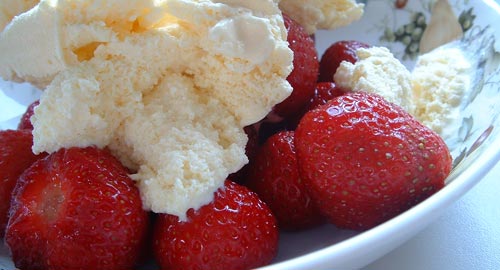 The offender: Cherry chocolate chip or butter pecan — it's all kinds of sugar and fat. I love a cool sensation as much as anyone, but we pick our poison carefully.
The replacements: Banana ice cream, made in the food processor, couldn't be easier. Toss a few ripe bananas into the freezer and allow to harden. When they're ready, break them in half and place in the food processor. Process until smooth, spoon into bowls and enjoy.
You can also make this in a blender, or even a juicer, but it'll be creamier in the food processor because more air will be whipped into the mixture.
If that's too much banana flavor for you, or if you're craving some healthy fat, try your hand at chocolate coconut milk ice cream. Or, skip the chocolate and fold in some fresh pineapple and toasted coconut for a treat similar to the ice cream at PF Chang's!
I've also got some homemade fruit toppings for you, suitable for your very own banana split.
Chocolate Coconut Milk Ice Cream
3 cups of coconut milk, about two cans (unsweetened and full fat)
2/3 cup of cocoa powder/cacao powder
6 tablespoons agave nectar
splash vanilla extract or almond extract
Whisk cocoa powder in a small amount of coconut milk until smooth. Add the rest of the ingredients and allow to freeze. If you have an ice cream maker, this is ideal. If not, allow to freeze 1-2 hours, form into scoops and allow to freeze overnight. I like to serve with some toasted almond slivers!
Ice Cream Toppings
2 cups sliced strawberries, 1-1/2 cups blueberries, macerated, or 2 cups pineapple, cut into tidbits
2 Tbsp agave nectar or honey
Allow the fruit and agave/honey to sit for one hour to overnight. The natural juices will come out and the flavor will develop. Spoon over ice cream. For a super fun treat, make a banana split with your banana ice cream and ice cream toppings. Don't forget to put a cherry on top!
Icee
The offender: Slush, Arctic Rush, shaved ice, it's all basically the same thing. While I love Kaki Gori at Walt Disney World's Epcot Center theme park, that's a once-a-year treat (because they have honeydew flavored ice, yum).
The replacement: If you have a blender with the ability to crush ice, you can make your own slushes in just a couple of minutes. Now, if you're a child of the '80s like me, you may well want to pick up a Snoopy Sno-Cone Machine for the sheer nostalgia, but a blender is faster and easier.
You know about my love for the Blendtec, so it should go without saying that I use mine for slush making. Our favorite recipe these days is lemon, which we change up every few days.
Lemon Slush
2 cups of ice
1/4 c. agave nectar
juice and zest of 1 lemon
water as needed (usually 1/4-1/2 cup)
We press the "ice crush" button and go to town, sometimes going a second cycle if we want something closer to Icee than shaved ice in terms of texture. I recommend against using honey here, as it just clumps together and doesn't evenly distribute through the slush.
We like to add a handful of strawberries or blueberries to this. Those of you who are more adventurous may want to add a touch of basil to yours for a more adult treat.
You can replace the water with orange juice, if you want a truly citrusy treat. Pomegranate juice is fantastic, too.
The list of healthier summer treats is huge, and we constantly experiment with variations (right now it's a virgin piña colada, yum). Let me know what you're loving right now.