Size Difference Between Arlovski And Fedor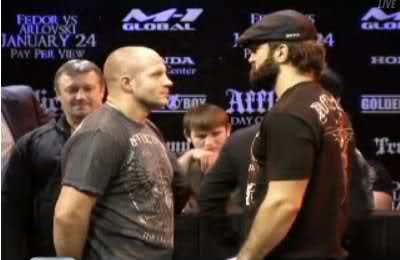 Once again, Fedor is taking on an opponent that is larger than himself. Arlovski however, may be one of the most physically fit opponent Fedor has faced. Not only is Arlovski a large man 6′ 3″ – 240 lbs, he is also ripped. Fedor is 6′ and weighs 235, but doesn't nearly have the muscle definition in his body that Arlovski has.
Does this mean that Arlovski is going to win? No. We have seen fighters in the past, who seemed visually less athletic and who have been smaller than their opponents, emerge as the winners. MMA is a sport where good technique and a good game plan can be an equalizer. A better fighter, can beat a bigger, stronger opponent.