Rodriguez, Woods, and Others Linked to Dr. Galea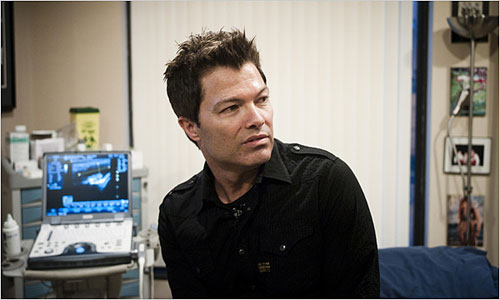 Canadian doctor Anthony Galea is facing criminal charges from both the United States and Canada for bringing illegal and unapproved drugs across border lines (HGH-Human Growth Hormone and Actovegin).
Actovegin, a drug made from calf's blood, has gained popularity among athletes for its ability to heal the human body with the added benefit of being undetectable in drug tests.
Dr. Galea gained notoriety after performing his famous blood spinning technique (platelet-rich plasma therapy) on Tiger Woods to improve his knee following surgery.
Besides the world-renowned golfer, Dr. Galea has treated several other high profile athletes from all sports—Alex Rodriguez and Jose Reyes from baseball, Olympian swimmer Dara Torres, and his newest named client, Santana Moss from the NFL. There are sure to be more names revealed as the investigation into Galea continues.
The major things these athletes have in common are a relationship with Dr. Galea and that they have all have adamantly denied the use of performance-enhancing drugs (PED).
Which former football player and acquaintance of Dr. Galea has issued statements refuting their denials? What could this mean to the careers of all the athletes?
Mystery Man and Fellow User
Former NFL linebacker Bill Romanowski sat down with 60 Minutes and admitted using steroids and HGH.
Romanowski happens to be a big fan of the type of medicine Dr. Galea practices and also claims to have known him for 15 years.
In an article put together by Redskins Insider, Jason Reid, Romanowski called Dr. Galea a "pioneer" for his ability to help athletes with injuries. Romanowski also went on to say something about the "blood spinning technique" that could haunt many athletes as this investigation unfolds.
"A minuscule amount of growth hormone, a minuscule amount of testosterone that would not show up—would not even register—on a drug test. Let me use this comparison, if three glasses of wine is what puts you over the limit of operating a motor vehicle. The amount of wine that he's doing would be like a drop on your tongue. So that's what we're talking about here. We're not talking about somebody injecting massive amounts of growth hormone and testosterone in their [butt] to get stronger and get bigger. That's not what this is about. This is, within that solution that they inject right into the injured site, they will sometimes include a little bit of growth hormone and testosterone."
Here is the problem Mr. Romanowski: The rules in professional sports don't state, "Please feel free to use untraceable amounts of drugs that would otherwise be illegal to heal the body."
Alex Rodriguez is the only one who has admitted to steroid use in his career, but that was from 2001 to 2003. Dr. Galea worked with him in 2009 after his hip issues. All of the athletes questioned about their relationship with Dr. Galea, deny use of illegal substances.
Bending Is Breaking in Sports
Anthony Galea
Galea is team physician to the Toronto Argonauts.
Galea's clients have included Tiger Woods, Patrick Chan, Mark McCoy, Donovan Bailey, and others.
---
"They" Said
Doctor Accused of Doping Is Linked to NFL
Top Athletes Questioned in Case Against Canadian Doc
Canadian Doctor Says HGH Was for Him
If Romanowski's words are true and Dr. Galea used small amounts of HGH and testosterone to help these players heal faster, then we can only expect the worst for these athletes.
Rodriguez was not suspended for his positive tests in 2003, but he and Reyes would both come under fire for violating the MLB policy on PEDs. Bud Selig would be forced to possibly suspend any player in connection with Dr. Galea if they were found to use these drugs during treatment.
As if Woods' life hasn't crumbled enough already, he would also probably face suspension. Worse yet, some of the victories that he won as a result of his treatment could be revoked—not to mention tarnish Tiger's pursuit of Jack Nicholson's tour records.
I'm also sure that the World Anti-Doping Agency would call for an investigation by the Olympic committee to possibly strip Torres of any medals she won.
Reports on ESPN.com are that the league is looking into a possible suspension for Moss if the rumors are confirmed that he is linked to Dr. Galea.
The rules in all of these sports state a zero tolerance policy—meaning using a little PED is the same as using a lot.
Embrace it—Fans Don't Care
Doctors and scientists are not going to stop evolving ways to increase the performance of the human body. If the treatment that Dr. Galea gives these athletes is more helpful than harmful, major sports should consider approving these methods.
Doctors have been subscribing steroids to sick and injured people for years to improve their health and help them return to society as an able body.
Alcohol and cigarettes are legal and they claim many more lives than steroids do each year. Yet, we continue to vilify marijuana and steroids—two medicines proven to help people when used properly.
We should stop fighting and start educating people about the possible benefits that can be obtained when steroids are used correctly. As a society, when we only educate players about the negative consequences of steroids, it's not enough to stop a person from abusing something they enjoy. We could, instead, teach them how to benefit from their use in healthy ways.
If the charges and allegations are confirmed against Dr. Galea, then yes, all of these athletes will face possible suspension and rigorous investigation, for what?  Trying to get healthy?