Ordinary Super Foods: Pomegranate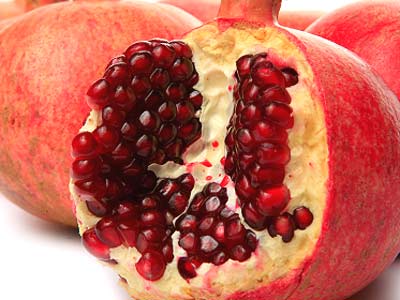 I'm passionate about pomegranates. I know it seems silly, but one of my favorite memories of childhood was when my mom let me pick one out at the store and bring that juicy beauty home.
I was (clearly) sort of a weird kid, but my mom indulged my desire to try every exotic fruit I could get my little hands on. Starfruit, persimmons, kiwi, and pomegranates were some of the things I discovered as a young girl that I still love today.
If you've kept up with the trends in healthy foods over the last few years, no doubt you've heard that pomegranates are one of the most antioxidant rich foods in the world. Pair that with the fact that they're delicious, in season, and just plain fun to eat, and you've got another ordinary super food!
History
Pomegranates are so cool that not only do they have a presence in history, but also in mythology. In Greek mythology, Demeter was the goddess of the harvest, and she and Zeus had a daughter named Persephone. Persephone was so beautiful that everyone loved her, and Hades, god of the underworld, wanted her for himself. He caused the earth to open up and abducted her, to the great grief of her mother.
Demeter caused the earth to cease to be fertile, which alarmed Zeus who, in turn, sent Hermes to the underworld to rescue his daughter. Hades agreed to release Persephone, but gave her a pomegranate upon her exit. When she ate the seeds of the fruit, it bound her to the underworld for one-third of every year.
When her beloved daughter was in the underworld, Demeter refused to allow anything to grow, bringing with it winter. Pomegranates are harvested between September and December, the end of autumn and the beginning of winter, a symbol of life just before death.
It is estimated that pomegranates were one of the first fruits to be cultivated, dating back to the Bronze Age. The ancient Egyptians used all parts of the fruit for food and dying leather, and the fruits were found in many of the Pharoahs' tombs.
Pomegranates were also written of in the Bible and used in both Buddhism and Zoroastrianism. Islam has a legend that one aril (seed) of each pomegranate has descended directly from paradise. The name of the island of Granada is even said to have come from the Spanish word from pomegranate!
Super Food, Super You
Pomegranates have three times more antioxidants than green tea, and a single fruit had 40% of the RDA for vitamin C. In this cold and flu season, pomegranate may help you avoid illness.
They're high in vitamin A, in the form of beta carotene. That means that, like carrots, pomegranates are good for ocular health.
B vitamins niacin, riboflavin, and thiamin assist in metabolism and cell growth. These same vitamins help both the immune and nervous systems work at peak performance. When taken from foods (as opposed to supplements), B vitamins also help reduce the risk of pancreatic cancer.
Like other potassium-rich foods, pomegranates help control blood pressure, and can help lower systolic pressure. They also contain healthy amounts of calcium and zinc for strong bones.
Studies on pomegranates have shown that they are effective cancer fighters. Studies in Israel point to the ability of the juice from the fruit to kill breast cancer cells. Others show that it may inhibit the growth of both lung and prostate cancers.
Several studies show that pomegranates are able to prevent cartilage deterioration in those with osteoarthritis, help the arteries resist plaque build up (and reverse it in some cases), and even prevent dental decay by helping the teeth resist plaque build up.
Other amazing benefits include slowing the progression of Alzheimer's disease in lab mice, lowering LDL (bad) cholesterol, and raising HDL (good) cholesterol. Frankly, with all of those benefits, I'd eat them even if they tasted like dirt. The fact that they're also delicious makes it, well, a little easier to swallow.
Best Uses
One of my favorite ways to have pomegranates is in my smoothie. I know, you're shocked, right? I like to replace one fruit in my basic smoothie recipe with half a pomegranate when I have them on hand. If I'm really trying to up my antioxidant load, I'll replace half the water with the pomegranate, instead.
The arils are fantastic sprinkled on salads. They match well with squash dishes (and look lovely, too), chocolate, and ginger. The sweetness of blueberry is a nice counterpoint to the bright and tart flavor of pomegranate, so give that a whirl in juices or fruit salads.
If you want to keep it simple, just slice the fruit into quarters and dive in. I have three kids who are old enough to eat pomegranates, and it's a big treat for them to strip off their shirts and take their portion to the table (over a bowl, of course) and go to town. When they've eaten as many seeds as their tiny fingers can pry out of the skin, they slurp up the juice in the bowl. It's pretty fantastic to watch, actually.
Want to avoid stained fingers when working with pomegranates? Hold the pomegranate in a bowl of water. Score the fruit into quarters top to bottom. Holding the fruit under water, break it apart. Use your fingers to separate the seeds from the skin and pith. The seeds will drop to the bottom of the bowl and the pith will float to the surface to be discarded.
Since the harvest season is relatively short, be sure to buy lots of pomegranates from late September until early January. They can be frozen before or after being seeded, so there's no excuse not to have these lovely fruits for a good portion of the year!
At one of my three local grocery stores, they can be bought 3/$5, but they're $2.99 a piece at another, so it pays to shop around. I personally pick up three on the 3/$5 deal each time I go to the store (which is about twice a week), so I've amassed a little over a dozen. Hopefully at the end of this month I'll have at least two dozen to ration until next winter!
Recipes
I've got some ridiculously tasty recipes for you today. The first is an excellent green salad, the second a seasonal and delicious fruit salad, and the third a festive (alcohol-optional) pomegranate cider that you won't want to miss. Give them a try!
Persimmon Pomegranate Fruit Salad
Recipe from SimplyRecipes.com
3 fuyu persimmons, peeled, chopped (1/4 to 1/2 inch pieces), seeds (if any) discarded
3/4 cup pomegranate seeds
1 Granny Smith or Fuji apple, peeled, cored, chopped (1/4 to 1/2 inch pieces)
7-10 leaves fresh mint, thinly sliced crosswise (stack then, then roll them up like a cigar and take slices from the end)
2 teaspoons lemon juice
1 teaspoon honey
Gently toss all of the ingredients together. Keeps for two days in the fridge, but is best served immediately.
Endive and Pomegranate Salad
Recipe modified slightly from Yahoo.com
Dressing
6 tablespoons pomegranate juice
3 tablespoons olive oil
2 teaspoons Dijon mustard
1 small clove garlic, minced
1/4 teaspoon salt
Freshly ground pepper to taste
Salad
2 large navel oranges
2 Belgian endives
1 cup watercress
1 avocado
1 cup pomegranate seeds (1 large fruit; see Tip)
To prepare dressing: Whisk dressing ingredients in a small bowl.
To prepare salad: Peel oranges with a paring knife, removing the white pith. Quarter and slice the oranges. Wipe endives with a damp cloth (do not soak—they tend to absorb water); cut into 1/4-inch-thick slices. Wash and dry watercress. Peel and pit avocado; cut into thin slices lengthwise.
To assemble salads: Alternate avocado slices and orange sections in a fan shape on each of 4 salad plates. Top with endive and watercress. Drizzle with dressing, sprinkle with pomegranate seeds and serve.
Spiced Pomegranate Apple Cider
Recipe from Pomegranates.org
6 cups apple cider
6 cloves
1 stick cinnamon, about 3 inches in length
1-1/2 cups pomegranate juice
1-1/2 cups rum (optional)
Heat apple cider, cloves, and cinnamon until juice just reaches a simmer; remove from heat. Let steep, covered, one hour. Stir in pomegranate juice. For each serving, heat 3/4 cup juice mixture (do not boil); stir in 3 tablespoons rum. Makes 8 servings.
Decisions, Decisions
I hope you've gotten some good ideas for how to use pomegranates, as well as the reasons you'd want to. One of the best reasons for eating them I can't convince you of — their great taste — you'll just have to discover that for yourself!
Whether you prefer the whole seeds or just the juice, on your salad or in your smoothie, one thing's for sure: the "jewel of winter" belongs in your diet now!
Additional Reading on SteroidsLive:
Related Articles on SteroidsLive: