NBA: Nothing But A Rematch
The Orlando Magic and Boston Celtics face off in the Eastern Conference Finals. Though they both are playing quite well, this is a piece about rematches.
Orlando beat Boston last year in the Conference Semis on their way to the NBA Finals. If all goes as planned, the Magic will play a "rematched" NBA Finals with the Lakers, when all is said and done.
"But the Celtics are playing so well," you say. The Celtics are playing well, but they don't have an ace-in-the-hole.
"But the Magic got blown away in last year's finals with a better team," you say. The Magic are better now than they were last year.
As much as I hate to admit it, the Magic adding Vince Carter was smart. Not overpaying Hedo was smarter. Keeping Gortat around was smart. But when your Senior VP has written 50-something books and has 19 kids — you know he's a smart dude.
How do the Magic win with this new-look team, and what's the exception to my theory?
The Celtics Have Rajon Rondo
Rajon Rondo put on the show of his life in Game 4 of the Eastern Conference Semifinals. In that one game, he posted 24 points, 18 rebounds and 13 assists. That's staggering for a point guard who plays with "The Three Amigos."
However, Rondo didn't just become the "4th Amigo." He became "The Man," in Boston. That entire team depends on him.
KG, Allen and Pierce have to go through Rondo to get things done. Only Ray Allen can shine on his own and that's only because he can still shoot.
Rondo is the "X Factor." He can swing an entire game with his scoring, rebounding and passing. The only problem is everyone else could get in the way.
The Celtics should be busted after having to win three-in-a-row against Cleveland — even if LeBron quit in Game 5 and most of Game 6.
The Celtics are old, and even if they are clicking now, they would have to win eight games to win an NBA Title again. I just don't see that happening.
But The Magic Have Dwight Howard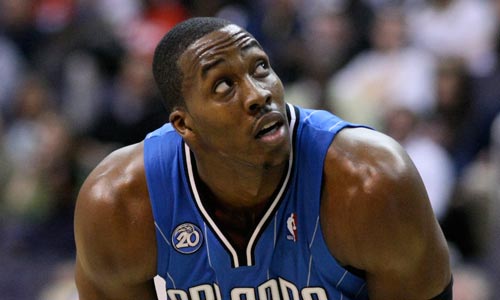 Leading the league in Field Goal Percentage. Check. Defensive Player of The Year. Check. All Defensive 1st Team. Check.
That's Dwight Howard in a nutshell. Plus, he's been to as many NBA Finals as these Celtics have — one.
However, D12 comes with his flaws. He basically lost the NBA Finals in 2009 because he couldn't hit free throws.
I even heard his Senior VP, Pat Williams, say that Dwight would be scary IF he were a 75 percent free-throw shooter. Too bad he isn't.
There seem to be a lot of "ifs" and "if onlys" and "what abouts" with D12. I like him. He seems like a nice guy. He can clearly play, but maybe there's something missing.
Perhaps the same thing LeBron is missing?
For all his gifts, there's something that is Dwight's Achilles heel, but it won't kill him now. The Celtics are up nine at halftime of Game 1 as I write this, and free throws had nothing to do with that.
But The Celtics Like Fouling — Alot
Player Stats
Rajon Rondo (2010 Playoffs)
Celtics # 9
Guard
Points per Game
17.8
Rebounds per Game
6.00
Assists per Game
10.6
Efficiency Rating
+ 24.92
Dwight Howard (2010 Playoffs)
Magic # 12
Center
Points per Game
16.6
Rebounds per Game
11.00
Assists per Game
1.8
Efficiency Rating
+ 21.20
---
"They" Said
Rondo, Pierce Steer Celtics Past Magic to 2-0 Series Lead
Celtics Go Up 2 Games on Magic
Celtics Top Magic, Take 2-0 Lead in East Finals
---
Upcoming NBA Games
| | | |
| --- | --- | --- |
| May 19 | PHX @ LAL | 9:00 PM ET on TNT |
| May 22 | ORL @ BOS | 8:30 PM ET on ESPN |
| May 23 | LAL @ PHX | 8:30 PM ET on TNT |
It's true that the Celtics are good at fouling. It's also true that Vince Carter can't take hard fouls. If you hard-foul Vince once a game, he's out mentally for the duration.
If you put in Scalabrine to foul D12 hard five times, then you're getting somewhere. This is pretty much Boston's only major edge.
Rondo can only do so much, and Ray Allen can only hit so many turnaround 3s. If the Celtics want to win, they have to foul and foul hard.
There's only on problem — you run the risk of getting called for everything. Once you set the precedent that you're "hacking" someone, the officials might call you for every little thing.
Now where are the Celtics without a hard foul?
The Magic Are Smarter
At the end of the day, the Magic are smarter than the Celtics. Sure, they're also younger and fresher, but they're smarter than that.
They'll spend a game and a half figuring out what to do — after that it's over.
They'll find a way to shield Vince Carter from hard fouls. They'll find a way to funnel the ball to Howard so he can improve on his field goal percentage.
Oh, and they'll foul Paul Pierce and Kendrick Perkins hard. Both are hurt, and Pierce is older than dirt.
The Magic had the 2nd-best team in the league this season. Yes, I put my Lakers 3rd, but they're playing the best of anybody in postseason up to this point.
IF they're as smart as I think they are, they'll improve on last year. I don't know if they can win a title, but they can win the East.
It only remains to be seen if they can get hotter as the postseason drags on. That's what the Celtics did in 2008 — likewise with the Lakers in 2009.
They only prove my point if they dramatically improve as they move forward.
My Prediction?
Magic in 6. Notice I'm making it hard on my Lakers. I don't want to see the Magic in Finals again, but who else am I going to pick?
If this were my "Get the Lakers another title" column, then I'd pick the Celtics — who won't be able to keep up another series from now. I don't want this to be hard for the Lakers, but I have to be realistic.
The Celtics have now defeated the Magic in Game 1, 92-88. The game wasn't even that close, but that doesn't mean the Magic are sunk.
Remember how I said they were smarter? They're just now figuring out what to do, and by halftime of Game 2, they'll be in their stride. Stan Van won't let this beating happen again.
Just because the Celtics seem to be peaking does NOT mean they got spontaneously younger. Rondo's not enough when has three old geezers to hand the ball to.
The Magic will win Game 2 at home, lose Game 3 in Boston, get pissed and steamroll through the next three.
Will that be too much energy spent before the Finals? Only time will tell.