NBA: Nothing But 4 Bad Draft Picks
The NBA Draft came and went last night at Madison Square Garden without much depth. The fans in attendance booed David Stern mercilessly, John Wall went #1, and some teams attempted to repeat past failures.
There are always draft picks that don't make any sense, but they are usually confined to teams drafting European players we've never heard of. If you're making a bad pick outside of that you're messing with specters of your own past.
In the NBA, it seems that history repeats itself. Certain teams are always pretty good, and certain teams always make bad choices. Just think about how history repeats itself.
Since 1980, only 8 franchises have won the NBA championship: L.A., Boston, Detroit, Chicago, San Antonio, Philly, Miami, and Houston. You could say that Miami and Philly won by luck, but they really won with smart personnel moves.
Miami drafted D-Wade in 2003, Philly made a move for Dr. J. in the 80′s, and Houston brought in Clyde Drexler to play with Hakeem. Those are the smart teams—we'll be talking about the dumb ones today. The teams who never seem to get out of their own way.
There are four draft picks that really stand out as ill-advised, stupid, and/or crack-smoking. You will see the parallels to "bad history." You may want to sit down—this could make you sick.
Also, this column is not intended for children—they shouldn't have to witness this carnage.
John Wall, #1 to Washington
I asked my distinguished colleague, Tony Tucker, if he was doing his own draft review. Since he was in "baseball mode" I figured I'd go full-speed-ahead with this piece.
However, before I signed off, he chimed in, "don't think wall is a great 1st pk btw." Well, that's all I needed to hear. I already didn't like Wall as the #1 overall pick.
John Wall comes in as a highly touted point guard to a team that already has a guy at the point. Gilbert Arenas, injuries and all, has been running this team for quite a while. The return of Arenas will only spark a "battle for the ball."
Even if Arenas begs for a trade there may not be a team in the league who will—or can—take him. Since he's due a ton of money, the Wizards have to play him.
Now you have a gun-toting lunatic (Arenas) giving your brand new #1 (Wall) a workout every night trying to get the ball. This team will be in immediate "identity crisis mode." Is Wall running the show? Is Arenas running the show even though he wants to leave?
Wizards General Manager, Ted Leonsis, isn't about trading Arenas:
"We're not actively trading him. But I would ask you to put yourself in another general manager's shoes. He was injured for two years and suspended for a year and he's a max [contract] player. If you were another team's general manager, would you be trading for Gilbert Arenas right now?"
I would if it meant saving my new #1 pick in John Wall!
Imagine the nightly routine: Arenas comes out and hogs the ball. Flip [Saunders] tells Arenas to hand the ball over the Wall. Wall runs the show for a while, but has no good players to distribute the ball to. Arenas gets frustrated and takes the ball back. Wizards lose.
Even if the Wizards could trade Gilbert Arenas, there's no one for John Wall to get the ball to. He'll spend every game trying to do it by himself—at age 19.
Washington would have been better off drafting DeMarcus Cousins. Asking Cousins to put his back to the basket every night makes more sense than drafting a young Point Guard and giving him nothing to work with.
Do these people not watch Cleveland basketball? This is LeBron's problem! He has nothing around him. Why else are we on "Lebron Watch?" Don't make this your problem too!
Wesley Johnson, #4 to Minnesota
I feel like history is destined to repeat itself in Minnesota. Wesley Johnson is a nice small forward from Syracuse. Have you noticed his build? How slim he is compared to other Forwards?
I remember when Kevin Garnett was drafted by Minnesota—back in the dark ages—and he was this little, skinny wonder. In fact, Garnett is still pretty slim for his position.
Garnett had one good season in Minnesota when the team was stacked. Garnett went to Boston, was pulled along by Ray Allen and Paul Pierce, then broke down physically.
Wesley Johnson looks to be "Kevin Garnett, Jr." Granted, there are better players in Minnesota than there were when Garnett came out. Wayne Ellington, Corey Brewer, Al Jefferson, Kevin Love and Jonny Flynn.
We know that Wesley Johnson won't be asked to play out of position as Garnett was forced to at times. However, I can't look past the fact that the Sixers drafted a 6'7″ guard—in Evan Turner—and Minnesota took a 6'8″ small forward.
A highly drafted, undersized, slender player got the T-Wolves one good season. After 10 years they traded Garnett and gave up—totally depleted.
I think Wesley Johnson could be a great player, but not unless he gains 50 lbs. Why won't Minnesota look at their history and go for a big guy? "Skinny Garnett" didn't help. Why would "Skinny Johnson" help?
They too could have had DeMarcus Cousins backing up to the basket every night. Now they have to pray that a 6'7″, 206 lb. Johnson can guard a 6'8″, 280 lb. LeBron a couple times a year.
Cole Aldrich, #11 to New Orleans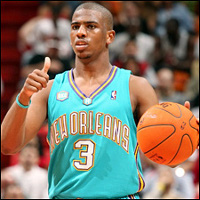 Cole Aldrich is that blonde, white kid from Kansas. He pretty much stands out on any basketball court. He's big, but he's slow. He's a hard-worker with a lot of energy, but he doesn't seem to be NBA-ready.
Cole Aldrich has some "upside" but he isn't going to come in on "day one" and make a huge difference. He's a project, and that's the last thing the Hornets need.
Chris Paul told ESPN's Chris Broussard:
"My first choice is to be in New Orleans. I just want to make sure we're committed to winning. If we're not committed to winning and trying to get better so we can contend with the Lakers, the Celtics and all these other top teams, then I'm open to being traded."
Based on the choice of Cole Aldrich, I'd say it's time to start waving "bye-bye" to CP3. Aldrich won't match up with Bynum, Gasol, Odom, Perkins, Howard or Stoudamire. Aldrich is a project.
Chris Paul even told Broussard:
"I'm fine with staying in New Orleans, but I want to make sure we're committed to winning. I don't want to rebuild. I want to win now. It's nothing personal against the city. I love that city. But my biggest thing is winning."
Since Aldrich isn't winning any battles inside, I'd say it's time to rebuild the Hornets—without Chris Paul.
Damion Jones, Tibor Pleiss, Jordan Crawford,# 24 to Atlanta
Damion Jones is a nice small forward, and he could be a pretty good player in the NBA. The only problem with that—the Hawks have like 4,000 forwards on their team already.
They have to trot out Marvin Williams and pretend he's a starter. Al Horford is an undersized center who ends up playing out of position because he's really a power forward.
The Hawks have a serious need for a big-guy. They don't draft very well—historically—but at least they could try to draft a big-man. Just pick a really tall dude.
Well, they heard the universe tell them, "You don't want Damion Jones." They traded Jones' draft-rights to the Nets for Center Tibor Pleiss and Guard Jordan Crawford.
It's great! They finally picked up a big-man!
Actually, they sent Pleiss' draft-rights to Oklahoma City for cash considerations. Now they have more money to either re-sign Joe Johnson or bring in veterans—but no big-men.
Pleiss was a smart move—they need a large man to occupy the middle. This way Al Horford could play power forward—his natural position in the NBA. Now Al Horford has to spend another season standing in a gap he can't fill.
Jordan Crawford is just a stop-gap in case Joe Johnson leaves. He's a nice little shooting guard at 6'4″ from Xavier, but there's no guarantee he'll want the ball in clutch moments. Plus, he won't have another chance to dunk on LeBron.
With Mike Bibby aging and the rest of the backcourt playing off the bench, there's no way Jordan Crawford can learn how to play in the NBA. If he isn't starting at the beginning of the season, it will get ugly.
That means Jamal Crawford might be starting—and we all know that starting Jamal Crawford is not in the Hawks' vocabulary.
While Pleiss might have taken some pressure off Al Horford, who would feed "Big Al" the ball? The Hawks have once again failed to answer that question. Jeff Teague wasn't the answer last year, and Mike Bibby is older than dirt.
If Joe Johnson is re-signed then Jeff Teague and Jordan Crawford will be sitting on the bench. That's two 1st-rounders on the bench. Their lack of true "impact" players in the backcourt will only make the transition to new Head Coach Larry Drew harder.
Rick Sund—you just became Billy Knight 2.0, and it's too late to take it back. Your team's lack of size will kill it again in 2010-2011.
At least you aren't the Hornets, Wizards, or Timberwolves . . .