Exclusive Interview: WCF Ring Girl Jessica Valente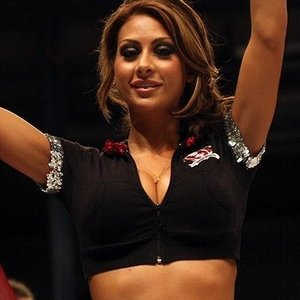 Age: 22 yrs old
Height: 5′4
Measurements: 34C, 24, 34
You would never know by just looking at her but this soft spoken ringside beauty from Framingham, MA. admits to have been some what of a "problem child" during her earlier years and often found herself in trouble at school. Failing to pay attention in school she focused on having attention paid to her and so far it's working. I recently had the opportunity to sit down and talk with Jessica, one of the WCF's ring side attraction.
Me: Hi Jessica…can you tell us how you got into modeling?
JV: It was a dream since i was a little kid. I loved being in the spot light and having my pictures taken. My mom got me into a fashion show for TJ Maxx as a kid and since then I just knew it was what I wanted to do. I started modeling about 2 years ago. I started off touring with Capristian swim wear shows across the country. Which lead me to some promotional modeling and more swimsuit modeling. I have been a featured model for PAS MAG( performance auto and sound magazine), Maxim radio, Playboy radio, Copa swim wear, modeled at the playboy mansion, and much more. I have an up coming feature in TAPOUT magazine.
ME: Wow, that's a lot of jobs in just two years. How did you get the WCF Ring Girl job?
JV: It was word of mouth and referrals which lead me to a great position with the WCF. At the time they weren't hiring when I submitted for it and then they called me out of the blue for one of their events. I think it was for WCF 4.
ME: How long have you been working with the WCF as a ring card girl?
JV: I've been with them since last year and loving every event!
ME: Have you worked any other MMA events?
JV: I'm a loyal girl to the WCF! But I would love to work a UFC event as a ring girl.
ME: Tell me what's the best part of being a ring girl?
JV: Getting Front row seats to all the fights and of course all our lovely fans.
ME: Any downside to being that close to the action?
JV: Putting a Medal on bloody men, you have to put a medal on a sweaty boy who's bleeding and then they put their arm around and they are sweating and it can be gross.
ME: Do you practice any mixed martial arts yourself?
JV: I always wanted to train but never actually have. It would be kinda hot to be train to kick some serious ass! But I would never want to compete.
Me: That throws out my next question of "Would you ever consider stepping into the ring yourself"?
JV: I'm a lover not a fighter (laughs)! It's not very lady like. Only to hold a ring card.
Me:What do you think of Gina Carano?
JV: Gina Carano is definitely a beast! She is great at what she dose. I definitely Wouldn't want to piss her off.
ME: Tell us who's the nicest MMA fighter you've met?
JV: Rampage Jackson was very kind. Also our WCF boy Greg Rebello, very gentleman like, very sweet and a great fighter.
Me: Ever come across any rude fighters?
JV: No one in particular, for the most part they all get quite excited to be greeted by beautiful girls.
Me: Any Favorite MMA submission move?
JV: I'd have to go with a gogoplata. Its quit an interesting maneuver
Me: When is the next time we can catch you at a WCF event?
JV: Our next event will be September. So stay posted for dates on www.Wcffighting.com and come say Hi!
ME: Let's talk about you outside of the WCF. What would you say is your dream job or modeling gig?
JV: To be a Victoria secret model but I'm way to short. I've always wanted to be in Maxim and Playboy. First Maxim and then Playboy.
ME: So if Hef comes calling what do you say to him?
JV: What's up daddy!(Laughs) Just kidding I would say he waited too long to call and yes I would love to be on the cover! (Laughs).
ME: What have you been told are you best physical attributes?
JV: My eyes and butt. My eyes I have been told are very mysterious and hard to read but also very innocent. My butt on the other hand, the lady s seem to compliment the most about how nice and round it is! So I guess the eyes and butt are were its at!
ME: Anything about yourself that you would change if you could?
JV: I would make my legs Skinner and a bit longer. Who doesn't want long sexy legs?!?