Jacksonville: How To Alienate Your Quarterback In 3 Days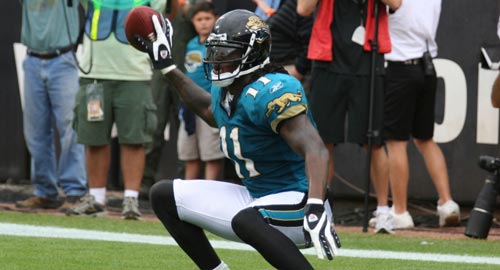 The Jacksonville Jaguars have David Garrard, Maurice Jones-Drew and a young Offensive Line. They also have disgruntled fans and an unrealistically stringent owner.
Back in January, Jaguars Owner Wayne Weaver said he wanted Garrard to be more like Peyton Manning. He's quoted as saying:
"I tell a story about Peyton Manning when [Indianapolis] drafted Pierre Garcon and Peyton Manning drove three hours twice a week because this kid couldn't come to the OTAs and train because of his graduating class," Weaver recently told the media. "He drove three hours twice a week to throw to this kid, to teach him how to be a pro, how to work. We need to do more of that here. David just needs to do more of that with our young receivers."
The only problem with this is the city's distaste for Garrard. I've mentioned in this space my drive with my kids home from Disney World.
When you're alone in a car with three small kids, and an NFL game is on the radio–you listen. The broadcasters didn't get off Garrard's back–and they're the hometown guys!
If the broadcasters have their fingers on the pulse of the city, then this city is not feeling Garrard. They didn't like him in November. They probably didn't like him before that either.
Where did the Jags and Garrard "grow apart?"
The City Has It All Wrong–Any Day Is Day One
Jacksonville, Florida, is the largest metropolitan city–in area–in the country. They've incorporated and included everything in Duval County–except the Jags.
To be fair, the Jags use Jacksonville Municipal Stadium, but it's only called that because Alltel backed out of their sponsorship deal. Now the city has no sponsor and a stadium it can't fill.
The city bitches and moans about the performance of the team, but they never come to the games. The broadcasters bitch and moan about Garrard's performance, but they know he's not on the field by himself.
It seems the city has decided that David Garrard is the root of all evil in Florida. The next thing we know, the city will accuse Garrard of stealing a baby.
Jacksonville did what Atlanta does. They chose a savior and then smashed him when it didn't work out. They ignored the problematic coaching and settled for mediocrity.
The Braves have won a single Championship under Bobby Cox, but it's "ok." The Jags can't sell out their stadium under Jack Del Rio, but that's "ok."
The Braves ran Tom Glavine and John Smoltz out of town when they couldn't save the team anymore. Jacksonville has taken it one step farther by hating Garrard because his team stinks.
They'll incorporate swampland in Jacksonville, but not their quarterback. You'd have a hard time performing, too, if no one wanted you around.
We always "bust a tear" for Donovan McNabb because the fans in Philly hated him. The fans in Jacksonville hate David Garrard more.
Day Two–Wayne Weaves A Tangled Web
Player Stats
David Garrard
Jaguars # 9
Quarterback
TDS
15
INT
10
YDS
3597
RTG
83.5
---
Additional Facts
David Garrard
Born: February 14, 1978
Height: 6′ 1″
David Garrard has been with the Jaguars since 2002.
Jaguars
Many Jacksonville locals feel that there is no market for the NFL in Jacksonville due to the strong preference for nearby college teams.
---
"They" Said
David Garrard Vows to Improve in 2010 NFL Season
Jaguars Can Win Over Tebow-ites and Stay in Town by Fielding Winner
Are Jaguars Passing Up On Passers in NFL Draft Again?
Well, if the Owner also must have his finger on the pulse of the fans, then he knows they're unhappy. So, he goes out in the media and says what the fans want to hear.
Problem is, David Garrard can't be Peyton Manning because his team is not as good as the Colts. The current offensive linemen for Jacksonville have 20 combined years of experience. The Colts' current linemen have 51 combined years experience.
What do you want this man to do, sprout wings and fly over the defensive line? He's a poor man's Mike Vick and a less-skilled version of Donovan McNabb.
How long could it possibly take to drive to Tampa and ask the Bucs how they won a Super Bowl with Brad Johnson at the helm? He's far less skilled than Garrard, but he was utilized more effectively.
As soon, as Wayne Weaver opened his mouth and said "Garrard should equal Manning," the relationship was completely done. He might as well have said, "I hate David Garrard, so I'll heap unreasonable expectations on him for fun. By the way, we give up."
Day Three–The Front Office Effs Up The Roster
They've given up. Tim Tebow was there at #10. They could have taken him, traded back slightly in the first round and gotten more picks. They could have sold out season tickets in five minutes.
Instead, they took a defensive end for a team that already has a good defense and a defensive head coach.
That's called mailing it in, folks.
The disdain for Garrard has infected the fan base, the owner, and the front office. They passed up on Tim Tebow, didn't take ONE offensive lineman, and yet, they expect things to improve.
Tim Tebow would have sold tickets. Any help on the offensive line would be a Godsend for Garrard. Any indication that they care would help the fans.
Now the fans will continue to direct their angst at Garrard and completely overlook their crappy ownership, coaching and executives. Maybe we can move them to L.A. and rename them the "Los Angeles Braves."
Come on, you know you want to!
How Bad Can It Possibly Get?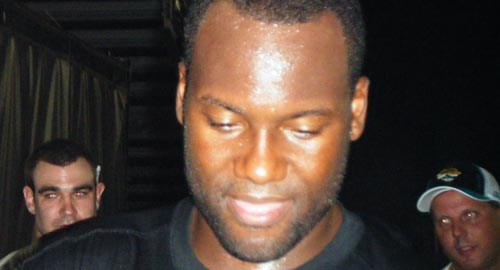 Garrard has five years left on his $60 million extension. You ever smoked $60 million? I haven't either.
That's what the Jags are doing. Garrard is a good player, but they aren't using him correctly. He has one weapon–Jones-Drew–and a bunch of lightweight receivers.
The fans hate him. The owner surely hates him. The front office leaves him out there with no offensive line so he can be slaughtered like cattle.
Oh, and the city is over him in the most intense way. That's what smoking $60 million looks like. You "put a ring on it," then you spit in her face.
David Garrard must like spittle because he told the Associated Press:
"I think any time any man is challenged it's going to bring something out of you. It should. If another man is going to challenge you, and you are really a man, then you're going to rise to the occasion. I want to be better. I want to be greater."
Really Dave? You haven't figured out that you're the most hated man in Jacksonville? I would have said, "Y'all can kiss my black ass. Davey's out. Peace!"
If they don't respect you enough to build the right team around you, then you need to ask for a trade or to be released. The Jags are in a tailspin that will only bottom out when you leave.
As long as you stay and "do the right thing" by a team that disrespects you, you're only hurting yourself.
The Jags might win seven games this year. Though over the next 3-4 year, things will get really bad. Garrard's extension will be a stumbling block, and the city will just hate him for it.
Meanwhile, Jack Del Rio stalks the sidelines; Gene Smith is still the GM, and Wayne Weaver is still the owner.
The "Los Angeles Braves" don't sound so bad now, do they?