How To Train For a Triathlon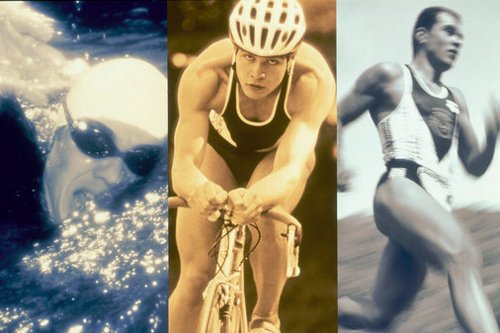 So you've decided to brave it out and train for a triathlon. I commend you, but also caution you: it requires much more mental strength than a marathon. Firstly, you must decide on what distance you want to cover. There are lots of options:
Triathlon Event
Distance
About
Super Sprint
400 m Swim10 km Cycle

5 km Run

This fun triathlon event will help you to become accustomed to the swim, bike, and run routine, which can hit the legs hard. The swim is often based in a pool.
Sprint
750 m Swim20 km Cycle

5 km Run

The swim may be pool based, or in open water. The sprint triathlon has age groups for specific national and world championships.
Olympic Distance
1.5 km Swim40 km Cycle

10 km Run

Most individuals train for an Olympic distance triathlon. The London Triathlon is an example, and includes a swim in open water, a bike ride down the Embankment to Big Ben, and a 10 km run.
Half Ironman
1.9 km swim90 km Cycle

21.1 km Run

If you have completed the Olympic Distance Triathlon, the Half Ironman should be achievable for any triathlete.
Ironman
3.8 km Swim180 km Cycle

42.2 km Run

Invented in Hawaii, the Ironman is the ultimate test for a triathlete. It is very tough, and you often have to qualify to take part, but any age group is open to the challenge.
Decatriathlon
38 km  Swim1800 km Cycle

422 km Run

Unbelievably, some people take on the Decatriathlon, which is the Ironman distance times ten.
Choose Your Event
If you have only ever run a half or full marathon and want to get your body used to the three events, I would advise you to try a sprint or Olympic distance triathlon. The distances are achievable, and the training beforehand will help you become used to the changeovers from swim to bike to run. Swimming uses the muscles of the legs, buttocks, chest, arms, and shoulders, so the cycling distance requires leg strength. What is even harder after the cycle event is hopping off the bike to run.
This will challenge your body, so it is important to fuel up with a high-carbohydrate and protein-rich meal a good 24 hours before the event. Eat high-energy foods like gummy bears during the bike ride and run to stop the legs from turning to jelly. Alternatively, energy gels are perfect for an instant sugar fix to boost your endurance.
Train For The Swim
Practice good form in your local pool, and focus on maintaining positive mental images throughout your training so you can carry this through with you to the main event. Good form will ensure you finish at a faster time.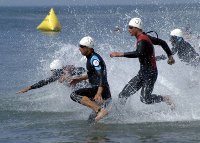 Depending on how many triathletes are competing in your chosen event, it is important to remain confident, and do not panic if you do not have a clear vision because other triathletes are in your way during the first stage of the swim.
Equipment required: A tri suit will last you through the entire event, and a wetsuit can easily be worn over the tri suit. Wetsuits can often be rented together with goggles, which allow for superior peripheral vision. This is especially helpful in a lake where there is nothing to guide you.
Train For The Cycle
Practice on the open road, and become familiar with the gears. After the swim, the legs must become used to the new event, so cycle at a low gear. If you can get used to clip pedals, these will work well during the cycle event, and allow you to build calf strength and speed.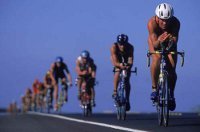 The transition from swim to cycle will boost your overall time. Wear a tri suit for the event. This will keep you dry throughout the event, plus it feels comfortable in the saddle. Flapping clothing is not ideal for the cycling event of a triathlon.
Use higher gears on flat surfaces and the faster sections of the course, and switch back to a low gear spin before your run. Build leg strength by using a middle to higher gear uphill. Always set yourself targets in the distance. Once you meet those targets, take a drink or an energy gel. Dehydration can be detrimental in this event, so be sure to drink every fifteen minutes.
Equipment required: A light but strong road bike with clip pedals, if preferred. Place the cycle shoes onto your bike so you can make a quick transition from swim to cycle. A road bike builds incredible speed fast. Also, invest in an energy gel belt so you can quickly grab your packs when you are running low on energy.
Train For The Run
After a long cycle, the legs will turn to jelly during the transition from cycle to run. This is mental pain you will have to work through during the training process as well as the main event. Slip into your running shoes, and run gently to get the blood circulating through the legs. Why do the legs turn to jelly? Cycling does not use the same leg muscles as running, which is what causes the discomfort for several minutes.
Practice on the open road, and become familiar with the gears. After the swim, the legs must become used to the new event, so cycle at a low gear. If you can get used to clip pedals, these will work well during the cycle event, and allow you to build calf strength and speed.
The more training you can put into the transition from cycle to run, the easier it will feel during the main event. This is called brick training. To brick train, you'll want to cycle a couple of kilometers on a bike, and then jump into a run right away.
The more times you try this, the better accustomed your legs will become to the weird feeling that jumping off the bike and running creates. Top triathletes often mix hard cycling for twenty minutes with hard running for ten minutes three to four times during a workout.
Equipment required: A good pair of running shoes with elastic laces saves time. Plus lots and lots of mental strength!
Final Notes
Throughout the triathlon event, you are going to feel drained of energy and only mental strength will keep you going. Top class athletes use mantras all the time, and it certainly has pushed them to a high level of achievement. I like to use mantras like, "This feels good," "No pain," and even, "I love pain."
I hope you're excited to give triathlon a try.  It isn't easy, but it's worth it!
Additional Reading on SteroidsLive:
Related Articles on SteroidsLive: