Hell Fire Labs Steroid Conspiracy Spreading Like Hellfire over America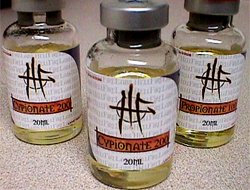 Prosecution against persons connected with the notorious underground lab known as Hell Fire Labs is spreading further and involves more states. Charges against five more individuals for distributing anabolic steroids have been pressed recently by Mary Beth Buchanan and Mary Houghton, prosecutors with the U.S. Attorney's Office for the Western District of Pennsylvania.
David Edward Retter (Vandergrift, Pennsylvania) is charged with providing sufficient equipment to set up a fully operational lab. Retter protests vehemently against being implicated into the affair. He refuses to be regarded as a big steroid dealer and claims that he "was out of the thing for 12 months before they even called me." (It is true that the accusation mentions the period from May 2006 to February 2008.) He also denies knowing Kristen Mealer whom he was supposed to hand over the equipment.
But Kristen Mealer, gym owner (Timbo, Arkansas), pleaded guilty. She owned up to the distribution of anabolic steroids within the year between January 2007 and February 2008. All of the steroids carried the Hell Fire Labs tags. The dosage stated in the charges comes to as many as 185,029 units. The prosecution intends to prove that she received steroid powders, bottles, seals, crimpers, heating plates and some other units from Retter.
Jason Hobbs aka "Heretic" (Auburn, Washington) is believed to be the founder of the steroids infernal brewery.
Also charged is a conspirator known only under his nickname "Freak" (Indianaopolis, Indiana). According to Houghton he furnished Mealer with e-mail addresses of more than 200 customers.
The fifth ring member is believed to reside in Auburn, Wash.
So far the information cited in court documents is rather scanty.
Related Articles on SteroidsLive: