Are you looking for the best rumors from the Gridiron this off-season? If so, then look no further. This rumor mill is over filled and ready to spill.
What options are available for QB JaMarcus Russell? What is he more likely to be holding next season, a clipboard or a remote control?
What is the buzz surrounding Carolina Panthers organization? Do the fans have "Moore" or less to worry about after rookie mini-camp?
What is the deal with the Cincinnati Bengals always signing jail birds? Who is the latest inmate making the helmet look less like a tiger and more like prison stripes?
You can tell its summer in Cleveland, because every time they ask Browns' President Mike Holmgren about rookie QB Colt McCoy, he sounds like a flip-flop.
Which player is deservingly playing the part of Rod Tidwell this off-season and screaming "show me the money?"
Will Power Isn't Taught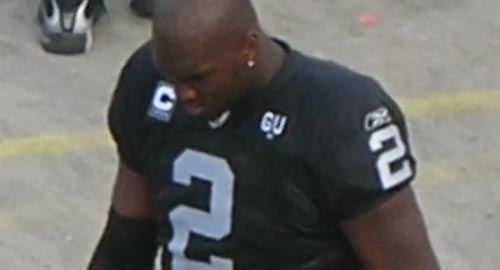 The release of JaMarcus Russell was official on Friday. Matt Bowen, a former NFL player who is currently working for the National Football Post said, "He just isn't worth the time anymore—despite the big talent."
So the question is what's next for a guy with considerable talent, but no work ethic? A popular Cleveland Browns blog, DawgsByNature.com, would love to see if Holmgren can bring the best out of him.
ESPN Insider has linked the Washington Redskins and Philadelphia Eagles as possible destinations; although, Chris Mortensen thinks the Eagles are an unlikely choice.
Whatever team takes a chance will most likely come to the same end result. I project within three years Russell will be competing in hotdog eating contests against Kobayashi.
Clausen Isn't Floss'in
The Panthers feel like they got the steal of the draft in Jimmy Clausen. According to the Charlotte Observer, they believe Matt Moore will start the season at QB, but they feel Clausen will make every effort to win the job.
The Chicago Tribune reported that Clausen started to assume the leadership role by sending text messages to all of the draftees and some of the key Panther veterans. The buzz in Carolina for Clausen to take over seems to be gaining momentum everyday.
If the Panthers want to compete in a division that hasn't had back-to-back winners since its creation in 2002, then they will start Moore. If sending text messages is a sign of leadership, then I could be President of the United States.
Cincinnati Convicts
Player Stats
Adam Jones (Bengals #21)
2008 Stats
Cornerback
TACK
31
FF
1
INT
0
---
"They" Said
Difference of Opinion in Cincinnati Over Pacman Jones?
Bengals Sign Controversial Cornerback Jones
Panthers End Clausen's Wait at No. 48
Bengals have signed troubled CB Adam "Pac Man" Jones. It is never bad to have depth at the DB position in a league that is trending to more 3 wide sets. How does a guy whose been suspended by the league and had more than 10 run-ins with the law return to the NFL?
ESPN's Adam Schefter tweeted, "Do not underestimate the influence that Deion Sanders had on Bengals DC Mike Zimmer in getting Pacman Jones to Cincinnati. Big."
The Bengals have also built a reputation of fielding troubled players. In 2005-2006 the Bengals had eight arrests, four for the same individual. They proved further they had a desire for drama when they brought in Terrell Owens for an off-season workout.
The current starting corners are both young and on the rise — Johnathan Joseph and Leon Hall. This means unless he can beat out one of the starters, it will be nickel defenses and kick returns.
McCoy to the Rescue
The Browns were lucky to get Colt McCoy in third round of the 2010 draft. There is no question that McCoy will get the chance to save the Browns franchise; it is matter of when.
In a clarification on ESPN's "Mike and Mike in the Morning," Holmgren said, he'd rather not see Colt McCoy starting as a Rookie, "but heck if he's the guy, he plays."
Odds are that newly acquired QBs — Jake Delhomme and Seneca Wallace will be one and two. However, if Delhomme's season starts off like it did in '09, and Wallace has already proven that he couldn't cut it while filling in for an injured Matt Hasselbeck in Seattle, the Dawgs will be barking for McCoy.
Rob A Bank if Needed
Chris Johnson of the Tennessee Titans is scheduled to make less than million dollars this season. Normally, this isn't really something to complain about — unless you're the best player at your position and by far the lowest paid superstar.
Green Bay Packers RB Ryan Grant tweeted, "And another thing lol… somebody, anybody, needs to go and pay @ChrisJohnson28. He deserves more than about 80 percent of these qbs make."
Former NFL great, RB Marshall Faulk, urged Johnson to hold out in an appearance on the NFL Network.
ESPN.com's Paul Kuharsky had a chance to speak with Jacksonville Jaguars WR Mike Sims-Walker who happens to be working out with Johnson this off-season. Walker said, "I think he'll show up. But hopefully he'll get to camp with new contract…"
Johnson still has three years left on his rookie contract and because of the "30 percent rule," the Titans won't be able to renegotiate. The team could explore one option if he did threaten to sit out the entire season, and that would be to give him a big signing bonus.
I don't care if they have to pull a Queen Latifah and "Set it Off," they better find a way to get him some money.