Drop the Puck: It's Time to Start Thinking Fantasy Hockey (Part II) – Young Guns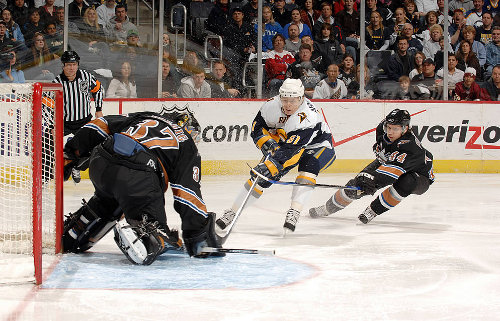 With the NHL season just two weeks away, fantasy hockey fanatics – called "poolers" in Canada – are gearing up for their fantasy drafts. Generally, a typical fantasy hockey roster consists of 17 players including 6 forwards, four defensemen, two goalies, and two bench players. That means, as you look over draft sheets, you'll need to find some quality wingers and defensemen in a league dominated by center men.
Last article, part one of Drop the Puck, 10 players were targeted who might not be in the top 5 on your draft board, but who can make a legitimate difference on your roster. The key, though, to building that championship roster is to look for those players who are on the rise. They might not be in the preseason top 40 rankings but there is untapped potential there.
These are the NHL "young guns," players who are in their second or third year and are ready to make that jump into the big time. Some are names you might recognize, and some you might not know at all. By the end of the 2010-2011 NHL regular season, though, you'll be hearing about these guys and you'll be glad you took a flyer on a young player who can make a difference to your fantasy bottom line.
NHL Young Guns You Should Hire: Forwards/Centers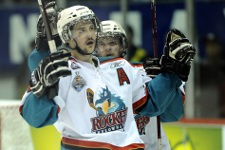 Jamie Benn – LW, Dallas Stars
As a rookie for the Dallas Stars, Jamie Benn made an immediate impact as a left winger. Benn played in all 82 games for the Stars, netting 22 goals, and 41 points. Benn has size and showed some grit with 45 penalty minutes in 2009-2010. He could be a good bench player and a LW that could make an impact in his second year.
Niclas Bergfors – RW, Atlanta Thrashers
How would you like to be traded for another team's franchise player? No pressure, right? Niclas Bergfors found himself in exactly that situation after being involved in the trade for Ilya Kovalchuk last winter.
Getting substantial playing time for the first time in his career after languishing on the bench in New Jersey, Bergfors scored 21 goals and had 44 total points, this output after scoring 1 goal in 2008-2009. In 2010-2011, Bergfors could hit the 30-goal mark as a first-line winger for the Thrashers. Good right wingers are scarce in the NHL so he could be a great find.
Alexandre Burrows – LW, Vancouver Canucks
On the talented Vancouver Canucks, Alexandre Burrows might get overlooked, but he scored 28 and 35 goals the past two seasons and seems poised for more firepower this season.
Burrows doesn't quite fit the "young guns" mold, he is in his sixth year, but he was a slow starter for the Canucks and looks like a player who is just now coming into his own. Could 40 goals be possible? With the Sedins dishing the puck, 40 goals and 80 points is attainable.
Steve Downie – RW, Tampa Bay Lightning
Buried in the Philadelphia Flyers farm system, Steve Downie came into his own in 2009-2010 after being traded to the Lightning in 2009. After scoring 9 goals in two seasons, Downie scored 22 goals while logging an incredible 208 penalty minutes. He also had a 14 plus/minus rating. If he can stay on the ice, Downie could score 30, especially if he gets any time with the top six forwards.
Matt Duchene – C, Colorado Avalanche
Duchene made an immediate impact as a rookie for the Avs last season with 24 goals and 55 points. In year two, Duchene is aiming for bigger things and could be a top 40 player in the NHL. Look for Duchene to crack the 30 goal mark and finish in the 75-80 point range. Duchene should be available since there are so many great centers and he could be a solid bench player for you.
Taylor Hall – LW, Edmonton Oilers
The #1 draft pick in the 2010 NHL draft, Taylor Hall is the next "it" guy in the NHL, a player with speed, strength, and scoring ability (he put-up 280 points playing in the Ontario Hockey league last season. Hall will be paired with scorers like Sam Gagner and he could start his NHL career with a 60-70 point season on the offensive-challenged Oilers. Look out also for another Oilers rookie, RW Jordan Eberle, who will also get tons of PT.
Patric Hornqvist – RW, Nashville Predators
In his second year in the league with the Nashville Predators, winger Patric Hornqvist made a huge leap in production. After scoring just 2 goals as a rookie, Hornqvist netted 30 goals in his second season. What can he do for an encore? If the sniper can improve on his assists, he could be in the 65-70 point range and, with a +18 plus/minus, he can help you in that category as well.
Phil Kessel – RW, Toronto Maple Leafs
Kessel came to Toronto last year with great expectations and, if you drafted him high, you might have been disappointed and are cursing his name as you read this description. Kessel did score 30 goals on his way to a 55-point season, and you can expect him to rebound to his Boston Bruins output in 2008-2009. Expect Kessel to reach the 70-point range as a top-six winger and could be an impact player. He will be a bargain in the late rounds, if you can get him.
Matt Moulson – LW, New York Islanders
The type of player that can either make or break your fantasy roster, Matt Moulson came out of nowhere last year scoring 30 goals after just five the year prior. Is he the type of player who will continue to rise or go back to his prior production? Moulson is a 26-year old winger and, he could be a one-year wonder, so buyer beware but he is a good value pick in the later rounds.
John Tavares – C, New York Islanders
Tavares came into the league with as much hype as anyone since Sidney Crosby, a #1 draft pick in the biggest market in the NHL. Taveras had a good start, playing in all 82 games, scoring 24 goals with 30 assists. His one negative was a -15 plus/minus ratio on a bad team. Can Taveras become a top five fantasy player as his pedigree suggests? Many star players take a gigantic leap in their second year and Taveras is worth the gamble.
NHL Young Guns You Should Hire: Defensemen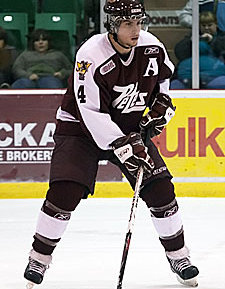 Zach Bogosian – D, Atlanta Thrashers
Swiftly becoming a defensive force for the Thrashers, Bogosian is poised for a big leap in 2010-2011. He posted 10 goals and earned quality minutes for Atlanta. He is predicted to be a #1 defenseman this year and should make a leap into the top-20 defensemen.
Kris Letang – D, Pittsburgh Penguins
With Sergei Gonchar gone to Ottawa, Letang will be the primary trigger man on the power play for the Penguins and will be counted for production at the point. Letang only scored 3 goals last seen as he found his shots going wide more often than not, but he has a chance to be special in 2010-2011. Look for Letang to become a force for the Pens in his fifth NHL season.
PK Subban – D, Montreal Canadiens
Subban played in just two regular season games for the Canadians a year ago but he played major minutes in the playoffs and will be counted-on for quality minutes this year. Subban is a force on the power play and will be a first-line defenseman. Subban could be a real steal since he will not be on a lot of draft boards early.
Whether all or some of these guys advance to the next level is the question all fantasy owners and NHL general managers are dying to know. However, if you hit big on a few of these up-and-coming players, you'll have a great fantasy season. Next-up: Goalies you must draft.
Additional Reading on SteroidsLive: