Drop the Puck: It's Time to Start Thinking Fantasy Hockey (Part I)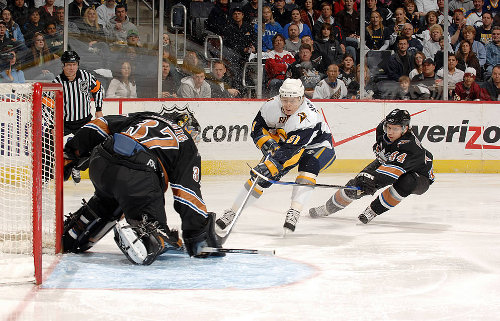 Fantasy sports is big business.
Between pay-for-play leagues, magazines, "scouting" services, and TV and radio talk shows, fantasy sports accounts for billions of dollars in revenue. An estimated 30 million people played fantasy sports according to a survey conducted by the Fantasy Sports Trade Association in 2007, and that number is sure to have risen exponentially since that time.
For many, fantasy football is the main focus. However, if you are a puck head, meaning you love hockey, you're getting geared-up for fantasy hockey drafts as many teams in the NHL began training camps.
Team Makeup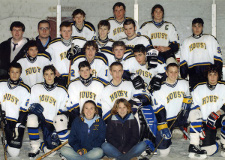 Generally, fantasy hockey teams are comprised of 17 players as on the Yahoo! site, with six forwards, including two centers, two on left wing, two on right wing, four defensemen, two goalies, and two bench players. Points are compiled from such statistics as goals, assists, power play points, plus/minus figures, and shots on goal for forwards and defensemen and, for goalies, saves, save percentage, and shut outs.
Obviously, when building your roster, you want players that can put the puck in the net, but you also want stout defenders from good teams that can put up good plus/minus, sharp-shooters who take lots of shots on goals, and guys that dish the puck.
Veteran fantasy hockey players (or even those that follow hockey on a regular basis) can rattle-off the top players in their 2010 fantasy hockey league. Guys like Sidney Crosby from the Pittsburgh Penguins, Alex Ovechkin from the Washington Capitals, and goalie Ryan Miller from the Buffalo Sabres are assured of going somewhere in the top three to five picks. These hockey studs will be the foundation of your team but you'll need more than just a number one draft choice to make your team.
Ten Forwards/Defensemen You'll Want to Draft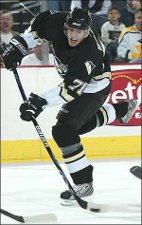 1. Evgeni Malkin, C-W, Pittsburgh Penguins
Malkin struggled through the 2009-2010 season with injuries and a mid-season slump that helped drag down his scoring to 77 points, a loss of 36 points from the year before. Rested after his team's earlier-than-expected exit from the NHL playoffs last spring, Malkin is primed for a comeback year. With a dearth of top-six forwards on the Penguins, Malkin is sure to get lots of ice time with fellow superstar Sid Crosby. Malkin could be a top-five scorer in the league this year and a steal in your draft board in the middle or end of the first round.
2. Michael Cammalleri, LW, Montreal Canadians
Cammalleri missed 17 games due to injury in 2009-2010 and still was second on his team in goals with 26. However, the left wing really shined in the NHL playoffs, totaling 19 points in 19 games, including 13 goals as the Canadians made a surprising run in the Eastern Conference playoffs. Cammalleri should pick-up just where he left off, meaning, if he stays healthy, he could score 35-40 goals with 75 to 80 points.
3. Daniel Sedin, LW, Vancouver Canucks
Sedin, the twin who did not win the scoring title in 2009-2010, is primed for a comeback season after missing 19 games due to injury. Daniel still managed 85 points and cracking the 100-point mark will not be out of the question this season. Of course, just like everything else in his life, Daniel will have to share points with his brother, Henrik, the league-leader in points with 112 last year and a likely top-five fantasy pick. If you plan to pick Henrik with your top pick, make sure to come back with Daniel, if possible, since this two-headed monster will put up a ton of points but could steal from each other individually.
4. Travis Zajac, C, New Jersey Devils
Two words – Ilya Kovalchuk. The Devils center will most likely be paired on a line with Kovalchuk and certainly will share power play time with the dynamic winger for an entire season. Kovalchuk is capable of burying 40-50 goals and Zajac is capable of accumulating 60 to 70 assists. Zajac, who scored 67 points in 2009-2010, could come near to eclipsing the 100-point mark and will be off the radar on many draft boards early. Steal of the draft if you get him in the second or third round.
5. Drew Doughty – D, Los Angeles Kings
Doughty, in his second year in the NHL, took a measurable leap in points scored with a jump of 32 points, including 16 goals and a plus/minus rating of 20. Those numbers make Doughty the number one defensemen on your draft board and a good bet to continue rising in his third year. Another +10 jump in goals and +32 in points is unlikely, but 70 points is not out of the question on this dynamic Kings offense.
6. Duncan Keith – D, Chicago Blackhawks
Keith is another defenseman that should come off your board early since goal-scoring defensemen are difficult to find. Mike Green of the Washington Capitals might get more publicity, but Keith is a leader on the Blackhawks and made a huge improvement in his fifth year in the NHL. He scored 69 points last season, with 14 goals, and he is likely to maintain that scoring pace. Oh yeah, Keith was a +21 on defense, often playing against the other team's top scoring line.
7. Jason Spezza – C, Ottawa Senators
Spezza has been a consistent scorer in his seven seasons with the Senators, but his 2009-2010 season was derailed due to injuries. Spezza missed 22 games last season and still managed 57 points in 60 games. With defenseman Sergei Gonchar added to the power play, Spezza should once again be a leader in PP goals and approach the 80-90 point mark once again. Spezza could be a real value pick as your second center.
8. Patrick Kane – RW, Chicago Blackhawks
What do you do as an encore after scoring the Cup-winning goal in OT? How about break the 100-point barrier? Kane, entering his fourth year, is primed for big things. He scored 30 goals and 88 points, a jump of +18 from 2008-2009. Kane could push 40 goals as he matures as a scorer and a player. He should be your first pick for right wing.
9. Martin St. Louis – RW, Tampa Bay Lightning
While there are lots of centers and left wingers on the board for your fantasy draft, right wing players who can score goals are hard to find and you'll need two good ones. If Kane is your first choice, then St. Louis would be your second best available. St. Louis has been a scoring machine in his 11 years in the NHL and totaled 94 points a year ago. The two previous years, though, he scored 80 and 83 and that's his potential range for 2010-2011. Kane's upside vaults him over St. Louis, though many fantasy players will pick the Lightning winger over the Chicago hero.
10. Mark Savard – C, Boston Bruins
Savard missed 41 games last season due to a head injury and should be healthy and ready to rebound this season. Savard scored 88 points in 2008-2009, and 2010-2011 should be a big comeback year for the Boston center. He could fall to the third or fourth round in most drafts and that would be a steal in what will be a deep draft for centers.
Next time we'll examine some of the rising stars, those second or third year players that appear ready for that big leap. And still to come, we'll tell you which goalies will make your dreams of a fantasy title come true!
Additional Reading on SteroidsLive: