Carmelo Anthony Possibly Headed to the Bulls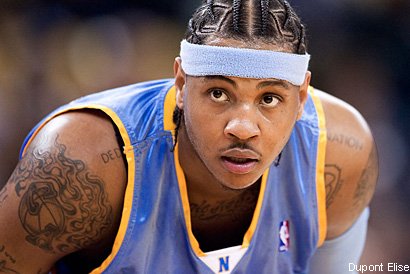 ESPN is reporting trade discussions between the Denver Nuggets and Chicago Bulls involving Nuggets forward Carmelo Anthony and Bulls forward/center Joakim Noah.
This comes one day after Yahoo Sports released a report that Anthony requested a trade to either the New York Knicks or the Bulls.
The Bulls would like to move forward Luol Deng in the trade, but the Nuggets are hesitant to pull the trigger due to Deng's long term contract.
A report coming from the Denver Post says, the Nuggets won't make any decisions until GM Masai Ujiri has a one-on-one meeting with their All-Star forward.
Rumors of Anthony going to the Knicks and possibly elsewhere started heating up after his off-season wedding, in which New Orleans Hornets guard Chris Paul made a toast to them joining forces with Amare Stoudemire in New York.
The Nuggets have already offered Anthony a 3-year deal north of $80 million. Anthony can opt out of his current contract with the Nuggets after this coming season.