Brian Cushing Injects the Rumors with Truth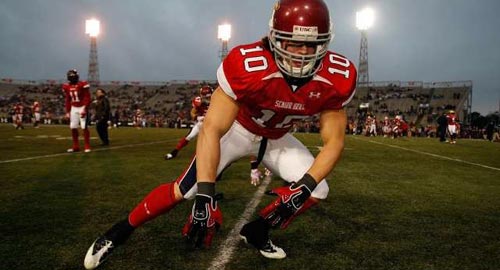 Brian Cushing was a big contributor to the Houston Texans enjoying their first winning season in franchise history. Cushing's rookie season was remarkable. He had 133 tackles, was named 2nd Team All-Pro and won Defensive ROY (rookie of the year) honors (and retained the award in a re-vote).
All of that changed when the league recently announced that Cushing failed a test last September, violating the league's drug policy. Cushing will be suspended without pay for the first four games of the 2010 NFL season.
It wasn't shocking to some people in southern California to hear that Cushing had failed. For them, it was more shocking to find out Sandra Bullock had adopted a black baby.
Looking at all the rumors and some denials made by Cushing, should we have seen this coming?
What drug was Cushing actually popped for, and does he have a legitimate claim of ignorance after failing the test?
All Signs Point to Yes
Player Stats
Brian Cushing
Texans # 56
Outside Linebacker
TCKL
133
SCK
4.0
FF
2
INT
4
---
Player Facts
Born: Jan 24, 1987
Height: 6′ 3″
Cushing was the 15th overall pick of the 2009 draft.
During his college career at USC Cushing was a four year starter and a four-time Rose Bowl starter.
---
"They" Said
Cushing Tested Positive for Banned Fertility Drug
Texans' Cushing Denies Taking Drug That Prompted Suspension
Brian Cushing: Genetic Freak or Drug Cheat?
Senior Columnist for NFL.com, Thomas George, did a report on Cushing before the '09 NFL combine in an attempt to help him clear his name from steroid use. The rumors were already swirling heading into the combine, and Cushing was forced to deny steroid use several times.
In press conference prior to the workout, Cushing said he would tell them (the press) the same thing he told the organizations, "I tell them straight up, that's not true."
Cushing went on to add with great conviction, "I have nothing to hide."
People who make several declarations of denial and then add, "I have nothing to hide," often have something to hide.
During a conversation with George, Cushing said something else that I found to be revealing.
"I hope once I pass the test here that this will be put behind me. I'm really hoping for that."
Cushing used the word "hope" twice when referring to the drug test. I understand that he was saying, "I hope to put this behind me," but he also sounds like he is desperately hoping to pass the test.
Insiders Saw this Coming
George obtained a quote from a general manager requesting to remain nameless.
"We've been warned it is an issue and might have been one since high school. We are considering that. As unpleasant as it is, this is an issue with this player that only a negative test here is going to clear up right now. It's unfortunate, because no one wants to kill the kid, but the issue is a reality."
Might have been an issue since high school?! Acne is an issue left over from high school, not using performance enhancers deemed illegal by the NCAA and NFL. That is a gigantic red flag.
Also during the conversation with George, Cushing said he passed a test in December while at USC. Excuse everyone for not trusting that as a reliable source based on the fact that the athletic department is facing several violations with pending NCAA suspensions.
George spoke with a nameless 30-year-old scout at the combine, and he said something that should have sent indicators off for everyone.
"If I were to look at the entire 300-plus group of players here and ask myself based on my knowledge of steroids which one of these players is the prime prospect to have used it, he would be it. He has the physique and other attributes that indicate it. But he is fortunate. Unlike other sports, we test strongly for it. And if he passes that test, so be it. He gets a clean slate with us."
Out of 300 people, Cushing is the one guy that he singled out! I know that is just a hunch, but come on people. The entire interview with Thomas George took place before he was drafted and even then all the signs pointed to yes.
Fall of the Trojan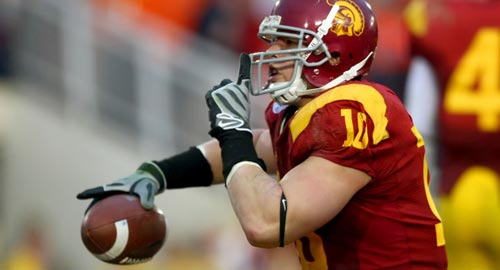 Cushing tested positive for HCG (Human Chorionic Gonadotropin), a drug that is used by steroid users to restart natural testosterone production.
According to reports on CBSSports.com, Cushing had one lower-level positive test for HCG and several negative tests after that.
Cushing expresses his disappointment in a statement released after the suspension was finalized.
"I was substance-tested randomly by the NFL during the 2009 season. The results of those tests indicated the presence of a non-steroidal banned substance. The League acted to suspend me based on those results, which I challenged in my appeal of the suspension. I believe we presented compelling evidence during the appeal process to challenge the test results, and I disagree with and am disappointed by the suspension. Bound by the decision of the League, I regret the situation it presents to the Texans' organization, my teammates and our fans. My dedication to a championship season in 2010 continues undeterred."
This is the same drug that Dodgers slugger Manny Ramirez tested positive for in 2009 and was suspended 50 games.
Nobody's body can undergo so many visible and drastic changes without the use of PEDs. It is unfortunate that the rules on PEDs are so stringent, but with one positive lower-level test, Cushing has confirmed all of the rumors.