Bigger Stronger Faster Documentary a Box Office Success?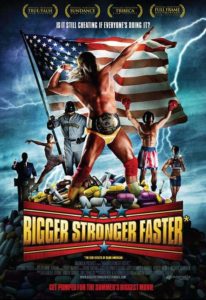 Will "Bigger Stronger Faster" be a commercial box office success for a mainstream documentary film?
I've written extensively about the steroid documentary "Bigger Stronger Faster*" since it screened at the Sundance Film Festival in January 2008. I had the opportunity to watch the documentary twice – once at a screening in Dallas and also at the world theatrical premiere in Hollywood.
The movie is a masterfully crafted examination of steroids in society and sports. It exposes the anti-intellectual grounds of the steroid demonization movement in the United States and re-examines the real dangers of steroids. But it does so without advocating a particular point of view – either pro-steroid or anti-steroid. Instead, it is a pro-truth steroid movie.
The potential of "Bigger Stronger Faster" to become a mainstream hit could have significant positive consequences for the public perception of anabolic steroids in society. Consequently, I'm obviously rooting for film to do well!
So, how did "Bigger Stronger Faster" do in its opening two weekends at the box office in a limited nationwide release?
The first weekend, it was ranked 45th in total box office receipts of $31.576 while showing in 6 theaters in Los Angeles and New York City, earning an average of $5,262 per theater.
The second weekend, it was ranked 34th in total box office receipts of $50,966 while showing in 19 theaters earning an average of $2,682 per theater. I am disappointed to see the average per theater dropped so much.
The total box office gross for "Bigger Stronger Faster" over the first two weekends was $96,418. Approximately 14,014 people have seen the steroid movie in the past two weeks.
While I'm not an expert in evaluating box office results, I don't think the numbers reflect Michael Moore-esque results for a documentary film. It's respectable for a documentary as its already among the top 30 grossing documentaries of 2008 after two weeks; it has a chance of making the top 10 grossing documentaries although the top 8 have currently grossed at least $2,000,000 year-to-date.
I think the numbers make it obvious that the bodybuilding and fitness community really needs to make an effort to turn out and support this film and tell everyone they know about it. The movie has the potential to change attitudes regarding steroids in mainstream America. It would be unfortunate if the movie was not in theatres long enough to make a difference. That is why it is very important for the base of bodybuilding and fitness enthusiasts to support it and spread the word about it.