You Think College Football Has No Parity?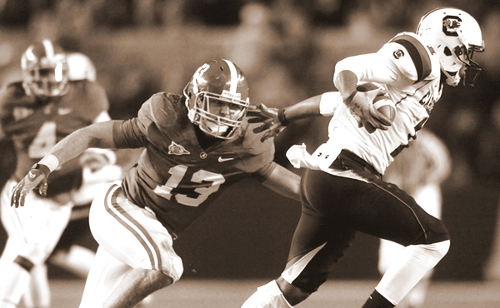 College football is the one sport where everybody complains, "There's no parity." "It's the same teams every year at the top and it gets soooo boring!"
Except when South Carolina steps up and beats Alabama; Georgia can barely tie its own shoes; Oregon decided to have an offense; Stanford figured out how to play; and Texas/Notre Dame/Penn State all suck mightily. Yeah, that's boring. Right?
College football has parity every year, and college football has playoff games every year. That's not what we call them because of the BCS, but there are playoff games and signs of parity all over the place.
When South Carolina goes to Florida, that's almost a play-in game for the SEC title game. When Alabama plays Auburn at the end of the year,that too is a play-in game for the SEC title game.
Michigan is carrying a kid everyone calls "Shoelace," who has 1,200 yards passing and nearly a thousand yards rushing. Too bad they ran into Michigan State and got their butts kicked. That's right, Michigan State. That dead/other-football-team-from-Michigan-with-the-coach-who-has-heart-problems. That one.
That's parity. Shoelace should have run all over the Spartans, but they held him in check long enough to win the game. That's parity. Talent facing talent. Michigan State is better than we thought.
Oregon is scoring a zillion points a game, and they finally have a crazy offense to match their crazy uniforms. In fact, they scored so many points on Stanford last week that they jumped Boise State in the polls. That's parity.
Everyone thought Boise State would cruise in the number three hole all year. Not so fast, people!
Did I mention that Auburn is ranked eighth in the polls and they haven't a single "big name" on their team? They play in the exceptionally brutal SEC, and if they run the table they are playing in Atlanta. Possibly, that game could be for a trip to the BCS national title game. How's that for "no parity"?
It's out there people. Playoff games are happening every week. Read the schedule for once!
Arkansas at Auburn next week might be played for control of the SEC West. South Carolina at Kentucky will tell us if South Carolina has it together (or if parity rules again).
Texas at Nebraska is going to be ugly. Texas stinks this year and Nebraska is on a roll. You think you saw parity? Watch the Big 12 North destroy the Big 12 South next week.
Parity is everywhere, so get over it. If your school sucks — tell them to stop. Clearly, anybody CAN beat anybody on a given Saturday. I guess it comes down a matter of belief. South Carolina believed. Somebody believes every Saturday.
General Patton's Previous Vents: