Who's the Best QB in College Football?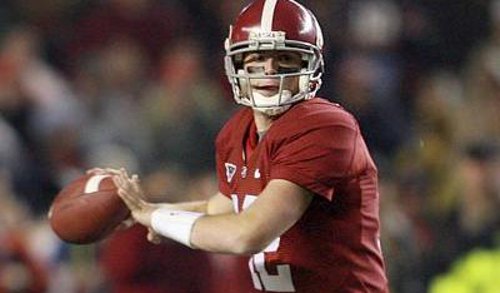 With big quarterbacks playing big games this weekend I think it's a fair question: Who is the best quarterback in college football?
I heard someone make a good point today. We're not talking about pro potential — we're just talking about who's the best in right now. I might have left your guy off the list, but you're welcome to chime in if I missed your favorite.
If I wanted to talk about who would be the best in the NFL we could close this conversation with Jake Locker right now. Locker's great, but his team isn't going to wow anybody this year. Hell, they'll be lucky if they go to a bowl game.
So, as I wait for Bama to go undefeated, and I read about Steve Sarkisian publicly insulting Reggie Bush I have to wonder if Locker is the smart pick. He's the hot pick, but is he the smart one?
Jake Locker – Washington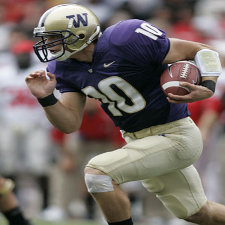 Jake Locker has all the measurables. He has the hype. He even has a high-powered offensive mind in Steve Sarkisian as his head coach. Unfortunately, that doesn't necessarily add up to "the best."
Sarkisian is a smart guy and his offenses at USC were fantastic. However, he had Reggie Bush, Matt Leinart, and company at USC. I think we're seeing that he can't do more with less.
Moreover, he's coming out in the media talking smack about Reggie Bush. Really? If Reggie looks bad he already knows that, and he doesn't need you to remind him. If you were picking a school would you go to Washington if you thought Sarkisian would bash you later on?
I wouldn't.
Plus, Locker has to play Nebraska, USC, Arizona State, Oregon State, Arizona, Stanford, Oregon and UCLA in that order over the next eight weeks. I don't see how Locker can make his team better when his team is getting killed by such formidable opponents.
Locker is nice, but he's not the answer. Sorry.
Case Keenum – Houston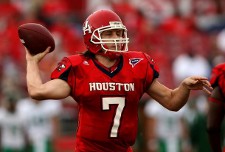 Case Keenum has a cool name and is in a cool place. Houston. Houston can always garner the "hot pick" because it's Houston and they sling the ball over the place.
When Houston got ranked in the top 15 last year that was because their offense was racking up huge numbers, but they never capitalized on any big opportunities.
As much as I like Keenum, he just isn't going to measure up to guys from bigger schools. When your toughest opponents are Mississippi State, SMU, and Texas Tech, you're not playing with the big boys.
Keenum might throw for a gagillion yards this year, but it will be against inferior competition. I know this sounds cliche, but if he played an SEC or Big 12 schedule every weekend he wouldn't score upwards of 50 points per game.
Kellen Moore – Boise State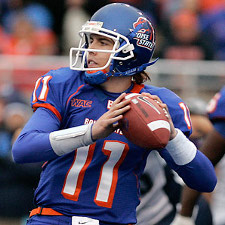 Same argument. Boise State is great. They'll score a gagillion points a game, but there is no way that would happen if Boise were playing in the SEC or Big 12.
The only thing that could change my mind is a blue-shade-of-a-beatdown every weekend. If Boise wins every game by 50 points every week then they might play in the BCS national title game.
If Moore can lead his team through the stress of having the bulls eye on their backs to the title game I might believe. If he actually won a national title, I would believe.
Therein lies the difference between Moore and Case Keenum. Keenum isn't getting anywhere near the BCS. Boise has been there before. If Moore is racking up the numbers and leading his team to unprecedented success for a non-BCS team I'd be impressed.
Think of it this way. Imagine what the Tampa Bay Rays did in going to the World Series in 2008. They proved that little brother can overcome the beastly Red Sox and Yankees. Now we believe.
Kellen Moore does the same and we'll believe.
Jacory Harris, Terrelle Pryor, Denard Robinson, and Ryan Mallett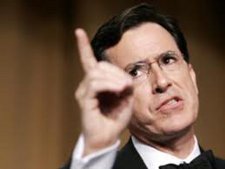 Jacory Harris is good, but he left us down in Miami's loss to Ohio State last week. He's got all the tools, but he threw far too many ill-advised passes. That does not the best QB in the nation make.
Terrelle Pryor is a great player, and he's got legs to spare. He's Michael Vick 2.0. That's the problem. Pryor is always going to be more interested in his own ability/numbers/press than about winning.
He's the same kid who was deciding between Ohio State and Michigan at a press conference. Remember? He had the hats on the table and he chose the hat that corresponded with the school he chose?
He even went so far as to play the shell game like he was on The Price Is Right. He thinks he's cooler than he really is. He thinks he's a better player than he really is, and he's always looking to show up everyone — including his teammates.
Denard Robinson is just too doggone young to judge. Sure, he runs without his shoelaces tied, but that doesn't make him incredible. He's accounted for nearly 1000 yards of total offense, but he hasn't hit the meat of the Big 10 schedule.
When Robinson is being tested by oversized farm boys from Indiana, Pennsylvania, and Iowa we'll see how he does. This is only the beginning for him, and it's too early to tell.
Ryan Mallet is about 6'7″ and he throws bullets out of the pocket, but he's just started a new year in the SEC. He could have an unbelievable year, but he's not even the best QB in his conference.
Come on, you know who that is…
Greg McElroy
Greg McElroy is undefeated as a college quarterback. He's got weapons all around him. He uses those weapons wisely. He's the starting QB for the defending national champions.
Until someone dethrones him he's the man. We can talk about Julio Jones, Mark Ingram, and Trent Richardson all day, but McElroy is the puppet master in the middle handing out the ball.
Without McElroy to safely manage games and, well, not lose, the Tide probably wouldn't be undefeated in two straight seasons. You can say that he isn't flashy. You can say that he isn't a big name. You can say he's the fourth-best player on his team.
But that doesn't matter because all he does is win. Remember Herschel Walker? Buck Belue handed Herschel the ball in 1980 when Herschel nearly won the Heisman — as a freshman! Belue was the man charged with not screwing things up.
McElroy isn't screwing things up, he's got a Heisman-winner in the backfield, another one behind that, and a killer receiver. If he's using his tools so well why wouldn't we praise him?
Sorry gentlemen. Greg's the best until one of you beats him. Them's the breaks.
Additional Reading on SteroidsLive: