What Will the BCS Standings Say?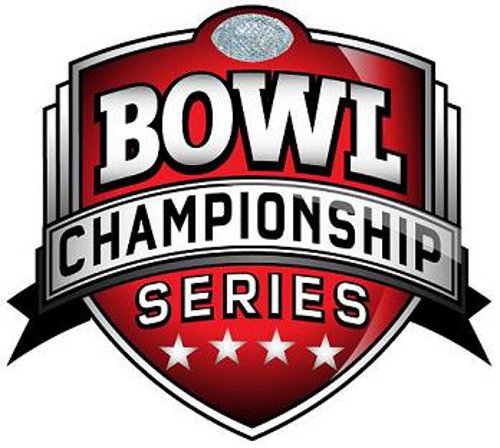 The first BCS standings of the season will come out this Sunday after another insane weekend of college football.  We know that certain teams (Alabama) will not be on top, but who will be.
I heard a BCS expert on the radio and he said it would be Boise State.  Since I don't have the time to do the math or even remotely understand the formula, I'll take his word for it.
So, Boise State is going to to lead the initial BCS standings?  You know what the next question was, right?  How long can they stay there?
Listen, I don't have a dog in the fight, but I've already said that I don't want to see Boise in the national title game getting waxed by a "power team."  I'll stand by that, but I would be intrigued if things got tight in the BCS standings.
Just imagine how messed up things can get.
Alabama Makes a Comeback
Let's say that teams start losing all over the SEC and Alabama starts to climb back up the rankings.  Hell, if South Carolina (Bama's lone loss) continues on a hot streak, then the Tide could easily start creeping back up the standings.
If Alabama starts making a comeback that means that LSU will have lost.  That also means the Iron Bowl will be huge.  Auburn's in the top ten, and if Bama beats a highly ranked team in their last game of the season, they might be on the brink of getting back in the title game.
But, what if, just what if?  What if Auburn watches Bama make a comeback and beats Bama in the Iron Bowl?  Who's on fire now?  Auburn is!
Auburn could take Bama's run back to the top of the standings and use it to their advantage.  This could help Auburn's "strength of schedule" so much that Auburn might be catapulted into one of the top two spots.
That makes every game that Auburn and Alabama play from now until their meeting in the Iron Bowl (and the winner will likely play in the SEC title game) massively important.
LL Cool J said, "Don't call it a comeback," but I'm really tempted.  This could get juicy in a hurry!
South Carolina Stays Hot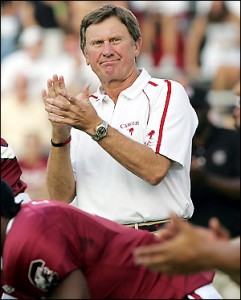 Granted, the chances of South Carolina winning out are as good any of us being struck by lightning, but I have to bring it up.  South Carolina just toppled Alabama.
If South Carolina can beat Florida (at Florida) then they have the inside track to win the SEC East and play in the title game.  What if Alabama beats Auburn and makes it back to Atlanta?
Now you have a rematch between the Gamecocks and the Tide for, basically, a shot at the BCS title game.  I know there are other teams out there, but the SEC is so strong that you can't deny the idea that the "strength of schedule" of an SEC team would put them in the title game.
South Carolina playing in the BCS title game?  They're closer than you think.  I know it sounds far-fetched, South Carolina could get there.  They have to break an old habit of losing stupid games — Kentucky, Vanderbilt, etc. — but they could do it.
How long will we be willing to write them off?  As long as they keep winning I can't deny that South Carolina might be for real.
How Long Could Boise Stay on Top?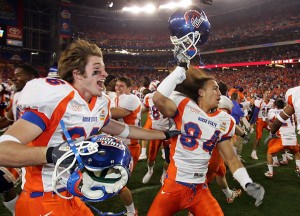 Well, think about it.  They don't another team you've even heard of for the rest of the season.  There goes "strength of schedule."  Let's say they blow out everybody they play.  Now you've got some "quality wins."
However, while Boise is giving up ground on "strength of schedule," every SEC team in the mix is gaining ground.  Even Oregon is gaining ground because at least they play in the Pac-10.
I'll bet you anything that the standings will turn into a division-like race (something we only see in baseball.)  Watching the scoreboard everyday in the hopes that you gained ground on the team that is battling you for the division.
I think it'll be just the same with Boise.  Every game becomes a playoff game because they must trounce every team they play.  Meanwhile, every time an Alabama/Auburn/South Carolina/Oregon has a big win we'll all wonder how many BCS points it's worth.
In fact, I'd be willing to bet that the "experts" on TV and radio will never get as much air time as they'll get this year.  Some dude on TV is going to guess that Boise will lead the standings by half a point, but when the real standings come out it's .48 points.
Now what do we do?  That same guy will give an update every day as he tries to refine his own formula so he can be as accurate as possible.  The guessing alone will get some of the best ratings sports television has ever gotten.
What Do I Think Will Happen?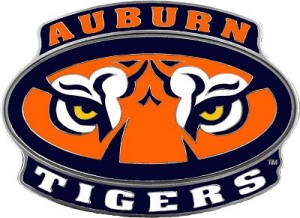 I think it's going to come down to the wire.  We'll get the "division race feel" with the BCS standings, but I don't think Boise can hold on.  The contenders in the SEC will catch up and they will get to play an extra game.
This is when every team in America wishes they had a conference title game.  That conference title game will be the deciding factor in who's in and who's out.
The points you can gain just by playing on extra game and getting a quality win against a good opponent will put you over Oregon and Boise.  Yes, I said it.  Both of them!
Oregon and Boise will have to sit at home and watch their fate unfold.  Now the question becomes much more simple.  Who's going to be sitting at the top with Boise?  Boise will fall out of it altogether, and someone like Oregon will get the other spot in the title game.
Who?  Oregon?  Arizona?  Auburn?  Alabama?  This could be a mess.  I remember when Ohio State and Michigan nearly played a rematch in the BCS title game.  What if Alabama and South Carolina get so high up that they play a rematch?
It's unlikely, but I'm just sayin'.
Additional Reading at SteroidsLive