We Can't Give Away the Heisman Just Yet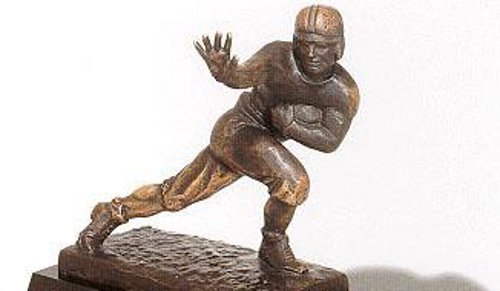 Yes, Cam Newton is the best player in college football, right this very second. Remember who the "Heisman winner du jour" was a few weeks ago? Denard Robinson (a.k.a. Shoelace).
Unfortunately, Cam Newton is getting more play than Robinson did in the Heisman landscape. Bo Jackson and Mark Ingram have already come out and said they'd vote for him, and this probably going to start a landslide of vote-decision-making.
It's pretty easy for the media to buy into a guy, and with the south region already in Newton's hip pocket, he's pretty much a shoe-in. I don't think anybody is asking the obvious question: What if he gets hit by a bus, breaks his leg, has three bad games in a row, or falls off the face of the earth. Then what?
Are you still going to give him the Heisman? Are you still going to vote for road kill, a guy who turned out to be inconsistent, a guy who vanished, or a guy with a limp? I should hope not. Is there anybody else deserving of the Heisman? Shouldn't we wait longer to vote? What if some kid comes out of nowhere and starts throwing up numbers like a maniac. Will he have come to the party too late?
Yes, yes, oh crap, and probably so.
Kellen Moore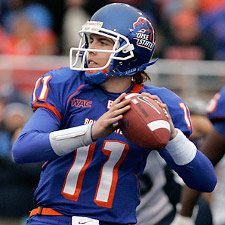 Anybody forget about Boise State? They're sitting near the top of the BCS rankings and they're blowing people out left and right. In fact, I think the only team with a more potent offense in college football is Oregon.
What if the computers start loving Boise and they make it into the title game? Would some of these "Newton lovers" vote for Moore? We'll probably never know.
Kellen Moore is the MVP for Boise. He's the reason they're putting up numbers that are keeping them near the top, and he's the arm behind the massive amount of wins they've had over the past couple of years.
They're beating people left and right. He's the one who gets the ball every snap, and we aren't giving him full credit for services rendered. If a guy from YOUR team played the way Moore is playing you'd be begging for him to get some Heisman press.
So where's Moore's? Can we show Kellen Moore a little love? What if he wins the BCS title game for his team. More on that later.
LaMichael James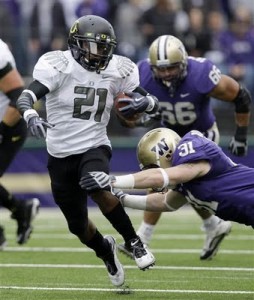 LaMichael James is the spark plug in Oregon's red hot offense that scores over 50 points a game. They smashed Stanford. They crush mere mortals, and they'll probably run the table. This will, most likely, keep them at the top of the BCS and in the BCS title game.
James has nearly a thousand yards rushing and averages over seven yards per carry. Let me say that again. He averages seven yards per carry! I don't even know how that's possible in a BCS conference, but it is. Remember the last time Oregon looked bad? You can't.
Most of that "goodness" is LaMichael James. Why is he getting no play at all?
Oregon beat Stanford in a shootout and ESPN Gameday even went to Eugene to televise their show. However, they were playing Andrew Luck and Stanford so Luck got all the press.
Luck doesn't have a shot at the Heisman, but he'll probably go number one overall in next April's NFL draft. So, LaMichael got hardly any press.
Since we've been ignoring him he's racking up all these stats that we can't ignore. He's rushing for an insane average, defenses fear him, and his team scores points like they're going out of style. He's already scored 11 times this year. People, that's a lot, even by Oregon's standards.
I'm surprised Bo Jackson and Mark Ingram didn't notice. Oh, that's right. Oregon plays on the west coast.
Remember Vince Young?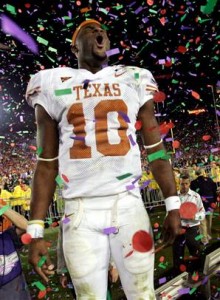 Reggie Bush, who recently gave his Heisman back, won it over Vince Young even though Vince Young basically won the BCS title game by himself (over Bush's USC team). Everyone seemed like they wanted to vote again because they saw how well Young played.
So, that brings us back to the original point. What if somebody leads his team to a title? Shouldn't it take the whole season to determine who the best player in college football is?
If we had waited until the end of the season the vote probably could have swung Vince's way. Instead, we just assumed Reggie Bush was going to win another title and that was that.
Granted, he did account for 500 yards of offense in a game by himself, but that's neither here nor there. Those championships count, and USC didn't win one. Vince Young and Texas did.
Let's say LaMichael James gets a head-to-head with Cam Newton in the BCS title game. Let's say LaMichael James is the MVP of the BCS title game. Then what? That doesn't mean Cam Newton was a bad player, but maybe James was better and he needed the whole season to prove it.
I know Vince Young is very close to flaming out of the NFL and he's certainly not a poster child for emotional health, but we have to remember how good he was in the Rose Bowl. He had a Heisman-worthy performance and we so quickly forget.
Could You Convince the Heisman Trust to Vote Later?
I don't see why not. Imagine what they could do for TV ratings if they drug this thing out until January. They could do any number of Heisman countdown shows, get the networks to send proceeds of the shows to charities, AND they could keep interest in college football going over the long break between the conference title games and the big bowl games.
I know that so much of the college football infrastructure is broken, but we could at least start with its most prestigious award. It carries such grand history and tradition that we shouldn't hand it out in the right way.
Waiting to vote gives the award to the "true" winner and holds interest in college football through a dead December. Isn't that what the Heisman Trust wants?
Additional Reading on SteroidsLive: