The SEC Isn't What It Appears to Be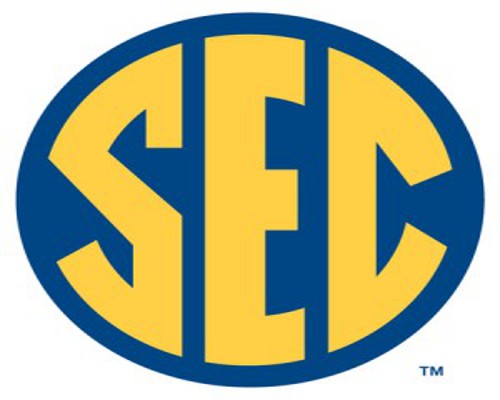 College football is in full swing and with just a couple weeks down in the season we know who's who. We know who will live up to the hype and who won't. We know who's going to disappoint and who will shine.
This season looks to be a tale of two conferences. The SEC and Boise State. I'm putting Boise State in a conference alone because no one out west can compete with them. Boise makes their own destiny if they play in a league of their own.
SEC teams are not so lucky. They have to grind it out and let's be honest, some of them don't look so well. Have you ever walked up to someone who looked ready to hurl? "Are you ok?," you ask. Then they start running for the bathroom.
Yeah, we've got some SEC teams like that. They're all afraid of the impact Boise will make and they're trying to catch up. They're trying to do more than they need to and it's costing them. This "SEC nausea" is turning the SEC into a weaker conference than it should be. But why?
Florida and Georgia = Not So Good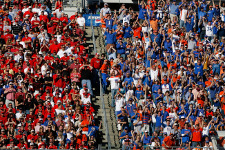 Florida and Georgia might just be the World's Largest Outdoor Cocktail Party, or then again, they could be the world's largest question mark.
Georgia got run over by South Carolina and lost in the final minutes to Arkansas. They aren't the powerhouse that they once were. They used to get every good athlete in Georgia.
Now, Damon Evans got pushed out because he was arrested for DUI. Mark Richt is on the "hot seat" because the Dawgs are underperforming. Some folks are even calling for his job if things don't turn around.
Their defense stinks – so much for Todd Grantham – and they can't keep a quarterback out of jail. It's a disaster in Athens.
Florida is still trying to run their quarterback, John Brantley, even though he isn't Tim Tebow. The Gators offense looks sluggish and slightly confused.
It's as if the players know Tebow left, but Urban Meyer is in denial. Frankly, if I have to see Brantley try to take a designed run around the edge one more time I might scream. Georgia needs to get back to actually running the ball and stopping the run. Florida needs to move on from Tim Tebow. Until they do that the door is wide open for South Carolina or Tennessee to waltz right through in the SEC east.
Ole Miss…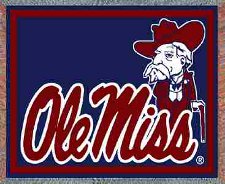 Ole Miss was taken out by Vanderbilt and now their season is pretty much over. If you can't beat Vanderbilt then there's really no help for you in the SEC.
Ole Miss was able to coax the NCAA into letting Jeremiah Masoli play, but now it's all for naught. Houston Nutt seems like he's lost control of his team, and they are floundering in the SEC.
When Ole Miss was rising last year we all thought they might be able to absorb the loss of Jevon Snead, but it's not looking that way. Ole Miss looks disorganized, uninterested, and downright dead. They were supposed to make things interesting in the SEC west by playing well.
Now they'll make it interesting by playing badly. They'll play the "tomato can" to everybody else's shotgun. It's pathetic really, but they've allowed the SEC west to get blown wide open by…
Arkansas and Alabama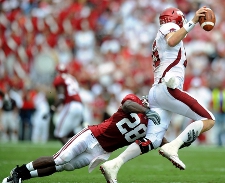 Arkansas and Alabama play a critical game Saturday night. Ryan Mallett and the Razorbacks are trying to prove that they belong in the top 15. The Tide are trying to retain their #1 spot in the polls.
Just remember, this is the reason Arkansas paid Bobby Petrino all that money. He's got them firing on all cylinders, and he's got some people believing they can beat Bama.
Even if Bama wins the game Arkansas just has to be competitive. They can put a chink the Tide's armor that someone else can exploit. If the Tide "roll" over Arkansas then we have to wonder if Arkansas was pretending – and if Georgia is worse than we thought.
You see, it's not just about who wins the game. It's about who makes the best impression. Arkansas can make a great impression, or even ruin Bama's season, or they can fizzle out faster than they lit up.
Bama just needs to keep winning and that puts all the pressure on Arkansas. They have something to prove. They can prove that they deserve the SEC west, or they can prove that Bama is still king of this conference.
South Carolina and Auburn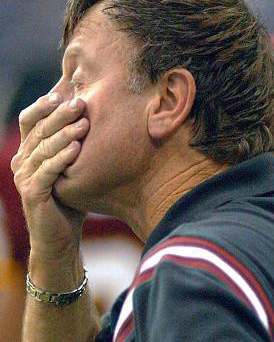 South Carolina and Auburn are two teams who could benefit greatly from an Alabama loss. Auburn would like to get in the mix in the SEC west, and if Bama loses then Auburn has a shot.
If Florida and Georgia keep stumbling South Carolina could easily take over the SEC east. There is only one problem . . . neither one of these teams is apt to do the smart thing at the right time. South Carolina has untimely losses every year. Auburn has major question marks on offense.
Neither team has the "total package" that could take over their division. The only thing they can do is take care of their business and hope.
South Carolina can hope that Florida and Georgia keep sucking. Auburn can only hope that Arkansas beats Bama. These aren't teams that create their own destiny – they back into it.
Give me one good reason why either South Carolina or Auburn can win their division. You can't. They aren't proven, and may never be.
They need help, but if they get some help they might be able to make some noise in the SEC.
What About LSU?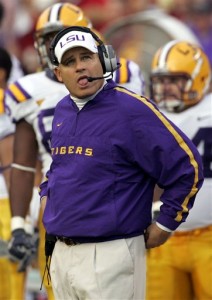 The bottom line here folks: Nobody trusts Les Miles. He does stupid things on a regular basis, and he's basically just a big idiot on the sidelines.
LSU is sitting on a good ranking, but they are playing under the radar. They don't have any phenomenal athletes to lean on. They don't have a great schedule to look forward to.
They're a two-three loss team. I wish I could say more for the Bayou Bengals, but they just don't excite me. They're going to watch from the sideline as Auburn, Alabama, and Arkansas kill each other for the SEC west. In fact, the only way LSU gets in the mix is if the other three teams beat the hell out of each other.
Honestly, do you see Bama losing any games? I don't. Maybe one, at the most. LSU needs even more help than South Carolina and Auburn. They need a miracle.
But there are no miracles in the SEC. There's football Saturdays, rolling tides, and a sad, sad east division.
Additional Reading on SteroidsLive: