The Rams Have No Idea Where To Go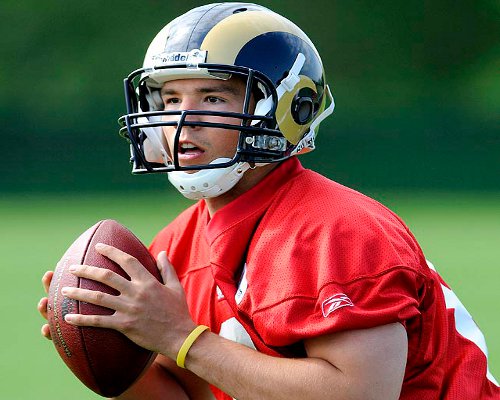 Here's the problem with the Rams and Sam Bradford — he's the #1 overall pick. He plays quarterback. He's good and their only other option is AJ Feeley.
If you don't remember Feeley, he carried the Eagles many moons ago when Donovan McNabb was hurt for the majority of a season. Feeley is a good player, but he's not the first pick.  He has no value attached to him.
Bradford and Feeley are "competing" for the starting job, but head coach Steve Spagnoulo isn't giving any indication as to what he'll do. If you're a Rams fan this does not inspire any confidence, but what is he to do?
"Spags," as they call him, is damned if he does and damned if he doesn't. Bradford is not the savior that the Rams were looking for. He can't just turn things around, and he can't operate on a team with no weapons.
The Rams roster, their philosophy, their organization are all on the line with Bradford's status up in the air, and it's not pretty.
There's No Offense
Reading the Rams roster is like reading the "Who's Who" of flameouts, n0-names, and has-beens. There are just a bunch of guys on there who don't ring a bell at all.
Plus, the guys who jump off the page are not enough to run an offense. Steven Jackson and Mardy Gilyard can't run an offense all by themselves. Jackson will never get past the line of scrimmage. Gilyard will never see a pass in his direction, and Bradford will spend the season on his ass.
With the addition of the injury to Donnie Avery we can assume that Mardy Gilyard no longer has a mentor, and he desperately needs one as a rookie. Without Avery to keep Gilyard in check I'm afraid we might see the "I'm pissed at Brian Kelly" Gilyard come out again.
Remember how pissed he was after Kelly quit at the Cincinnati football banquet? Now imagine how much more pissed he going to be losing constantly and never seeing the ball. He'll never have a say in who wins.
That's a problem for such a driven dude, and the same goes for Steven Jackson. If he can't get out of the backfield then he can't protect Bradford with the running game.
Look at the facts — there's no offense. No offense, guys, but your team is offensively boring.
The Defense is Like Swiss Cheese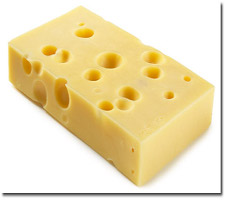 Basically, I see one name that stands out for the defense. Otherwise, this team is a mess. James Laurinaitis is a monster just a couple years removed from Ohio State. He's a beast.
The rest…not so much. St. Louis has had defensive issues for a couple years now that have prevented their offense from getting on the field and being productive.
Plus, their defense doesn't help out when they're on the field. They scored one measly defensive TD at all last year, and they only recovered 11 fumbles last year.
I suppose the worst part of it all is that they only carded eight interceptions last year. Some guys average that many every year — by themselves! This is not making things easier on the offense.
I know that Steve Spagnoulo was the defensive coordinator in New York when the Giants won the 2007 Super Bowl, but he must've forgotten some things.
He's putting speculation over Bradford's status ahead of his defensive inferiority. I'm not saying he has to create an "'85 Bears-style" defense, but he does have to make it a priority.
Sam Bradford's getting in the way of the defense and he hasn't even taken a regular season snap yet.  He's affecting both sides of the ball.
Damned Both Ways
The Rams are screwed no matter what they do.  The fans in that town are not too many years removed from two Super Bowl appearances.  They have expectations.
St. Louis is a baseball city, and that drives their expectations.  They're used to the Cardinals being good.  However, right now, the Cards are slipping out of the playoff picture, and the fans are going to look to the Rams for relief.
Think about it, like the Blues are going to do anything — ever.
Sam Bradford is becoming the focal point for the hopes and dreams of St. Louis sports fans.  He's "the man" who isn't helping.
If Spagnoulo starts him from "day one" and they start losing EVERYONE in St. Louis will destroy this kid, pan the club, and everyone except the owner will lose their jobs.
If the Rams wait and the team starts losing then the fans will be screaming for Bradford thinking he can save them.  Then he comes in and doesn't look like Kurt Warner.  Now what do the fans do?
Complain.
They're going to be pissed no matter what. Spagnoulo's only course of action is to make a decision. Not the "I guess this is what I'll do because I'm the weak coordinator who became a head coach" decision. No, he needs to make a firm decision now.
If you don't let the fans know who's in charge they'll be picketing you like Matt Millen in no time. You can wait for fans to start showing up with the bags on their heads, or you can give them something to look forward to.
Announce to everyone when Bradford is going to take the mantle and let that be that. If it's next year then everyone will be jacked for next year. If it's in six games then let it be so. If it's now then let it be so.
Don't wait! Waiting makes you look stupid, pisses off the fans, and gives me way too much to talk about. The fans in St. Louis aren't jazzed, they're scared.
Steve, baby, the fans are afraid you're going to screw this up and they're just waiting for a chance to murder you in the press. If you won't give them what they want then you're done. The fans want Joe Flacco/Matt Ryan/Mark Sanchez/playoff-run.
They won't know any better until you tell them! They won't. They think you have "Albert Pujols talent" and you're holding out on them. That's not the place to be. No one likes to bitch more than the folks in St. Louis.
Soon, they'll only be bitching about you, Steve. Oh, and you'll have taught them to hate Sam Bradford in the process. You'll have successfully set the franchise back 10 years.
Good going pal!
Additional Reading on SteroidsLive: