Stop Hating On King Felix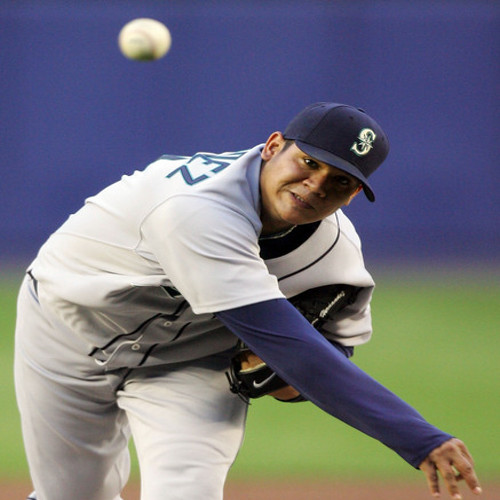 Felix Hernandez won the American League Cy Young award. Yep, that Felix Hernandez. The one who plays for the woeful Seattle Mariners.
21 of 28 voters gave him a first-place vote in a watershed year for the award. Why?
Felix only won 13 games. He was 13-12 for the Mariners this season. That's why everyone's hating on him. He won less games than just about everybody and winning is supposed to be everything in sports.
But this award isn't about the pitcher with the most wins. It's supposed to reward the most outstanding pitcher during that season. People think King Felix wasn't the best because he was barely above .500.
They Forget
Felix was a workhorse this season. He led the league with 249 and two thirds innings pitched. He was second in strikeouts with 232. Opponents had the league's lowest batting average against him at .212. Oh, and he had a 2.27 ERA.
Basically, he dominated from the mound. What's the problem? The rest of his team.
People don't like the Mariners. It's not just because they sucked this year and have for a couple years. It's because there's an overwhelming hatred of the Mariners in general.
They had Ken Griffey Jr. (in his prime), Randy Johnson, and a young Alex Rodriguez all at the same time and the best they could do was win a play-in game against the Yankees in 1995. They squandered all of that talent and robbed us of the potential dynasty they could have had. It still pisses me off to this day. It pisses other people off more.
That's why people want to see CC Sabathia or David Price win the Cy Young. They had lots of wins. They played for winning teams. They played games when it mattered.
The Mariners were an afterthought from day one. They stunk all year, and never helped Hernandez. In fact, in 10 of his starts the Mariners go shut out or only scored one run. That's not what I would call run support. That's more like run depression.
He pitched on in spite of it and gutted out 13 wins because that's all he had in front of him. It's a miracle he won 13 games, but people are still hating because he didn't make a splash for a great team.
Leave the man alone, let him enjoy his award, and let's get some new management in Seattle so this guy can get some run support for the rest of his career. It's the least we can do.
General Patton's Previous Vents: