NFL Week 7 Predictions and Picks
Couch Potato Blitz: Week 7 Picks
Week 7 of the NFL is here already! Time sure does fly when you're worried about a lockout.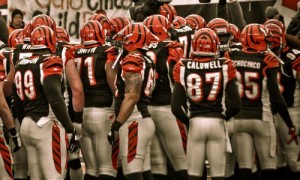 The predicted winner is in bold.
Byes: New York Jets, Indianapolis Colts, Detroit Lions, and Houston Texans
Cincinnati Bengals @ Atlanta Falcons – Last week many people had the Falcons as the best team in the NFC. Really? After winning four straight against three teams without a QB (Cardinals, 49ers, and Browns) and an injured, struggling Saints team? They're probably the same people who think the Shake Weight is more than just a tool to improve endurance for masturbation.
This week against the underachieving reality show that is the Bengals, the Falcons take another step back. If they struggled with the Eagles WR they will struggle even more with the Bengals' array of weapons.
Washington Redskins @ Chicago Bears – Attention Chicago: Will someone please tell Mike Martz and Jay Cutler this isn't the Arena League? Also, why is Matt Forte touching the ball less than a fat kid touches his vegetables?
Donovan McNabb, Ryan Torain, and Mike Shanahan will find ways to make more plays and fewer errors in a winning effort. They will send Bears fans away saying, "I miss that guy we used to have with the really sweet neck beard."
Philadelphia Eagles @ Tennessee Titans – Andy Reid made the understatement of the year in his press conference this past week when he said, "I'm chubby". No Mr. Reid, babies are chubby. You look like you ate chubby and moved on to obese.
As for the game, I don't trust Reid not to flip-flop on QBs if Kevin Kolb struggles against a very good Titans defense. Also Chris Johnson dominates in both the run and passing games. It is going to be a great game and it may come down to which coach has the better mustache; I picked Jeff Fisher.
Jacksonville Jaguars @ Kansas City Chiefs – The Chiefs have been close to putting it together on offense and defense for an entire game. There probably isn't a better horse to saddle up and whip right now than Jacksonville.
Last Monday night the Jaguars looked like someone had given guns to a bunch of monkeys and we just sat back and watched them shoot themselves. Give me Jamaal Charles and Thomas Jones with the better defense and play makers on special teams. This is your survivor/suicide pool pick of the week.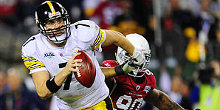 Pittsburgh Steelers @ Miami Dolphins – The Steelers are who the Dolphins want to be. A team that can run the ball, plays exceptionally great defense, and has a QB who can make plays throughout the game, especially at the end.
It will be interesting to see how the Steelers' defense comes out to play after the James Harrison fines. Are they going to be getting pumped up with some LL Cool J "Momma Said Knock You Out," or Enya?
Cleveland Browns @ New Orleans Saints – I'm not completely convinced that the Saints have worked out all the kinks after thumping the Buccaneers. They still need to get healthy additions from Reggie Bush, Pierre Thomas, and Darren Sharper.
Can switching to Geico really save you up to 15% on your car insurance? Is picking Colt McCoy over Drew Brees a bad idea?
St. Louis Rams @ Tampa Bay Buccaneers – This game is a preview of a future NFC playoff showdown. No one thought Sam Bradford or Josh Freeman would look this good this fast. I like for Steven Jackson to put the Rams over the top with big day.
I'm calling this game the "Saved By The Bell Bowl" as the two QBs will look like Zach Morris and A.C. Slater fighting over Kelly Kapowski. The Rams will be more prepared for this road game, as opposed to two weeks ago when the Lions put them over their knee and spanked them.
San Francisco 49ers @ Carolina Panthers – John Fox, it is officially time for you to put your house on the market if you want to coach somewhere next year. The Panthers have looked awful offense this season. A missing persons report should be filed for RB Jonathan Stewart.
The 49ers have the slightly better team right now with Frank Gore and a defense on the brink of realizing they could be a top five unit. Next time the 49ers owner makes a prediction that his 0-5 team will win the division he should check the depth chart at QB. They have the No. 2 and No. 3 biggest busts of the last twenty years with Alex Smith and David Carr both being No. 1 draft picks.
Buffalo Bills @ Baltimore Ravens – The Ravens are just walking through the forest (season) and find a wounded animal (the Bills) and the responsible thing to do is to put it out of its misery. That is exactly what the Ravens will do against the Bills on Sunday.
I believe Joe Flacco will throw easy TD passes early and then pound the ball with all three running backs late. The Baltimore defense is going to play outstanding at home because they are still reeling about the loss last week.
Arizona Cardinals @ Seattle Seahawks – The fact that one of these teams could be in the playoffs is a joke. That being said, at least the Seahawks have a proven QB, Matt Hasselbeck. The Cardinals have Max Hall and Derek Anderson. If this QB position were a going out of business sale and this was the selection, you would leave empty handed.
On Sunday I'll take the very loud home crowd and Marshawn Lynch in a game that will end in a blowout.
New England Patriots @ San Diego Chargers – It's pathetic that Chargers fans are more likely rooting for Kansas City and Denver to lose than they are for the Chargers to win on Sunday. Patriots coach Bill Belichick understands when a team is desperate it is easier to knock them down and keep them there.
Tom Brady and Phillip Rivers are going to be chucking the ball all over the lot. I like Brady to get his young guys heavily incorporated this weekend using Brandon Tate and Aaron Hernandez to help kick the Chargers while they are down.
Oakland Raiders @ Denver Broncos – If the Broncos went to the doctor after being beat up in consecutive weeks by the Jets and Ravens, he would have prescribed a home game against the Bills, Raiders, or Jaguars. Broncos fans, this is exactly what the doctor ordered even though Oakland is the toughest of those three pills to swallow.
Kyle Orton will have his biggest game of the season and Knowshon Moreno will finally give him some support in the running game. Oakland may get back Darren McFadden, but unless he can pass the ball it won't really matter.
Minnesota Vikings @ Green Bay Packers – The Vikings are getting together on the same page and trending upwards. The Packers on the other hand are falling apart like a Jenga tower during an earthquake. The boos for Favre should be directed towards the booth that GM Ted Thompson sits in for failing to get the team a No. 1 RB.
The Packers have one chance to stay in this game and that is to establish a running game early. The Vikings' passing game is ready to break out this weekend and will do so off the play-action fake to Adrian Peterson. Also, Peterson is primed for another huge day against an injury-riddled defense.
New York Giants @ Dallas Cowboys – This week's tests for the Cowboys is about overcoming stupidity for three hours on Monday night. I know you can't fix stupid permanently, but the excessive celebrations and unsportsmanlike conduct penalties will halt for one game.
I expect tons of pass rushing from both sides, mediocre success in the running games, and a fight all the way to the finish. I have never seen a grown man slapped in the face, but if the Cowboys lose at home again, we might see Jerry Jones go upside the head of Wade Phillips on the big screen.
Thank you for reading the "CPB" picks and predictions. Be sure to come back next week, and don't forget to take a peek at Week 7 Fantasy Start'em/Sit'em before you set your lineup for the weekend.
Additional Reading on SteroidsLive: