NFL Week 1: Fantasy, Betting, and Predictions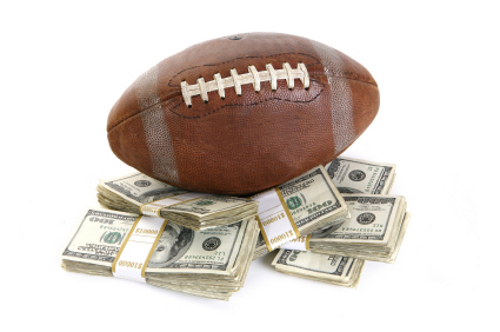 This week I will give my two cents on which players to start in fantasy football on Sunday.  I'll also give some quick thoughts on the first game of the season; three bets that should yield winnings; and finally, my picks for week 1 of the NFL season.
Saints vs. Vikings Recap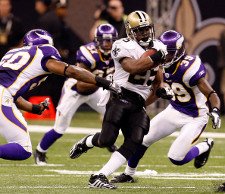 If you aren't a fan of either team then Thursday night's rematch of the NFC Championship must have been a bore. This was a defensive battle in all but three drives of the game.
It was an all around fantasy letdown, unless you have Pierre Thomas as your second or third back.  Drew Brees wasn't impressive except on the opening drive and his counterpart Brett Favre only had one drive in which he looked in sync with anyone on his receiving corps.
As I predicted on twitter, the Saints won the game in the end, 14-9 and probably left many fans switching the channel to Murder She Wrote reruns. Both teams have areas where they need to improve if they want to get back to where they were last season.
Fantasy Studs for Week 1
Philip Rivers has to be the quarterback I like most to have a big game.  Rivers is on the road at Kansas City on Monday Night Football to battle the Chiefs.  Last season he dominated them in two meetings and I expect more of the same, even though he is without his top receiving target Vincent Jackson.
If you listened to the podcast this past week, you know I'm big on Chris Johnson torching the Oakland Raiders.  I think he'll go for over 200 all-purpose yards with at least two touchdowns.
I'm confident that Randy Moss wants to come out early and make his contract statement in week one.  Tom Brady, who also finally settled on a new deal making him the highest paid player in football, wants to validate his signing and help out his favorite target.  I'm projecting at least two touchdowns with over 100-yards receiving for Moss this weekend.
Antonio Gates would be an obvious pick since I forecasted a big week from Rivers and Jackson is holding out, but I won't .  Instead I'll say that new Eagles quarterback Kevin Kolb's favorite target from his two starts last season, Brent Celek, will have a big weekend.
Fantasy Duds for Week 1
Two quarterbacks I'm not in love with for this weekend are Matt Ryan and Joe Flacco. Ryan more than Flacco for two reasons: 1) He has less weapons and is playing against the Steelers on the road, and 2) Flacco is my starting quarterback in one of my leagues.  Ryan only has Roddy White and Tony Gonzalez to throw to and the Steelers' defense is going to step it up with Dennis Dixon at quarterback.
The Jets' running game is strong behind that offensive line, but against the Ravens on Monday night they will struggle.  Greene and LDT will get the majority of the attention as the Ravens challenge Mark Sanchez to throw for the victory.
DeSean Jackson is small and I think he will get roughed up by the physical style that Charles Woodson is going to play.  Kolb and Jackson still have to establish chemistry on the field, and doing so against a tough defense like Green Bay may be difficult.
Seahawks' tight end John Carlson is going up against the 49ers' defense. The combination of fast linebackers and hard hitting safeties leads me to think it could be a long afternoon for Carlson.
You Want Action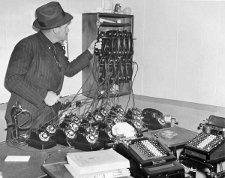 These lines are according to the Sportsbook.com as of 09/10/10.
Panthers +6.5
This is going to be a running football game that will probably total less than 40 points.  Although the Panthers are starting Matt Moore at quarterback, I think they can maintain good possession time with the running game, keeping the game within six points.
Steelers +2
This game is at home for the Steelers and should also prove to be a fairly low scoring affair.  Dixon has had his struggles this preseason, but with Rashard Mendenhall at running back, solid passing outlets, and that defense, he should be fine.  I like Pittsburgh to win this game outright.
Packers – 3
Lincoln Financial Field is a hostile place to play – they've booed Santa Claus and thrown batteries at people.  There is just too much offense on the Green Bay side of the ball for them not to win by more than 3.  The Packers will pull away in the third quarter and cash you out on this three team parlay.
Week 1 Picks – One Line Why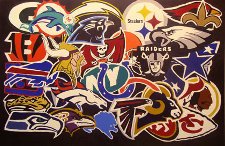 The team in bold is the winner.
Miami Dolphins @ Buffalo Bills – The Dolphins have too much offense and a superior defense that will lead to a comfortable win over the AFC East doormat.
Detroit Lions @ Chicago Bears – The Lions are headed in the right direction finally and are worthy of one of my upset picks.  Plus, the Bears suck.
Oakland Raiders @ Tennessee Titans – People in suicide pools, this is your week one pick: the Raiders have too many holes, injuries, and guys named Al Davis.
Cincinnati Bengals @ New England Patriots – The Pats are a great football team at home with a better offense, better coaching staff, and no reality TV junkies.
Carolina Panthers @ New York Giants – I'm scared of this pick and believe it will be a close game, but hopefully they can keep Manning upright for four quarters.
Atlanta Falcons @ Pittsburgh Steelers – The Steelers are out to prove that this organization is about more than a quarterback who can't keep his hands to himself.
Cleveland Browns @ Tampa Bay Buccaneers – I know these aren't your father's Anderson-led Browns, but the Buccaneers squeak it out at home.
Denver Broncos @ Jacksonville Jaguars – I only like this pick if MJD stays healthy all game and the defense doesn't make Orton look like Elway.
Indianapolis Colts @ Houston Texans – During the podcast I talked about Schaub having a big week one and how they give Peyton something to play for in the regular season.
San Francisco 49ers @ Seattle Seahawks – I have high expectations for the Niners this season and it starts with beating divisional teams with a new coach in a new system.
Green Bay Packers @ Philadelphia Eagles – I believe Philly fans will get a preview of what they will have in a few years when Rodgers comes to town, Packers roll.
Arizona Cardinals @ St. Louis Rams – Derek Anderson vs. Sam Bradford, this is like the undercard fight you miss for a beer run. Bradford impresses in debut.
Dallas Cowboys @ Washington Redskins – I really want to pick the Skins because I hate the Cowboys and they have significant injuries. McNabb makes this interesting.
Baltimore Ravens @ New York Jets – Running game is  equal, defense is equal; the difference is quarterback play. My money (the smart money) is on Flacco.
San Diego Chargers @ Kansas City Chiefs – I end week one with what should be a shootout upset, except the Chargers start horribly every year, making it less of an upset. Chiefs amaze.
Please find a nice spot on the sofa and come back next week whether you're just an NFL fan or a degenerate gambler, for Week 2 of the Couch Potato Blitz.
Additional Reading on SteroidsLive: